Ridgeside, Greater uMhlanga
17 Developable Hectares (Negotiations underway: 14 Hectares)
Overview
Ridgeside hosts many corporate regional head offices including FNB, Vodacom, ENS, Investec, Nedbank, Illovo, AECOM and Cox Yeats. A 55 000 square metre mixed-use development transaction was also recently concluded in Precinct 1 will include further regional head offices.
Construction has recently commenced on the uMhlanga Arch mixed-use development, which includes The Hilton Garden Inn, high-end residential apartments and corporate office space. Combined with The Skye and other new office buildings, development currently under construction totals over 100 000 square metres.
Ridgeside has attracted a new national player; the Amdec Group. Its Evergreen Lifestyles retirement brand is soon to invest in a major development in Precinct 2.
Recent large-scale transactions confirm the substantial value offering of Ridgeside. Final infrastructure is well advanced within Precinct 1. The remainder of Precinct 2 provides a further opportunity for a large, single transaction at values commensurate with the
high intensity mixed-use value expectations.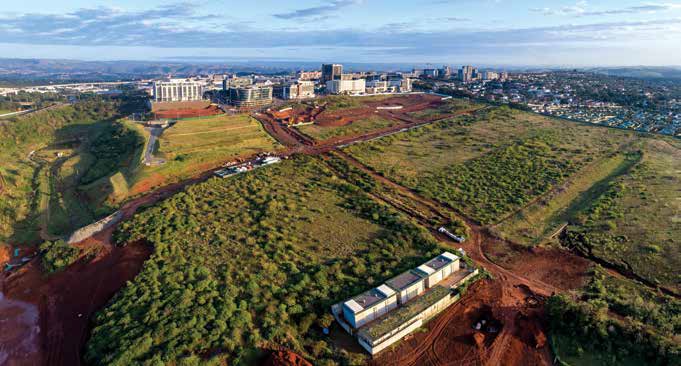 Demand drivers
• High-intensity urban mixed use
• High-end residential
• City hotels and residences
• Premium-grade corporate offices and high-end retail
• Urban amenities
Commercial transactions
Two significant transactions recently concluded with national players. A mixed use package of over 50 000 square metres of bulk in Precinct 1 and 17 developable hectares in Precinct 2 for a new retirement development by AMDEC's Evergreen Lifestyle Investments.
Primary short term opportunity lies in the balance of Precinct 2 which is ideally located and suitable for a mixed use development, similar in scale to Melrose Arch or Harbour Arch in Cape Town, and where detailed concepts are being worked on in collaboration with potential purchasers.
Interested investors, please contact Invest Durban to discuss the opportunity.
Societal value creation
Ridgeside Precinct 1 will deliver to the market one of the most iconic development precincts, with the realisation of the integrated mixed use concept. Current development
activity within this precinct will deliver R2.5-billion in gross investment value, and more than 1 100 permanent jobs. 14 000 construction jobs will be generated.
Development progress (November 2017)*
Infrastructure installation contract is currently underway. Completion is scheduled for the first half of 2018. Construction representing over R1.7-billion in real estate investment by
private sector has commenced.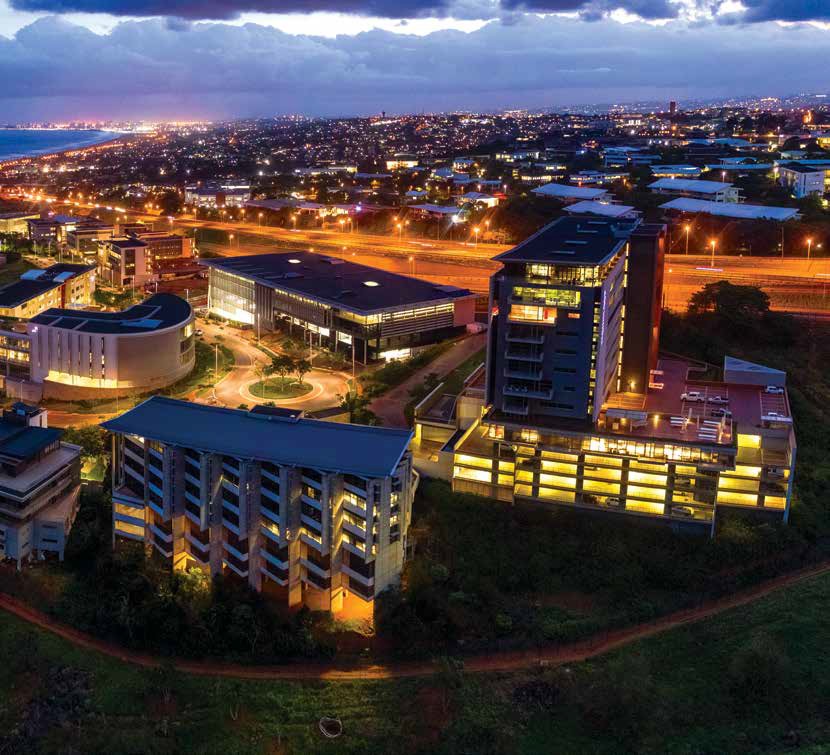 *For the most current update on opportunities, project progress, outstanding actions and investment requirements, please contact Invest Durban.