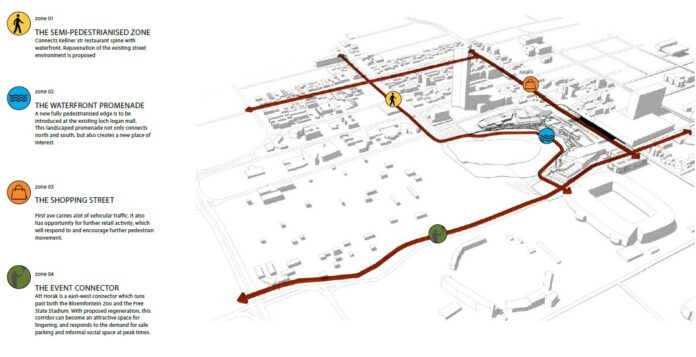 Loch Logan Precinct Development
Province: Free State, South Africa
District: Mangaung
City: Bloemfontein
Type of Project: Brown Field
Land Use: Business & Commercial – Extension to the existing Loch Logan Waterfront Mall with new tenants already signed.
Project Stage: Start of Construction (Finances needed, demolition completed)
Background
Interest in the Loch Logan Waterfront Mall from local and national businesses has increased significantly and MFP (the owners of the shopping centre) signed leases for the extension of the current mall.
All leases were signed, all approvals were achieved and finance completed with banks. However, due to Covid-19 and its effect on the economy, the banks withdrew the loan, causing the project to be temporarily on hold, with a half demolished building in the most prime location in the greater Mangaung Municipality.
Project description
The project entails the extension of the ±80 000 m² existing Loch Logan Waterfront Mall with an additional 35 000 m² and a bridge over Henry Street, linking the current mall to the new extension. New tenants have already signed agreements. This extension will create a hub in central Bloemfontein, where people will be able to shop, play, stay and live, in in one secure, safe environment.
Primary Drivers
The mall has 250 applications for space in the existing mall. One of the anchor tenants needs to expand from the current 13 000 m² to over 20 000 m². The mall has signed leases for the expansion with international and national tenants. This is the best and most lucrative development in the Free State.
Resources in proximity of the project
N1 Highway
Two Universities
Railway track 7 km away
Next to the best schools in South Africa
Public transport and long distance transport 1 km away
Studies completed:
All As Built Plans
All EIA's
Feasibility
Municipal Approval
Hoarding Approval
Demolition approved
Plan approved
Traffic Impact Study
Estimated number of jobs to be created:
Private sector involvement still required:
Equity Partners / Investors
BBBEE Equity Partners / Investors
Property Developers / Investors
Investment Requirements
Contact for more information
Interested parties are asked to contact the project owners via the form below. NB: Kindly use Loch Logan Precinct Development as reference when responding.