Background
Invest Durban act as a partnership between the Metro City Council and the private business sector, offering a free investor advisory service, plus key promotion, facilitation, aftercare services between all investment stakeholders.
Invest Durban was recommended by the Durban City Council and organised private business as the "First Stop Shop" to stimulate economic growth and new investment in the Durban metropolis.
Invest Durban undertakes world class FDI investment promotion and facilitation by building operational capacity, entrenching best practice approaches, embracing a targeted investor outreach approach, and nurturing partnerships with all stakeholders, in order to win new investment for the benefit of ALL in eThekwini.

---
Invest Durban LED FDI Projects
Here is a current list of FDI Projects in the City of Durban (eThekwini Municipality):
| | | |
| --- | --- | --- |
| FDI Flagship Project | Reason | Impact |
| 1. Thermo Fisher Scientific | Life Sciences investment at Dube TradePort, for "Research Innovation & Sequencing Platform". Company is a key funder of KRISP & supported the initial operations at the Nelson Mandela School of Medicine. | R145-million |
| 2. Urban Lime | British FDI investor in the inner city and jointly leading the private sector efforts for inner city regeneration. | R1.5-billion |
| 3. LG Electronics | LG Electronics new manufacturing plant & SA warehouse at Cornubia Industrial – expanding local & export business. | R1.5-billion |
| 4. The Arch, Umhlanga | Flagship local & FDI investment in the expanding Ridgeside Precinct. | R1.6-billion |
| 5. Toyota South Africa Motors | Expansion of Quantum Plant production capacity will be 18 000 units per year. Investment will also be for the awarded EV to be produced in Durban. | R2.43-billion |
| 6. Heineken | Investment to be reviewed in 2 years time frame. | Phase 1: R3.5-billion; Phase 2: 7-billion |
| 7. ONDO Smart Farming Solutions | New Bulgarian investment into the agribusiness sector for smart agriculture industrial equipment. | TBA |
| 8. Kerry Foods | Agribusiness investment in prime investment corridor of Keystone. Irish manufacturer in the food and beverage taste industry. | R800-million |
| 9. Anchor Properties, City Life | Large FDI focussed on Urban Renewal in both Durban CBD & Pinetown CBD. | R150-million new & 3 500 CBD Res Unit retention |
| 10. JK Props UK | UK FDI – 2 Phases; 1st Phase: CBD Student Accommodation; 2nd Phase: Tourism Asset Development. | R100-million (Phase 1) |
| 11. Mara Phones | Africa's 1st Smartphone Manufacturer, with local SMME value chain opportunities. | R1.5-billion |
| 12. Conlog | World's largest Smart Meter manufacturer expanded in Durban, with local SMME value-chain opportunities. | R250-million (Expansion) |
| 13. Gap Prop Inner City JV/PPP  | Urban Renewal CBD Brownfield Redevelopments x 2 | TBA |
| 14. SAPPI | Project Vulindlela for expansion of existing operations in the Saiccor mill in Umkomaas. | R7-billion in FDI. Reduction of CO² emissions and waste to landfill. |
| 15. NCP Alcohols | Belgian FDI – Expansion for local & export markets, with improved local agri-beneficiation and environmental sustainability. | R800-million |
| 16. Global Business Services Sector expansions by major Durban operators. (Ignition, Capability, Outworx, Blake, CCI, Synergy and Miracle Communications) | The is a leading sector in terms of economic performance and its contribution towards the national economy. Durban accounts for 25% of the national share of GVA. | A total employment of 14 964 people. 11 480 to service offshore clients. Represents R8-billion export revenue. The largest employers are CCI, Outworx, Ignition, Synergy, Blake, Telesure and Capability (International Clients) |
| 17. Sibaya Node & the Greater Umhlanga Precinct Proposal | Significant node of both new, greenfield FDI & local investment, plus large road & infrastructure partnerships, with significant construction job creation. | R – bn (tba). R600m rates potential |
| 18. Defy | Undertaken major expansions over the past 3 years averaging R200-million – R300-million. Also expanding provincially to Ezakheni, Ladysmith. | R300-million |
| 19. Unilever | Major FMCG multinational with its African HQ based in Durban. | R150-million for SMME value chain opportunities |
More information
For more information about major projects and growth nodes in the region, read the Ethekwini Major Projects and Growth Nodes booklet here: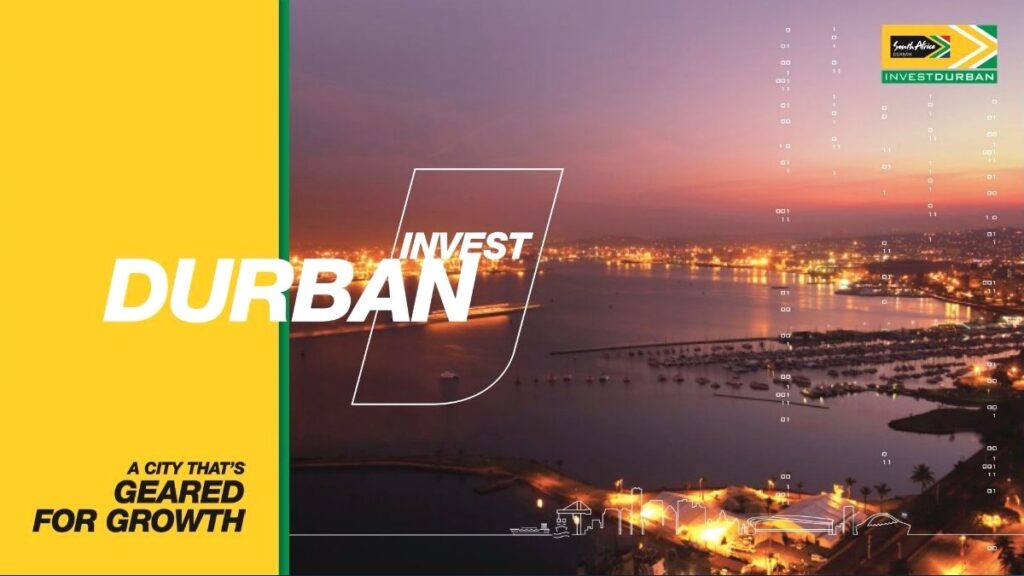 Contact Invest Durban
Companies interested in opportunities for growth and expansion in "A City that's Geared for Growth" please contact Invest Durban to initiate a discussion: