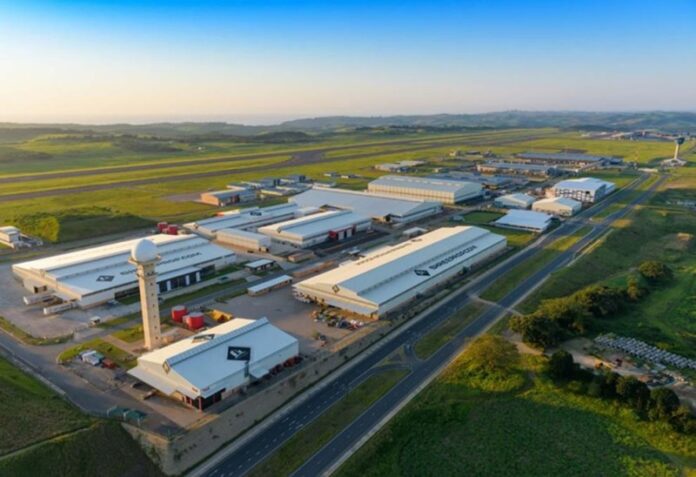 Dube TradePort Special Economic Zone
Dube TradePort Special Economic Zone is a world-class development offering globally integrated logistics and manufacturing infrastructure, and support for a range of airport-related activities, including cargo operations, warehousing, agriculture, and commercial real estate for office, retail and hospitality uses.
The benefits to businesses operating within the Special Economic Zone are geared towards promoting business growth, revenue generation, employment creation, the export of value-added commodities and the attraction of both foreign and local investment – all enhancing South Africa's manufacturing and export capabilities.
Owned by the KwaZulu-Natal Provincial Government, Dube TradePort is the province's flagship infrastructural development and a key priority, forming part of South Africa's National Infrastructure Plan.
Strategically located on the east coast of South Africa; linked to two of Africa's major seaports, major major national roads and home to King Shaka International Airport, Dube TradePort is strategically positioned at the intersection of local and global intermodal transport routes.
Dube TradePort will be developed according to a 50-year Master Plan as a global airfreight and passenger hub comprising five business zones:
• Dube TradeZone, an industrial precinct for electronics, pharmaceutical and aerospace manufacturing; a cargo handling facility;
• Dube AgriZone, an advanced agricultural precinct;
• Dube City, a business and hospitality precinct; and
• Dube iConnect, a cutting-edge telecommunications platform and a premier cloud service provider.
Project summary
One of South Africa's top 10 investment opportunities.
50-year Master Plan developed for the more than 3 800 hectares site.
It is ideally positioned 30 minutes from Africa's busiest cargo port, Durban Harbour, and 90 minutes from Richards Bay Harbour.
Greenfield Development, purpose-built to facilitate airport-related business.
Home to the King Shaka International Airport.
The only facility in Africa combining an international airport, dedicated cargo terminal, together with warehousing, office, retail, hotel and agricultural opportunities.
The only facility in Africa combining an international airport, dedicated cargo terminal, together with warehousing, office, retail, hotel and agricultural opportunities.
Focus sectors:
Medical and pharmaceutical production and distribution
Electronics manufacturing and assembly
Aerospace and aviation-linked manufacturing and related services
Agriculture and agro-processing
Clothing and textiles and
Automotive manufacturing and assembly
Supplementary focus sectors include:
Freight-forwarding and aviation services
Warehousing and cold storage
Logistics and distribution
General heavy & light manufacturing, and assembly
High-tech and automotive industries
General manufacturing
Renewable industry
Total Investment Value: R17.6-billion (US$1.3-billion)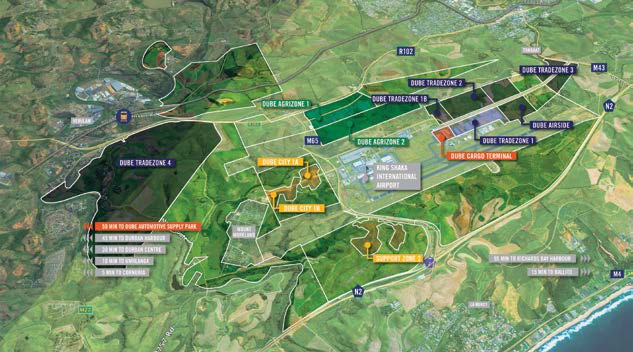 Dube TradePort's vision is to be the leading global manufacturing and air logistics platform in Southern Africa, seamlessly integrated with intermodal road-, rail-, and port- infrastructure. In addition to this global vision, Dube TradePort is a major contributor to job creation and economic growth within KwaZulu-Natal and South Africa.
Funding status
Government as the owner of the property is responsible for bulk infrastructure installation.
Serviced land is made available to private sector through lease agreements.
Employment potential
Projected permanent jobs over 5 years: 4 792
Projected temporary jobs over 5 years: 10 401
Project status
26 hectares of land already developed in TradeZone 1
78 hectares of serviced developable land available for potential investors in TradeZone 2 and TradeZone 3
Customized solutions for investors (e.g. serviced sites and fit-for-purpose buildings)
The development consists of:
• Dube Cargo Terminal: A state-of-the-art cargo facility
• Dube TradeZone 1, 2 and 3: Total of 104 hectares of serviced land within a Special Economic Zone
• Dube City: 12 hectares of premium office, retail and hospitality space
• Dube AgriZone: World-class facilities and technical support for propagating,
growing, packing and distributing high-value perishables
• Dube TradePort has initiated a Dynamic Infrastructure Development Model which is implemented through building 18 mini-factories, as a way of creating linkages between small and large operational investors within the TradeZone
Partnerships
• National and Provincial Government
• Private Sector
• Local Government
• Economic Development Agencies
Contact the team
To enquire about investment opportunities in this project, kindly contact the team here:
(please use the words Dube TradePort SEZ in the subject line)