An economic overview of the Eastern Cape Province
By John Young
The Day of the Seafarer has never previously been honoured in South Africa but on 25 June 2018 the International Maritime Organisation saw to it that three coastal cities celebrated the occasion. The highlight in Nelson Mandela Bay was the opening of the new national headquarters of the South African International Maritime Institute.
This follows shortly after the launch of the Oceans Campus of Nelson Mandela University and dovetails with the ambitious plans of national government to use the maritime economy as a way of creating growth and jobs.
These institutions will support an existing provincial maritime economy which is underpinned by three major ports: Port Elizabeth, East London and Ngqura. Port Elizabeth's major cargoes are manganese and vehicles while both East London and Ngqura support Special Economic Zones (SEZs). There are plans to move manganese exports to Ngqura which will free up space for a waterfront development in the Port Elizabeth harbour.
The Port of East London has recently been upgraded and it has been breaking records in numbers of Mercedes-Benz vehicles loaded for export. The country's largest grain elevator in a port will start to run more efficiently as a result of a contract signed in 2018 with Afgri. The private contractor will work with Transnet Port Terminals to improve efficiency at the terminal.
National government has named the Coega SEZ as the potential site for a 1 000 MW Liquefied Natural Gas (LNG) plant. The value to the regional economy of the project is estimated at R25-billion. A gas-fired power plant (Dedisa) started operating at Coega in 2016, and there are plans to expand this sector.
The Eastern Cape Development Corporation (ECDC) is the lead agency in driving economic growth in the province. The Investment Promotion Unit of the ECDC actively markets and facilitates investments. Eight economic sectors have been targeted as priorities, including renewable energy, the oceans economy and tourism.
Work is being done on rail links to the Eastern Cape to enable more manganese to be exported through the province. These logistics upgrades are an indicator that the political will exists to improve infrastructure.
In his 2018 State of the Province Address, Eastern Cape Premier Phumulo Masualle said that the province had become "one gigantic roads construction site" with active projects underway to the value of R7-billion and another R5-billion to be completed before 2022.
The Eastern Cape is fast becoming South Africa's wind-farm hotspot. Just two areas, greater Jeffreys Bay and Cookhouse/Bedford, will soon be contributing 1 185 MW to the national grid.
A joint venture in the Eastern Cape between Osho Ventures and Heidelberg Cement will create South Africa's seventh cement manufacturer.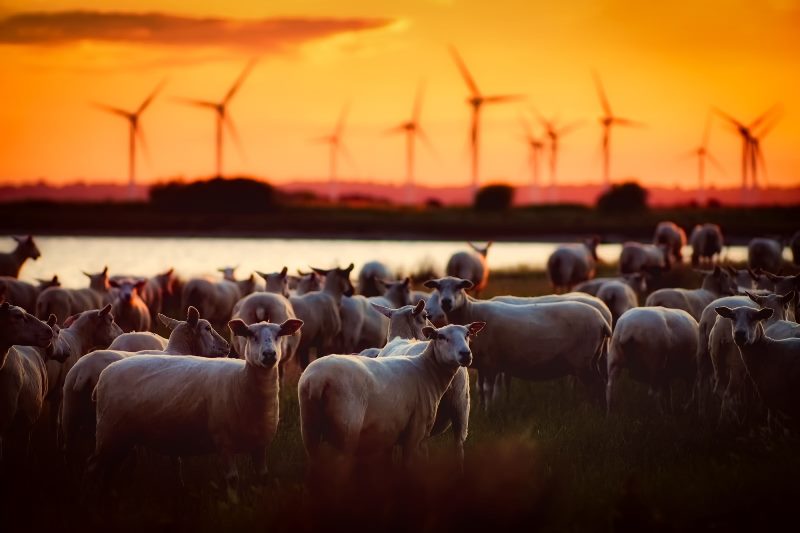 Established sectors
Historically, wool and ostrich feathers were the region's first exports and these items are still in the export basket. The Eastern Cape was and is a global leader in mohair, the luxury fibre taken from Angora goats. The fertile Langkloof Valley in the west has enormous deciduous fruit orchards and Alexandria and Grahamstown produce pineapples, chicory and dairy products. The Eastern Cape is the leading livestock province in terms of numbers of sheep and cattle and produces a quarter of South Africa's milk.
The manufacturing facilities of Volkswagen South Africa (in Uitenhage) and Mercedes-Benz South Africa (East London) are at the core of the province's important automotive sector. It was to support this sector that industrialisation took place in the province. Smelters and metal works were built to service car makers and automotive component manufacturers. Ford engines are built in Port Elizabeth and a wide range of makers of automotive glass, catalytic converters, vehicle tyres and other parts are found in Uitenhage, Port Elizabeth and at the Special Economic Zone (SEZ) in East London.
Two Chinese car makers have recently invested in the Coega IDZ, First Automotive Works (FAW) and Beijing Automobile Corporation (BAIC). Local giants Volkswagen SA and Mercedes-Benz SA have invested heavily in increased capacity for new lines of production.
The Eastern Cape's beaches and natural beauty have been attractive to tourists for many years, but recent initiatives to expand the province's offerings are paying off. With a focus on events and "adventure tourism", visitor numbers are steadily growing. The province aims to be a "Top Three" domestic destination by 2020. Spending by tourists has grown from R2.4-billion in 2013 to R4.1-billion in 2015 and the average length of stay (5.3 days) is the best in South Africa.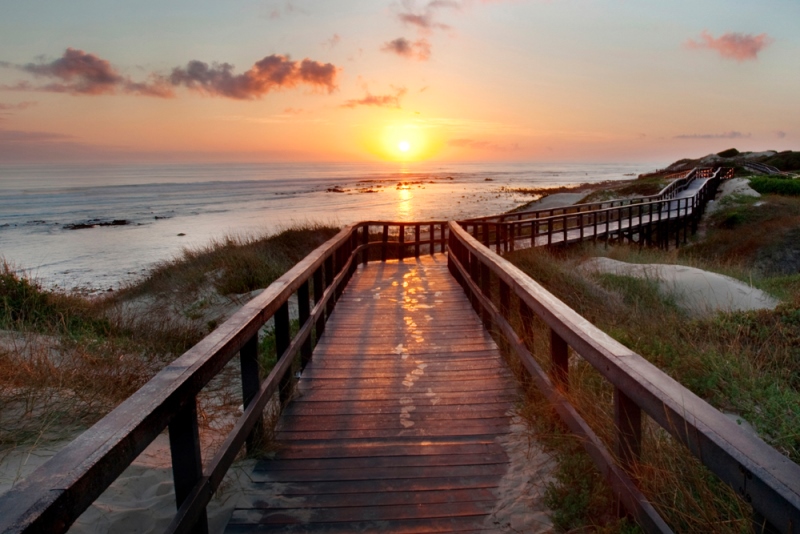 The Eastern Cape MEC for Economic Development, Environmental Affairs and Tourism Oscar Mabuyane reported in a booklet prepared for the 2019 Eastern Cape Investment Conference that several large investments have been made in the province. He cited:
SAB, R438-million plant upgrade
Mercedes Benz SA, R10-billion
Aspen Pharmacare, R3.4-billion
Nestle, R663-million
Yekani Technologies, R1-billion at Coega SEZ
MultiChoice, R900-million at ELSEZ
Volkswagen SA, R6.1-billion
BAIC, R11-billion at Coega SEZ.
Geography
The Eastern Cape extends over 169 580 square kilometres, representing 13.9% of South Africa's land mass. The dry western interior is one of the country's premier sheep-rearing destinations.
The mountainous regions of the north and east of the province support timber plantations while the coastal belt in the south-west is well-watered and is good for dairy farming. The province has spectacular beaches stretching from the surfer's paradise at Jeffreys Bay all the way to the famed Wild Coast.
Two major airports at Port Elizabeth and East London provide good air links and smaller towns such as Mthatha and Bhisho have airports. Mthatha has recently received upgrades and SA Airlink offers four daily flights from South Africa's busiest city, Johannesburg, to Mthatha. Airports Company South Africa has been appointed to manage Mthatha Airport.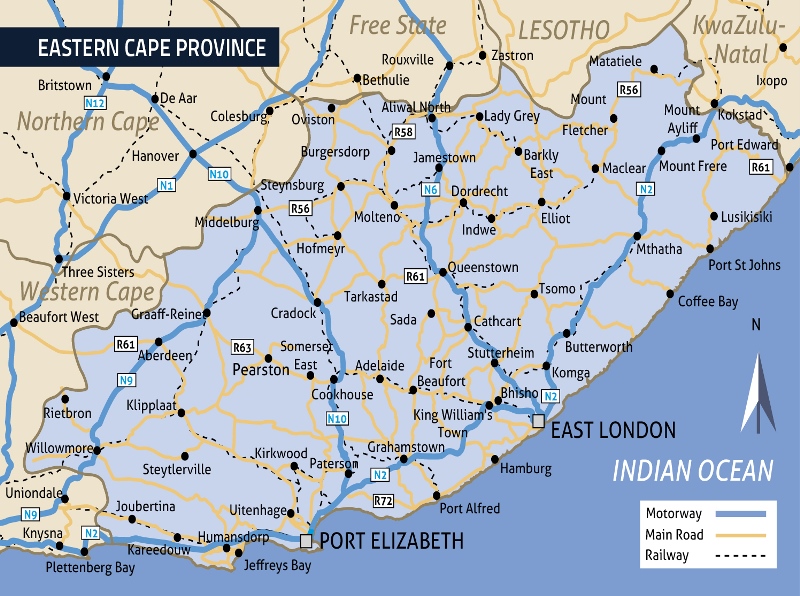 Municipalities
The Eastern Cape has six district municipalities and two metropolitan municipalities.
Buffalo City Metropolitan Municipality
Towns: East London, King Williams Town
The Port of East London is South Africa's only river port. The airport, rail links and the East London Special Economic Zone contribute to making this an important regional centre. Buffalo City hosts a variety of manufacturers from vehicles to batteries and cotton textiles. There are many opportunities for agri-processing because of the fertile hinterland and as part of the Sunshine Coast, tourism is an important contributor to the local economy.
Nelson Mandela Bay Metropolitan Municipality
Towns: Port Elizabeth, Uitenhage, Despatch
With two ports, a large airport and a concentration of manufacturing concerns, the Nelson Mandela Bay metropole is one of the province's key economic drivers. Volkswagen, General Motors and Ford are all located within the municipality, as are several automotive supplier companies. Aspen, a pharmaceutical company, and South African Breweries are examples of other large concerns. Nelson Mandela Bay has population of 1.1-million and many educational institutions. Superb beaches and plentiful outdoor options make the area a popular tourist stop. The Addo Elephant National Park is less than an hour's drive from the Port Elizabeth city centre.
Alfred Nzo District Municipality
Towns: Matatiele, Mount Frere, Mount Ayliff
The smallest district is in the mountainous north-east, with hiking trails for tourists. There is scope for expansion of tourist activities, and a transfrontier park between South Africa and Lesotho could boost the area's economy. Subsistence agriculture and forestry are the major economic activities.
Amathole District Municipality
Towns: Cathcart, Stutterheim, Morgans Bay, Willowvale, Butterworth, Alice, Bedford
The rural Amathole District surrounds the metropolitan area of Buffalo City. Pineapple and forestry are two of the most important agricultural activities. Popular resorts on the Wild Coast attract many tourists to the area. Hogsback and other towns near the Amatole Mountains offer beautiful scenery and popular beaches. Alice hosts the main campus of the University of Fort Hare.
Chris Hani District Municipality
Towns: Middelburg, Molteno, Dordrecht, Cradock, Queenstown, Lady Frere, Elliot
Sheep farming is an important part of the economy. Some coal is found in the north and tourist activities include fly-fishing. The Foodcorp factory in Molteno manufactures Ouma rusks. Queenstown is a centre for cattle farming and has some manufacturing activities. The Mountain Zebra National Park is near Cradock. The Grootfontein Agricultural College and Research Station is in Middelburg, and the Marlow Agricultural College is near Cradock.
Joe Gqabi District Municipality
Towns: Aliwal North, Burgersdorp, Lady Grey, Rhodes, Barkly East, Ugie
Cattle and sheep farming make up 80% of land use, while commercial forestry is a big contributor to employment. There are large forestry plantations at Ugie and Mount Fletcher. Maize is grown along the Orange River and wheat in the foothills of the Drakensberg mountains. Tiffindell has been revived as a ski resort.
OR Tambo District Municipality
Towns: Mthatha, Coffee Bay, Port St Johns, Qumbu, Bizana, Flagstaff
OR Tambo District Municipality encompasses some of the province's least-developed areas and contains one of South Africa's most important ecological areas, the Pondoland Centre of Plant Endemism. Mining is already pursued in some areas but plans for titanium mining on seaside dunes are being contested. A Wild Coast Spatial Development Initiative exists to plot further development. Forestry is a big employer.
Sarah Baartman District Municipality
Towns: Graaff-Reinet, Humansdorp, Jeffreys Bay, Makana (Grahamstown)
The western part of the province contains the biggest municipality and is one of the biggest contributors to provincial GDP. Large commercial farms in the Karoo produce high-quality meat, wool and mohair, while the coastal belt has dairy farming and some forestry. The Kouga Valley is a big deciduous fruit producer, while the Kirkwood/Addo area is known for its citrus. Sarah Baartman has three of the region's national parks and several private game farms. Makana hosts the National Arts Festival, Rhodes University and several fine schools.
Read more about the business and investment environment of the Eastern Cape in the 2019 edition of Eastern Cape Business.