Mining Indaba's status as the leading mining investment event in the world was reaffirmed last month, boasting a 13% increase in investors, 19% increase in mining executives, 2 Presidents and 38 Ministers in attendance.
Download the Post Event Report to see:
The top commodity, project status and location interests from the 600+ investors that attended
Infographic of who attended and where they came from
The global reach and widespread international press coverage
Attendees' opinions and what they said on social media
The response to 2020 – 64% of the floor plan reserved onsite
What to expect in 2020 and how to ensure you don't miss out again
The Ministerial Symposium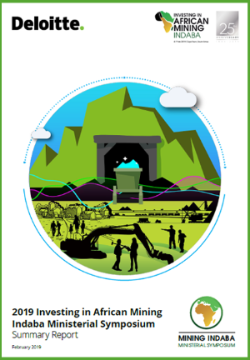 The Ministerial Symposium is a prestigious, invite-only event that took place on 3rd February 2019, bringing together senior leaders in government and business to discuss pressing issues in the African mining industry.
Download the official report, produced with our knowledge partner Deloitte, for a full summary including:
Highlight speakers and attendance figures
Keynote addresses from Hon. Gwede Mantashe & H.E. Albert Muchanga
Outcomes from the Ministerial & CEO regional roundtables on key topics including resource nationalism and fiscal regimes, among others
Want to be involved in Mining Indaba 2020?
Mining Indaba will return to the CTICC from 3-6 February 2020 – sponsorship and exhibition space is now open and filling up quickly! Enquire now to secure the best position and elevate your brand in front of 6000+ key decision makers in African mining.
Visit Investing in African Mining Indaba