Cato Ridge Intermodal Development
Catalytic Project: Category B (projects in preparation)
Project description
The project will ultimately unlock the current congestion at the Port of Durban.
The intermodal facility will be a catalyst project which will be developed by Transnet in partnership with a private developer.
The logistics park is targeting companies that would be dealing with logistics related products such as packaging material, components for locomotives and freight business.
A truck stop facility will be established.
Residential and other ancillary uses will be established.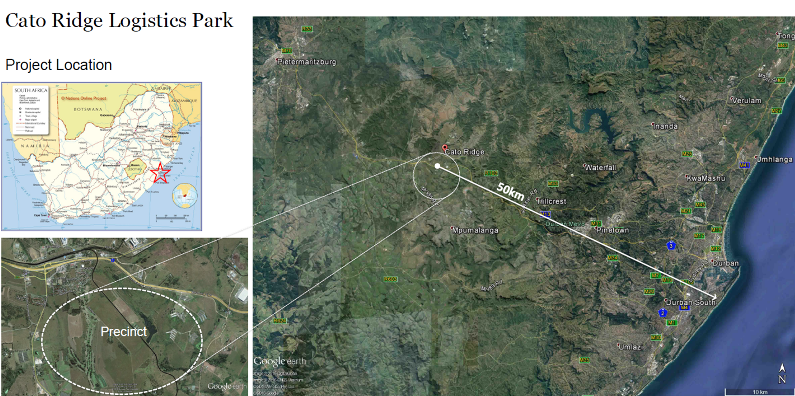 Socio-economic benefits
Investment Value: R10-billion
Annual Rates: to be determined
Construction Jobs: 8 000
Permanent Jobs: 6 000
Other: Community Social Facilities
Project status*
Land Acquisition: Entered into a purchase and sale agreement for approximately 300 hectares of land parcels (with suspensive conditions), intended for the intermodal facility and ancillary uses as of August 2016.
Environmental Impact Assessment – Developer has appointed a Service Provider to conduct and manage the EIA process (July 2016).
Act 70 of 70: Developer has compiled and submitted the release of land from agriculture application in terms of Act 70 of 70 (July 2016).
Road Access: Appointed a Service Provider to conduct assessment on road access into the site. The developer had an engagement with SANRAL in September to discuss the proposed interchange which will allow alternative access into the site. (August 2016).
Town Planning: Project team currently preparing site development plan.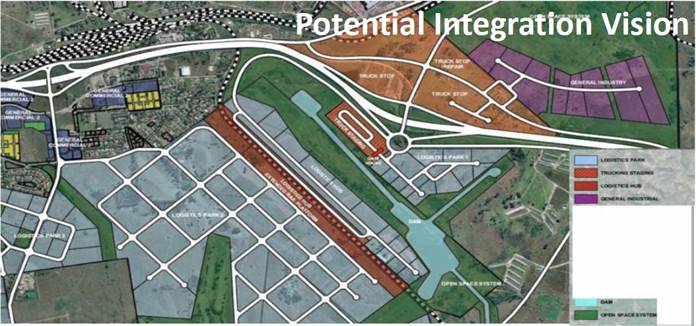 Key issues/ challenges
The project requires:
N3 Interchange: Agree on the preferred location for the interchange.
Water Supply: Upgrading water reservoir at Inchanga, has not been confirmed.
Electricity supply: Current capacity and demand has not been confirmed.
Environmental Impact Assessment: Proposed sites are affected by DMOSS. The site is environmentally sensitive which will negatively impact on the development.
Waste Water Infrastructure: Current capacity and demand has not been confirmed.
Response and way forward
Engagement with Environmental Department is critical.
Engagements with SANRAL are underway.
Engagements to be finalised with internal and external service providers.
The developer is finalising the detailed development concept for consideration.
*As at March 2017
Contact / enquire
For the most current update on opportunities, project progress, outstanding actions and investment requirements, please contact Invest Durban.