Africa Biomass Company is privileged to serve our customers as the Authorised Dealer for Bandit Industries in Southern Africa.
Not only has Africa Biomass Company built up a substantial fleet of Bandit wood chippers for use as part of the wood recycling services we provide, but also offers a whole range of Bandit wood chippers to clients who want to invest in the Bandit range.
Bandit Industries, Inc.
Bandit chippers are designed with quality, production and longevity in mind. Hand-fed chippers are mounted on custom-built, SABS-approved trailers. Owning a Bandit wood chipper will always put you in the front seat of reliable wood chipping operations.
In many cases, the Bandit wood chipper sets the benchmark for other brands in the wood chipping industry. We are ready to supply the right Bandit wood chipping solution with advice and aftercare to your doorstep.
All existing and new customers are welcome to contact us to become the owner of Bandit equipment.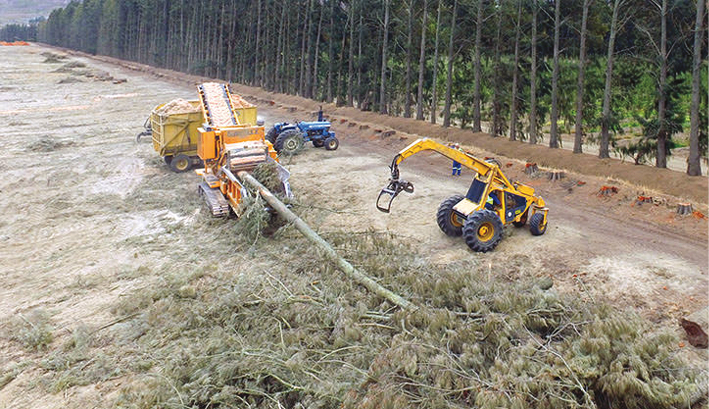 Become an owner of a Bandit chipper
All existing and new customers are welcome to contact us if they want to become the owner of the top-class range of Bandit equipment. Bandit Industries have delivered successful recycling solutions to basically every corner of the planet.
Contact Africa Biomass Company if you are interested to become an owner of a Bandit chipper.
Error: Contact form not found.
A commitment to support
Africa Biomass Company is fully equipped and stocked to service and repair any Bandit machine anywhere in South Africa.
We own a fully-equipped parts warehouse (650 m²), manufacturing department as well as field services to ensure that parts are always readily available and our own, as well as our clients' Bandit wood chippers are not out of commission longer than they have to be.
---

Africa Biomass Company has been in the forefront of the development of biomass processing such as wood chips, biofuels and more in Southern Africa. Previously waste wood would have been discarded by burning it or unknowingly throwing away a natural gem. ABC offers a viable cost-effective solution for our customers to recycle these unwanted woody biomass into usable forms.