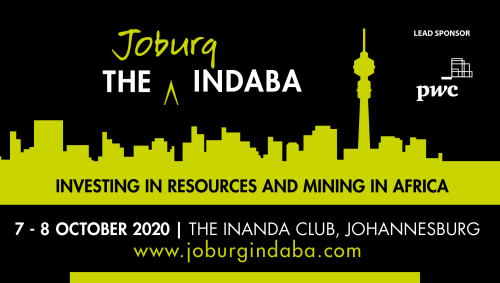 Resources for Africa is pleased to announce the 7th edition of the Joburg Indaba, taking place on 7th & 8th October 2020 at the Inanda Club in Sandton, Johannesburg.
The Joburg Indaba is a highly regarded and influential industry platform which unpacks a wide range of critical issues affecting all stakeholders in the mining industry and enjoys overwhelming support from the mining industry, investors, labour, government and media.
The 2020 Joburg Indaba will discuss the current challenges and opportunities in the industry including macroeconomic and political factors, how different commodities and sectors are performing, capital expansion projects, the Fourth Industrial Revolution, current energy and transport challenges, the global shift towards a low-carbon economy, the investment landscape, ESG and much more.
Renowned as a leading industry gathering, the Joburg Indaba will once again bring together CEOs and senior representatives from all major mining houses, local and international investors, Government, parastatals, experts from legal and advisory firms and representatives from communities and organized labour.
The 2020 Gala Dinner will be held on the evening of 6th October where the SA Mining Hall of Fame will honour those individuals who have made significant contributions to the industry over many years.
The 2020 Joburg Indaba enjoys valuable partnerships with the industry and over the years has partnered with many leading organisations including: PwC, Accenture, Deloitte, J.P. Morgan, DRA, Fasken, ENSafrica, Isometrix, Nedbank, OIM Consulting, RMB, ARM, Anglo American, Exxaro, Harmony, Impala Platinum, Ivanplats, Menar, Minerals Council South Africa, Sasol Mining, Seriti Coal, Sibanye-Stillwater, South32, Vedanta Zinc International, African Sun Mining, Cliffe Dekker Hofmeyr, Fraser Alexander, Fraser McGill, GE Transportation, Last Mile Group, METC Engineering, Partners in Performance, RMA, SRK Consulting, The Ukwazi Group, Worley.
For more information on sponsorship opportunities, please contact stuart@resources4africa.com. For general enquiries please email info@resources4africa.com
The Joburg Indaba 2020
The Inanda Club, Forrest Road, Inanda, Johannesburg
www.joburgindaba.com

The Joburg Indaba is brought to you by Resources 4 Africa. "By the industry for the industry"