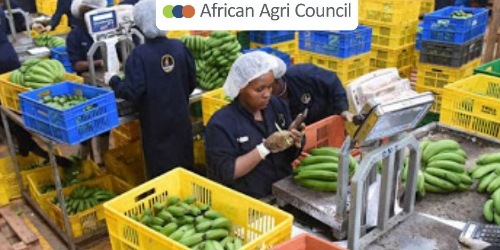 Market Access: the impact of Covid-19 on agri-food trade in sub-Saharan Africa
Featuring industry case studies: adjusting business models for COVID-19
Join the African Agri Council and a team of experts for our virtual event 'Market Access: the impact of COVID-19 on agri-food trade in Sub-Saharan Africa' on 28 July 2020 at 10:00 SAST.

As the COVID-19 outbreak continues a contraction in both the supply and demand for agricultural products and disruptions in trade and logistics are radically exacerbating food insecurity in Africa. Governments have responded to COVID-19 by implementing a raft of containment measures including stricter border controls.
Ensuring the continued functioning of global and national food supply chains will be crucial in securing food supply and preventing a food crisis. This virtual event features case study presenters discussing how their agri-food business sectors are adjusting practices and policies to successfully meet the challenges created by the pandemic.
Themes being addressed
COVID-19 and trade in Sub-Saharan Africa: Impacts and policy response
Markets – an extremely high-risk area
Facilitating the free movement of goods and services during the COVID-19 pandemic period
EAC Partner States adoption of the EAC Regional Electronic Cargo and Drivers Tracking System
A lesson on food safety for fresh produce markets
Curbing logjams and keeping the supply chain system going – new thinking is the order of the day
Impacts on freight forwarders and logistics operators
How market access-specialized platforms and marketplaces are facilitating the trend of more food and agro purchases moving online
Speakers
Hon Dr Peter Mathuki, CEO/Executive Director, East African Business Council (EABC)
Ben Leyka, CEO, African Agri Council
Jon Offei-Ansah, Publisher, Africa Briefing, UK
Trudi Hartzenberg, Executive Director, tralac
Desiderio Fernandes, President (& Founder / MD of Decom Limitada), The Federation of Clearing and Forwarding Associations of Southern Africa (FCFASA)
Francois Knowles, Registrar, Agricultural Produce Agents Council, APAC
Gjalt Hooghiemstra, Group Facilities Manager, RSA Group
Lovemore Bingandadi, Coordinator-SADC COVID19 Trade and Transport Facilitation Cell
Jaco Oosthuizen, CEO, RSA Group
Dickson Kimathi, Head of Agriculture, Kenya Horticulture Exporting (KHE) and Director, Fresh Producer Exporters Association of Kenya (FPEAK)