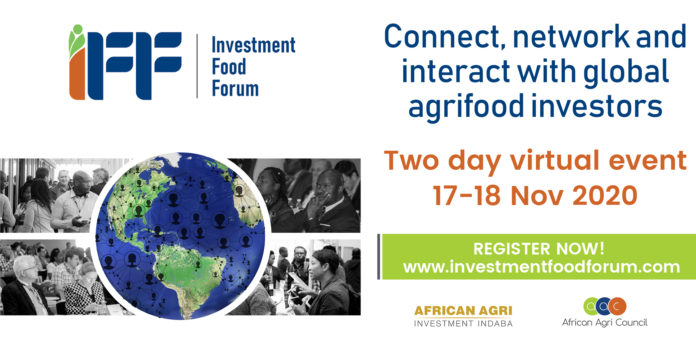 About
The Investment Food Forum (IFF), taking place from 17 – 18 November 2020, highlights global and regional investment opportunities in agrifood and offers attendees a comprehensive overview of the food investment landscape, tracking the flow of capital and asset performance.
The African Agri Council (AAC), in partnership with the African Agri Investment Indaba Secretariat, is pleased to announce the launch of the Investment Food Forum (IFF).
The forum features global VC, banks, donors, DFIs, family offices, pension funds and agrifood stakeholders to discuss how the asset class is weathering the pandemic, current rising flow of capital as well as diversified investment funds in the sector.
Key features of the Investment Food Forum
High level local content from global and emerging markets
Networking is hard-wired into the fabric of IFF which is why it is one of the most important conduits of investment in agrifood post COVID-19
Special marketing mailer profiling key partners and their services
Want to invest in African agrifood sector? Want to find investment for a company or project in Africa? The AAC Investment Discovery Dashboard allows you to step into the African investment arena and start making great connections
Access to dedicated matchmaking team to schedule and facilitate your meetings
Why attend the Investment Food Forum?
Expert closed sessions – investment opportunities through in-depth analysis linked to policymaking as well as global supply and demand movements
Where is the real money moving – case study sessions on food and agribusiness related deals
Asset managers and funds pitching to institutional investors and DFIs in the Investment Discovery Sessions (IDS)
Investor focus sessions – Indepth due diligence, technical, operational and strategic investment sessions covering the global agrifood value chain
Hear from global investors as they reassess their risks and are now looking at compelling investment opportunities in food and agriculture with a stronger focus on valuations