The provincial government of the North West has announced that one of its five major priorities will be to boost economic development in villages, townships and small "dorpies". In every sector where government influence can be brought to bear, consideration must be given to how policy will improve lives in VTSD (villages, townships and small dorpies).
This scheme is one of five major initiatives which form part of the larger "Rebranding, Repositioning and Renewal of Bokone-Bophirima", the Setswana name for North West. The other four are ACT (Agriculture, Culture and Tourism); RHR (reconciliation, healing and renewal); Setsokotsane (comprehensive and integrated service delivery campaign) and Saamwerk-Saamtrek (call for unity of purpose above race divisions). Village development plans are to be created for each one of the 767 in the North West. The process has begun across the province's municipalities.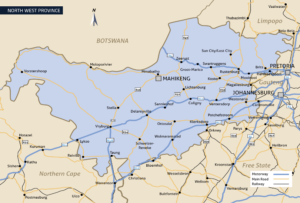 Creating links within the agricultural economy is likely to be the best way of making a significant impact, and the VTSD strategy acknowledges this. Agriculture is one of the strongest sectors in the North West economy, so creating added value along the agricultural chain is an easier task than creating an entirely new sector.
An initiative to create community bakeries has already kicked off, with Transnet and the National African Federated Chamber of Commerce (NAFCOC) supporting the programme. Another project, which will also go some way to improving food security and reducing hunger, involves the setting up of warehouses in each of the province's districts. These warehouses would make available to local entrepreneurs basic foodstuffs at a good price that can then be sold on through tuckshops.
Another way of saying that opportunity must be created along the value chain is to state that better linkages must be created between towns and rural areas. Prospective businesses in rural areas (or small dorpies) often have no access to finance, find transport costs prohibitive and struggle to connect to the relevant market. Improved infrastructure can be part of the problem, whether that is simply providing better roads, but it can also be the establishment of food markets in smaller areas, and the building of public abattoirs and silos so that small traders and entrepreneurs don't have to carry those heavy costs.
The Agri-park scheme that is being implemented in each of the province's four districts plays into that theme. With proper storage facilities, areas for trading and even some training available, farmers and traders can both benefit from the centralisation of some functions and exposure to a broader market.
The same principle applies to clothing and retail. The province wants to see designers given an opportunity to show their garments, even if they themselves don't have a shop front, either in retail outlets or on some other public platform.
Loan funding for small, medium and micro-enterprises is something that several agencies are tasked with, including the Small Enterprise Development Agency (Seda) and the Industrial Development Corporation (IDC). Seda has a focus on four sectors: agri-processing, community tourism and protected areas, mining and mineral beneficiation, and trading. All of these are highly relevant to the VTSD strategy of the North West.
There are also private initiatives such as the Masisizane Fund (Old Mutual), the Shankuka Black Umbrellas and Anglo American's Zimele initiative which looks to support small businesses within the mining company's supply chain.
The provincial government has its own development agency, the North West Development Corporation, which has been tasked with seeing to it that qualifying co-operatives and SMMEs get loan financing in the R1,000 to R1-million bracket. The NWDC can also provide infrastructure (offices or factory space) to help new enterprises.
The provincial government has also committed to making it easier to do business with government, in terms of tenders, impact assessment, licensing and doing away with restrictive by-laws. Electrification plans are set to focus more on rural areas and small villages in the years ahead, with 13 422 new households in 104 villages getting access to electricity in 2016. VTSD will also receive priority in terms of the allocation of public housing.
Zoning in all villages, townships and small dorpies is to be amended, so that there is a clear area where business can take place. It is hoped that this will do away with the costly re-zoning process that can limit start-up enterprises.
A concrete way for the provincial government to boost VTSD is to buy its goods and services, where possible, from VTSD vendors. The aim is to procure 70% of goods and services from such sources in 2016/17. A start was made in 2016, with R2.5-billion or 41.6%t being spent in VTSD.
Provincial government is not the only state entity that can assist in VTSD strategy. The South African National Defence Force (SANDF) has several facilities in the North West (artillery, training, intelligence, infantry, etc) and all of these units spend a lot of money on resources: the VTSD strategy wants to see some of that money spent in villages, townships and small dorpies.
Similarly, the tourism sector is expected to align its strategy to promote areas that have not received significant income in the past. A focus on cultural tourism would allow for a greater focus on some rural areas that can offer beadworks and pottery or places like the Mphebatho Cultural History Museum in Moruleng. The nearby Manyane Resort (in the Pilanesberg National Park) has recently been refurbished and should provide local communities with employment opportunities.