Sometimes fast, sometimes slow. Government-led at times, on other occasions initiated by private investors. That's the story of the regeneration of Johannesburg's inner city. It is a story that has had notable successes along the way, but progress has been sporadic and efforts have mostly been concentrated on quite small parts of the city.
The Newtown urban renewal project included a focus on the arts at Mary Fitzgerald Square; the building of the Nelson Mandela Bridge in 2003 improved linkages and gave the city a cool symbol; the Johannesburg Development Agency installed 156 public art works, cleaned up squares and installed street furniture.
More recently, the Maboneng Precinct on the eastern edge of the CBD has become a busy mixed-use zone with a focus on the arts, design and entertainment.
Now there is a drive to transform the central business district (CBD) in a concerted and coordinated way. The city's new mayor, Herman Mashaba, said of Johannesburg in his "100 Days" address that, "It can become a model for a modern, post-apartheid, South African city. It has the ability to produce a vibrant socio-economic mix of high-rise, low-cost and affordable housing for our people."
Mashaba represents the Democratic Alliance which has been running Johannesburg as the leader of a coalition of parties since local government elections in 2016. A notable entrepreneur himself, Mashaba strongly believes that private businesses and developers are ready and willing to invest in downtown Johannesburg. "These are the people with the balance sheets that can turn this city into a construction site within a matter of months,"
says Mashaba.
The Premier of the Gauteng Province, David Makhura, is a member of the African National Congress which continues to be the majority party at provincial and national level. In his State of the Province address, Makhura said, "We are in agreement with Executive Mayor Herman Mashaba that the renewal of the Johannesburg inner city has to be undertaken urgently in partnership with the province, the city and the private sector."
Political agreement of this sort is rare, so the chances of success for Johannesburg are better than they would be in a fractious political climate.
When the ANC led the municipality, an Inner City Roadmap underpinned long-term planning for revitalising the CBD in response to a number of firms relocating their offices to Sandton, Rosebank and Randburg. A start was made via a number of measures: CCTV security cameras were installed, the bus rapid transport system (Rea Vaya) was introduced and a number of formerly derelict or hijacked buildings were converted to blocks of flats by the Johannesburg Housing Company (JHC).

Mashaba has committed the municipality to cleaning up the city, improving billing for services, enforcing by-laws and speeding up bureaucratic processes so that investors don't have to go from pillar to post to get something done. Reclaiming buildings from criminals masquerading as landlords is high on his agenda. Says Mashaba, "I will be assembling a team of human-rights lawyers to assist us to reclaim the inner city from criminals and slum-lords.
"We are going to be the government that unlocks the door to the potential that our inner city holds for our people," is Mashaba's pledge.
The mayor envisages the private sector putting R20-billion into projects every year. Among the things that are needed in central Johannesburg, and which private investors might provide, are rental accommodation for the so-called "Missing Middle" (people earning R3 000 to R8 000 per month) and low-rent office space to accommodate new companies and young professionals starting out.
Mashaba's vision is that Johannesburg can be "a place of home, work and play that becomes the thriving and inclusive heartbeat of our city".
Global trends
Making inner cities more liveable is a global trend. Flight from the cities in the second half of the 20th century saw factories relocate to industrial parks (or other countries) and offices and people move to suburbs. The move back to cities is spurred partly by the relative cheapness of property in CBDs, legislation encouraging inner-city investment and even a perception that suburbs are "boring".
Density is a key factor in modern urban planning. Mphethi Morojele of MMA Design Studio makes the point that "the more dense and integrated your city is the more money circulates, the more people have access to opportunity". Morojele's firm has worked on a number of public buildings and urban projects, including the Ellis Park Sports Precinct Parks. "Creating denser multi-functional environments is not only good for the quality of life of citizens but is also economically more efficient and ecologically sustainable," says Morojele. "The economic argument is compelling."
Not only does a denser environment mean that service-sector businesses such as laundries and restaurants have more passing trade, but the provision of bulk services becomes much more cost-effective for utility companies and municipalities.
A dense urban environment also has the potential to overturn one of the worst aspects of apartheid – the fact that most South Africans were forced to live a long way from their place of work, causing them to spend a lot of money on transport, a situation that still exists today.
Nudges and nodes
The Gauteng Growth and Development Agency (GGDA) is one of several organisations other than the City of Johannesburg which has been encouraging development in the inner city.
One of the most important nudges for developers has been the tax incentives that accompany the Urban Development Zone (UDZ). Initially pegged to expire in 2012, the UDZ concession has now been extended to 2020.
Various "improvement districts" have also contributed, for example the RID (Retail Improvement District) where businesses in a designated area pay levies to secure improved cleaning and security services. The Johannesburg City Improvement District Forum shares information among the CIDs. Expenditure by CIDs collectively on supplementary public space safety, cleaning and maintenance is estimated to be about R61-million annually. Investment in public space infrastructure from CIDs was more than R50-million over the last five years.
The Gauteng Partnership Fund (GPF) has attracted about R3.5-billion in private sector funding for affordable housing in the province since 2012. The Brickfields housing and rental development in Newtown was funded by the GPF and implemented by the Johannesburg Housing Company (JHC) as one of the first inner-city rejuvenation projects. JHC is a leader in converting bad buildings to useable rental space.
The Johannesburg Development Agency (JDA) projects range from the upgrading of Constitution Hill, the Faraday Station precinct, work on the Fashion District and pavements of the inner city, renovation of the Drill Hall and the big Newtown make-over.
Mayor Mashaba intends fast-tracking the delivery of title deeds to the beneficiaries of the city's housing projects.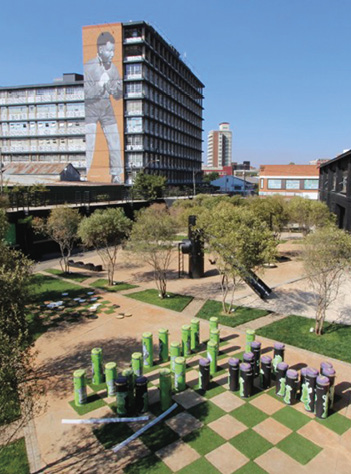 Public spaces need to be included in urban regeneration planning, as do buildings for social purposes. When the Outreach Foundation Community Centre was built in Hillbrow in 2015, it was the first piece of social infrastructure to go up in the suburb since the 1970s. The design, a glass box in a light steel frame which seems to hover over the site, won architects Local Studio the Saint Goban architectural award and provides space for dance and computer classes and offices.
The same architects also developed a public service centre on top of a renovated building for Urban Task Force, a private property development company. The building in Hillbrow, Mimosa Square, was a famous art deco building that had been hijacked by criminals.
Private developer Indluplace Properties bought nine large apartment blocks in 2015, taking its total buildings in the central Johannesburg CBD, Berea and Hillbrow to 23: 33% of the units are bachelor pads, 22% are two-bedroomed flats. The listed company (its major shareholder is Arrowhead) intends to "aggressively grow its portfolio" of high-yielding properties as it believes the rental market has huge potential.
The developers of the Maboneng Precinct are also very upbeat. The Propertuity website states, "With Arts on Main as the catalyst, Maboneng has expanded east along Fox Street, and beyond Albertina Sisulu Road. Community projects like Trim Park and Common Ground offer spaces for the public to use and enjoy, while buildings have been re-developed into multi-purpose spaces."
The City of Johannesburg has identified the following nodes for development:
Carlton Precinct: Johannesburg's tallest building attracts tourists; undergoing revamp; Sky Rink TV and film studio being developed; conference centre planned.
Park Station: intermodal node catering for cars, buses, rail commuters and taxis; Gautrain link to OR Tambo International Airport; wide variety of users.
Central park: JDA has worked on greening and community engagement and wants the park to be a symbol of the successful city.
Doornfontein/Ellis Park railroad corridor: planned retail hub and student village.
Fordsburg: interior design focus; more offices and accommodation can be built.
Newtown: cultural precinct with the potential to cater to students and university departments with specialised offices and spaces.
Hillbrow, Berea, Parktown, Bellvue, Yeoville: creation of new public open space; opportunities for office and hotel developments.