Young people should form co-operatives and look for sponsorship from government departments and businesses if they are to lift themselves out of the cycle of poverty, North West MEC for Social Development, Hoffman Galeng, told young people at Wonderkop near Marikana at the end of a training programme.
"Go to your respective communities with the skills that you have acquired during your 10-month training and make a difference. Register co-operatives and look for sponsorship from businesses in your area and various government departments including ours. Sit together, make plans to advance your goals," Galeng said to the applause of 50 unemployed youth who received training in building and civil construction.
Since 2011, Galeng said his department has provided accredited training to 1 200 unemployed youth who were recruited from deprived wards across the province.
"We are equipping these young people so that they become future employers and be the change agents in the communities that they come from," Galeng said, adding that the skills that the learners have acquired will increase their employability and encourage them to venture into the labour market.
One of the learners, Samuel Sedu, 23, said he learnt a lot during a 10-month training course which was coupled with practical exercise. During the training, Monamodi said, R1 780 was paid as a stipend to cover their daily expenses and household necessities. "We are so grateful to government for presenting this opportunity to us. We know how to build houses. We wish that government should not neglect us. We really need after-care so that we do not roam around the streets with the skills that we have acquired," Rampuru said.
Sedu's sentiments were echoed by MEC Galeng who appealed to municipalities, the business sector and the community at large to adopt and extend the support to leverage on the skills acquired by these young people, so that they contribute meaningfully to the entrepreneurship programmes in the province.
A convenor on youth developmet in the department, Seitebaleng Dikole, said that the learners who have undergone training are the first group to receive full qualification as opposed to statements of results on the modules passed by learners between 2011 and 2016.
The improved programme, Dikole said, allows participants to progress towards the professional fields of becoming artisans if they develop their skills further with additional education and relevant work experience.
Boost for early childhood development
The National Lotteries Commission's multi-million-rand funding to Non-Profit Organisations (NPOs) will improve infrastructure and enhance compliance to the norms and standards required for operating early childhood development centres in the North West Province, according to MEC for Social Development Hoffman Galeng.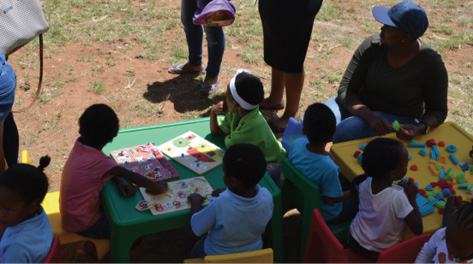 "The National Lotteries Commission has sponsored the construction of 12 early childhood education facilities and 10 edu-containers in identified areas across the province," Galeng said, adding that community members should take care of the new infrastructure once it is completed.
Mariette van Uyssteen, who founded Haasbekkie Early Childhood Development, has expressed her profound thanks to the department for helping her to apply for funding at the National Lotteries Commission.
"I am so grateful that the Lotteries Commission installed an edu-container at Coldridge in Vryburg." Uyssteen was operating a day-care centre in a rented room for a period of five years. In that time Uyssteen depended on support from the Caritas community organisation.
Another beneficiary, Constance Makobea, a committee member of the Itireleng Tataiso day-care centre at Itireleng village, said she is grateful that through the assistance of the departmental staff the national lottery would build a fully-fledged centre worth R3.8-million.
Galeng said the construction of prototype ECDs will go a long way to eradicating the crèches which do not meet the norms and standards that are being enforced by the Department of Social Development.