Engineers from across Africa arrive in Cape Town next week for the Oil & Gas Africa 2017 Conference, which has also attracted exhibitors from across the world.
The conference opens on Tuesday (July 11) with a keynote address by David van Der Spuy of the Petroleum Agency SA titled 'Oil and gas as the region's new economic frontier'.
He will offer insight into the opportunities across sub-Saharan Africa followed by two sessions focused on understanding the region, including a look at the new Mineral and Petroleum Resources Development Act.
At midday, the dti's Director of Upstream and Midstream Oil Gas Kisham Pillay will address the conference examining the role of gas in growth of industry in South Africa.
A highlight of the first day is a special presentation by Nick Mitchell, CEO of Renergen, which is South Africa's sole onshore gas producer, offering insight into this landmark success story in the region's energy sector.
"As the first and currently only onshore production license holder in South Africa, we have walked the road many still fear to tread," says Mitchell. Tetra4 has changed the way onshore production operates and demonstrates government support for natural gas, which is viewed as 'clean and renewable'.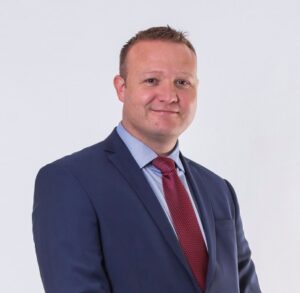 His presentation is one of eight on the first day and each earns Continuing Professional Development (CPD) credits for delegates, a key part of all conferences operated by dmg events.
"Employers and institutions are increasingly adopting a more structured approach to learning in order to retain key staff and develop skills and knowledge in their organisation to maintain a sustainable and competitive advantage," says Brad Hook, dmg ems Africa's Commercial Director. "We are pleased to be offering CPD as part of our conference package for the second year in Cape Town."
Alongside the two-day conference, more than 50 exhibitors from the midstream and downstream supply sector will be at the Cape Town International Conference Centre for the three day confex, which begins next Tuesday.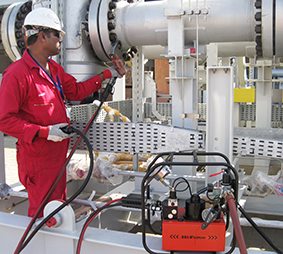 Exhibitors include, UK-based Hi-Force, a leading manufacturer and supplier of hydraulic tools and bolting equipment (left), which can be part of a service package that extends to tool rentals, onsite bolting and jacking services, tool repairs and calibration as well as ECITB approved MJI training courses.
US-based Brady Corporation will also be at Oil & Gas Africa 2017. This manufacturer offers 'products that increase safety, security, productivity and performance and include high-performance labels, signs, safety devices, printing systems and software,' says the company's Tom Van de Putte (below).
Alongside is Delair-Tech showcasing the first civilian Unmanned Aerial Vehicle (UAV) in the world to be approved for BVLOS (Beyond Visual Line of Sight) operations. The drone has flown more than 150,000 km across the world and can carry high resolution RGB and multispectral sensors (top image).
"This is a networking event, a top-level conference and an opportunity to meet suppliers," says Hook. "The conference programme covers key future issues and the exhibitors offer some of the finest solutions in the world."
Oil & Gas Africa 2017 was acquired last year by global exhibition and conference organiser dmg events MEA adding to its worldwide energy portfolio that includes ADIPEC, which attracts 80,000 visitors to the UAE in the world's largest oil expo outside of North America.
Oil & Gas Africa 2017 runs from July 11-13 at the Cape Town International Conference Centre with a three-day conference and exhibition.
More details www.africaogp.com