Eco-Industrial Solutions
Eco-Industrial Solutions (Pty) Ltd (EIS) was established to create an innovative industrial park combined with a nature park in the northern area of Limpopo. The Limpopo Eco-Industrial Park (LEIP) will be Africa's first zero solid-waste eco-industrial park.
Municipal waste and renewable energy will be utilised to provide syngas and power for industrial enterprises within the park. Waste from the park will be contained and disposed of within the park through the application of plasma gasification technology and a closed-loop water management system.
Background
In South Africa air pollution kills an estimated 20 000 people per year, 780 000 people in Africa and worldwide nine-million people per year. Coupled with the plight of unemployment in Africa and more specifically in South Africa, the expertise of the founding members covers heavy industrial development in various countries globally, experience in implementing environmental protection as well as the realisation of institutional mega-projects.
The Musina, Vhembe, region is blessed with an abundance of natural resources, accessible labour and existing major infrastructure. The LEIP concept has been successfully integrated into the Integrated Development Plan (IDP) and Spatial Development Framework (SDF) of the Musina Local Municipality.
Furthermore, the LEIP concept is in tune with the spirit encapsulated in South African President Cyril Ramaphosa's vision of a "New Dawn", predicated on the twin pillars of "Renewal and Rebuilding".
Vision
To find techno-economically viable solutions to the challenges facing humanity. To promote industrialisation in a way that is beneficial to local communities as well as the environment.
Motto
Industry nurturing nature.
The concept
The world's first zero solid-waste eco-industrial and integrated nature park. The Limpopo Eco-Industrial Park will illustrate the symbiotic relationship between people, planet and profit by demonstrating their mutually beneficial co-existence, thereby preserving Mother Earth for future generations.
Location
Musina, northern Limpopo. Near Beitbridge border post and part of the Musina-Makhado Special Economic Zone.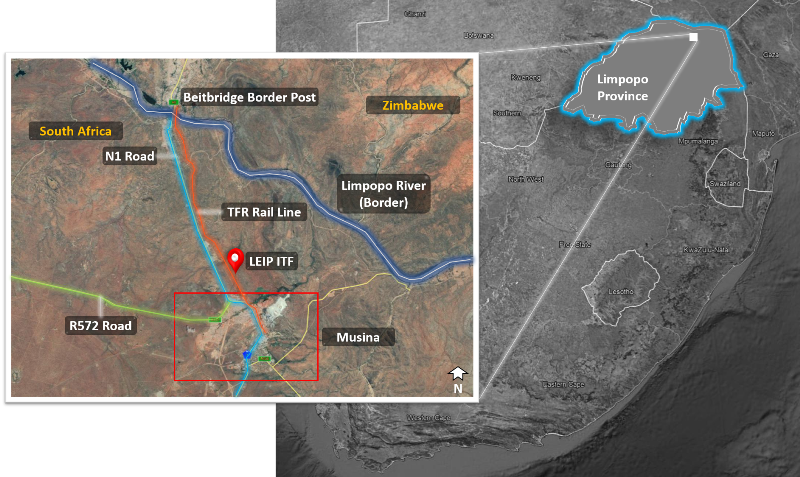 LEIP components
450 MW PV Solar Power for agro-processing, buildings and water heating and supply excess to the Eskom grid.
Two approved off-channel dams with 20 million cubic metres water storage capacity.
Blue Drop status drinking water and environmentally friendly waste-water treatment facilities.
A Nature Reserve comprising 2 286 hectares of environmentally sensitive tourism area.
80 chalets in the integrated nature reserve.
Two residential eco-estates: Musina Eco-Housing Estate (3 797 units) and Singelele Equestrian Estate (903 units).
Waste gasification plants for residential and industrial waste.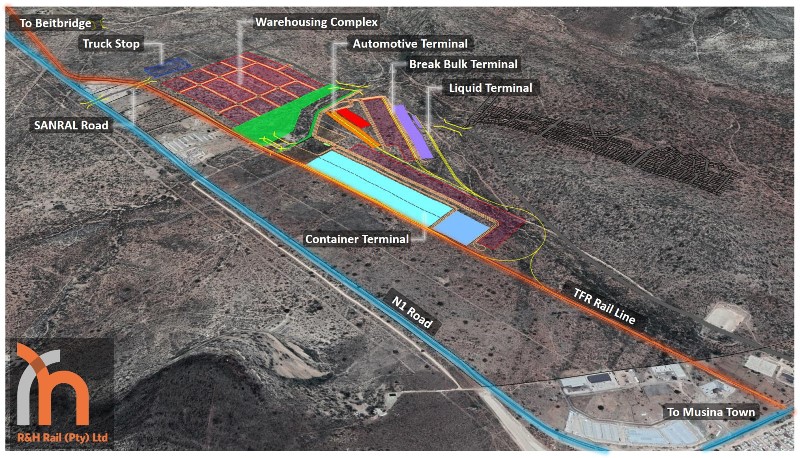 Game-changer
Plasma waste gasifiers will be used extensively. This technology has been used elsewhere to transform waste to energy, but the LEIP aims to take this a step further by ensuring that no waste leaves the site. The target is for the industrial park to be a self-contained unit with a zero-waste impact on the surrounding countryside and communities.
Timeline
2019/20: Bankable project studies to be finalised. Infrastructure construction proceeds (including LEIP East basic infrastructure, Transnet Intermodal Terminal Facility and bulk water and sewage treatment facilities). Musina Eco-Housing Estate construction begins.
2021: Construct truck stop and warehousing, agro-processing facility, PV solar farm 1 000ha, plasma gasification facilities, ITC development centre.
2022: Establish a balanced renewable energy system that is integrated with waste gasification and syngas generated power. Construct copper processing plant. Establish nature park, including 80 chalets. Establish Industrial Ecology Research Centre.
2023: LEIP East Operations commence with commissioning of utilities, infrastructure and financial management systems. Commission SEZ operations. Construct LEIP West basic infrastructure, to accommodate a chemical plant complex including ammonia-urea, methanol and resin, by utilising carbon engineering technology to generate the required feedstock hydrogen (H2) and carbon monoxide (CO), the basic building blocks for these plants.
Impact
GDP impact 2019: R744-million
GDP impact 2025: R17.2-billion
GDP impact (direct and induced) from 2019 to 2025: R61.3-billion.
Strategies to mitigate risk and promote the circular economy
Ensure that all toxic materials, other waste and gases are disposed of within the LEIP.
Reduce food waste and recycle key nutrients (N, P) through their recovery from food waste and waste water.
Generate power through solar PV and municipal waste syngas and export excess power to the grid. Use Eskom power for construction only.
Capture heat and gas emissions to supplement electricity supply.
Protect and integrate sensitive areas throughout the LEIP.
Responsibly manage the value chain of waste materials such as metals, plastics and wood.
Waste concrete and bricks will be crushed and mixed with local hard rock into a uniform and usable construction material.