Africa's food industry is set to be disrupted by the 4th Industrial Revolution, forcing more agile approaches and more innovation to future-proof businesses, say experts set to speak at a key upcoming food and beverage event in Johannesburg.
Speakers at the two-day FOODNEXT.AFRICA conference, to be staged alongside the Africa's Big 7 food and beverage trade show, will unpack the future of food innovation, disruptive distribution, scaling up start-ups, food safety and food waste, and the surging demand for alternative proteins at the forum – just one of the many highlights at Africa's Big 7.
"With over 250 exhibitors from 45 countries, Africa's Big 7 is the only food and beverage trade show in Africa to bring together hundreds of global suppliers with motivated buyers from every segment of the buying community. This exciting B2B food event connects the startups, food innovators, foodtech businesses, investors and partners who are redefining the food industry from farm-to-fork," says Lynn Chamier, Event Director: Food, Hospitality and Trade Portfolio at dmg event.
Africa's Big 7 also features highlights such as Café Culture workshops, where visitors can develop their skills and knowledge in the hottest beverage trends. For the second time in their 11 year history, the Global Pizza Challenge will be Africa's Big 7, giving passionate Independent pizza chefs a chance to demonstrate their gastronomic masterpieces and pit themselves against the competition to win cash prizes and an entry to the international finals.
Co-located with the SAITEX trade fair and conference and The Hotel Show hospitality trade show and Hospitality Leadership Forum, Africa's Big 7 food and beverage trade show and its two-day FOODNEXT.AFRICA conference will all be staged under the banner 'Africa Trade Week', a new integrated international trade event designed to establish South Africa as the gateway to the continent while delivering the latest cutting edge innovations, new ideas and products, trends, insight and future thinking.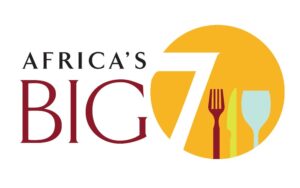 About Africa Trade Week
Africa Trade Week is the key new platform for continental trade across the retail, hospitality, food and beverage and wholesale sectors.
Hosted by dmg events, Africa Trade Week 2019 will incorporate three leading exhibitions – The Hotel Show Africa, Africa's Big 7 and SAITEX, as well as their associated conferences and workshops, to create the new home of trade highlighting pan-African business opportunities, products, services, equipment, supplies, innovations, technology and solutions. Africa Trade Week will be held from 23rd – 25th June 2019, at the Gallagher Convention Centre, Johannesburg.