Since that momentous event 21 years ago, the Durban ICC has become a veritable engine room for economic empowerment and job creation, not to mention a world-class crucible for peace efforts, development, scientific discourses and mind-blowing entertainment.
Later named after Africa's first Nobel Peace Prize Laureate, Inkosi Albert Luthuli, the Durban ICC was South Africa's first International Convention Centre and since then has played a pioneering role in attracting international events to our shores.
This July 2018 is 100 years since the birth of Madiba, one of the most visionary and influential political figures the world has seen. He will forever be the man who led South Africans to freedom, who suffered under and then vanquished the evil of apartheid, and who built a new democracy with magnanimity, wisdom and vision.
The Durban ICC has lived true to the prophetic words of Mandela when he said in his opening speech that in constructing the ICC, the people of Durban had shown "foresight, determination and initiative" in creating a venue "that all South African can be proud of".
"This occasion also highlights the impact this investment will have on the economies of Durban, KwaZulu-Natal and indeed South Africa.
"The impact will be felt in the province's tourism industry and further afield as delegates and their families take the opportunity to visit our country's attractions.
"As a meeting venue of world standards, the centre will most certainly attract conventions from around the world. In particular, it can help us attract our share of the multilateral conferences that are held in Africa each year.
"Let us make a pledge, as citizens of Durban, of KwaZulu-Natal and of South Africa as a whole, to join hands, locally, regionally and nationally, to work together as government, business and community, in order to make a success of this magnificent international conference centre," Mandela said.
Until his retirement from active political life in June 1999, and even for some years thereafter, Mandela attended many major events at the Durban ICC.
The Durban ICC has been a winner since Day One – as if Mandela had the Midas touch.
This year, the Durban ICC commemorated Nelson Mandela Day by hosting the Durban leg of the national food drive in collaboration with FoodForward SA and Pick n Pay.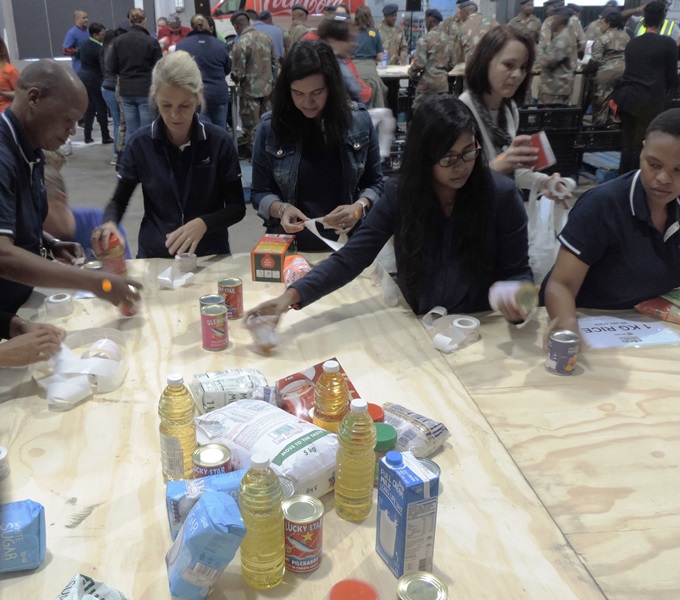 The national food drive will help stock FoodForward SA's warehouses across the country with staple foods during winter, ensuring that the 600 Beneficiary Organisations they serve can continue to provide warm meals to the 250,000 people they feed every day.
Commenting on the importance of the project, Durban ICC Chief Executive Officer, Lindiwe Rakharebe noted, "Eradicating hunger is the first step in preventing so many of the other social ills affecting our society today. Without solving the hunger problem, it is almost impossible for our children to meet any of their other developmental goals."
Rakharebe said she was thrilled with the double celebration this year – 100 years since Madiba's birth and the convention centre's 21st birthday. "Our support for this particular project resonates with our theme for the year, namely 21 Years of Changing Lives."
Heads of state, royalty, international music artists, business boffins and sporting luminaries have been among the many high-profile dignitaries to have graced the stage at one of the world's most desirable meeting and event destinations.
"Just as we have led the way in growing the meetings, conventions and exhibitions sector in South Africa, we look forward to making history in the next 20 years and beyond. Our heartfelt thanks go out to all stakeholders who have been a part of our journey."