Huge potential exists in Africa to create biomass-to-energy projects. These projects can be started by private and commercial investors or national government in their attempt to create a more sustainable alternative to coal power plants.
A study by NRGen Advisors and audited by CSIR in South Africa has shown that South Africa and Namibia has a sustainable source of biomass for such projects.
Here are the 10 most frequently asked questions regarding biomass-to-energy projects:
1. Why biomass-to-energy?
There are several reasons:
The abundance of harvestable and unwanted biomass in the riparian zones and catchments of the Western Cape river systems, and the highly mechanised approach of Africa Biomass Company to effectively harvest these alien and invasive tree species, has put Africa Biomass Company in a position to compete with fossil coal as a boiler fuel and heat source;
The delivered cost of Africa Biomass Company's biomass chips measured in Rand per tonne (R/t), as well as Rand per Giga Joule (R/GJ) energy is cheaper than that of coal delivered anywhere in the Western Cape. The same would apply to the Eastern Cape and Namibia;
The positive impact clearing of alien invasive trees has on the environment. Alien clearing of rivers are far more cost effective, from a water saving perspective than enlarging dams or desalinating of sea water;
The potential to generate base load electricity on continuous, uninterrupted basis for the long term has now become possible with woody biomass.
2. Can I generate electrical power/steam/heat from unwanted woody biomass at a commercial scale?
Yes!
Technology exist to use biomass wood chips from invasive alien trees or old orchards, as fuel to fire boilers to generate high pressure super heated steam to turn steam turbines for cases > 5MWe;
The > 5MWe biomass-fired power stations will be able to compete with Eskom within the next four to five years in terms of R/kWh and in technical availability of base load power supply;
For smaller power generating applications, other technologies, like the Organic Rankine Cycle (ORC) or the Sterling Engine, can be applied at a lower cost per kWh than diesel driven system.
3. Can the above be done on demand, any time of the day as an uninterrupted base load power supply?
Yes, a biomass-to-energy power plant or combined heat and power plant can run 24 hours per day for say 360 days per year. Allow ± 5 days per year for statutory and annual maintenance.
4. What would the typical fuel consumption of a 10 MWe power plant be?
Running at full load, a 10 MWe plant would consume 9.7 t.p.h. of woody biomass chips (at 22% moisture content and at a calorific value of 15.6 GJ/t average), translating to approximately 79 100 t.p.a. of biomass.
Africa Biomass Company is currently harvesting > 180 000 t.p.a. of biomass.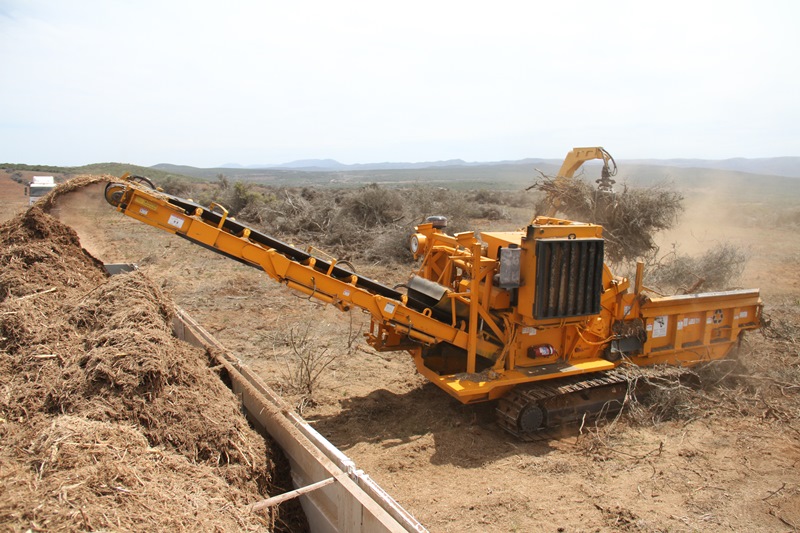 5. Will my area have enough biomass to drive a 10 MWe power plant for 25 years?
The Western Cape, Eastern Cape, KwaZulu-Natal, Mpumalanga and Namibia have large sources of unwanted biomass.
Alien and invasive species (and encroacher species in the case of Namibia), as well as old fruit orchards can feed several of these small power stations with unwanted biomass for decades to come. At the moment, these infested areas expand at a much higher tempo that the efforts to clear it.
6. Does Africa Biomass Company have the equipment to harvest large and bulky trees like Eucalyptus, Black Wattle and Pines, mill it into chips and transport it 100 km to the nearest power plant?
Yes. Africa Biomass Company has a fleet of 10 harvesting trains consisting of tree felling, loading, chipping, off-road shuttling, hook-and-hook-off bulk bins and road transport equipment to deliver wood chips at the proposed power plants.
Africa Biomass Company is already harvesting biomass at a tempo of 180 000 t.p.a. This represent a continuous power generating output of nearly 25 MWe. Sufficient base load power to drive towns like Robertson and Hermanus.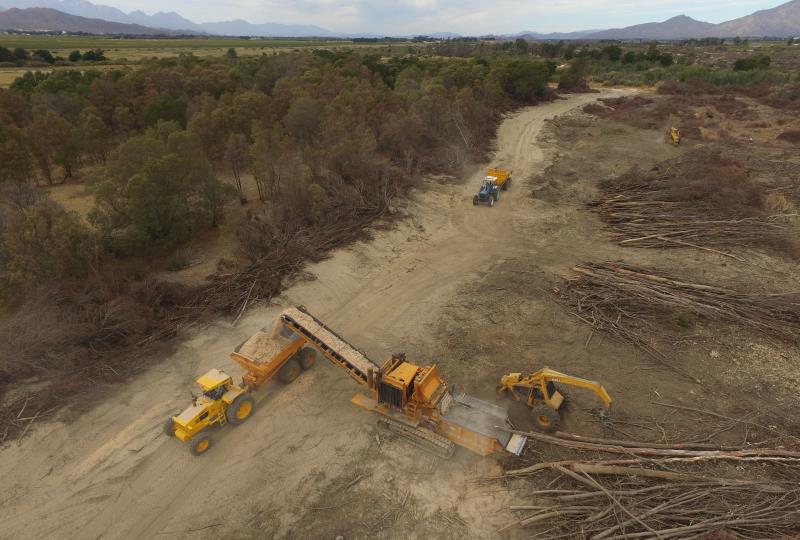 7. Can the technical availability of these equipment be guaranteed for a contract period of 20 – 25 years?
Yes. Africa Biomass Company is also the agent for key heavy-duty chipping and milling equipment, Bandit Industries, Inc. in Africa.
The company also has two large maintenance workshops (Worcester and Robertson) at its disposal, as well as trained technical team and a fully equipped field service fleet and parts department to maintain the 10 harvesting trains with minimum down-time.
8. Can hog fuel (biomass boiler fuel) be delivered in the required specifications to the power plant operator?
Yes. Africa Biomass Company prides itself to deliver to an agreed set of specifications, with specific reference to:
The average calorific value (15 – 18 GJ/t);
The required moisture content (20 – 22%);
The required particle specifications (PSD);
Ash content (2 – 5%)
9. Can Africa Biomass Company's hog fuel compete with coal?
Yes. Africa Biomass Company competes with coal in several ways:
Biomass wood chips delivered over 100 km can compete favourably with coal in R/GJ energy output in the Western Cape, Eastern Cape and Namibia;
The ash of the burned biomass can be returned to agricultural soils as an ameliorant to improve soil health – unlike toxic coal ash;
Biomass is a renewable resource with friendlier emissions than coal.
10. Can micro and small enterprises be incorporated into Africa Biomass Company's biomass-to-energy supply chain?
Yes. Hand-fed wood chippers can be supplied, and operators can be trained to chip forest floor waste and smaller branches and sell the chips per cubic meter (cm³) to Africa Biomass Company as the commercial anchor.
Steeper slopers can then be cleared with hand-held felling equipment and hand-fed wood chippers. A real job creating micro-enterprise next to the anchor harvester for training, maintenance assistance and support to ensure the long-term sustainability of the smaller contractor.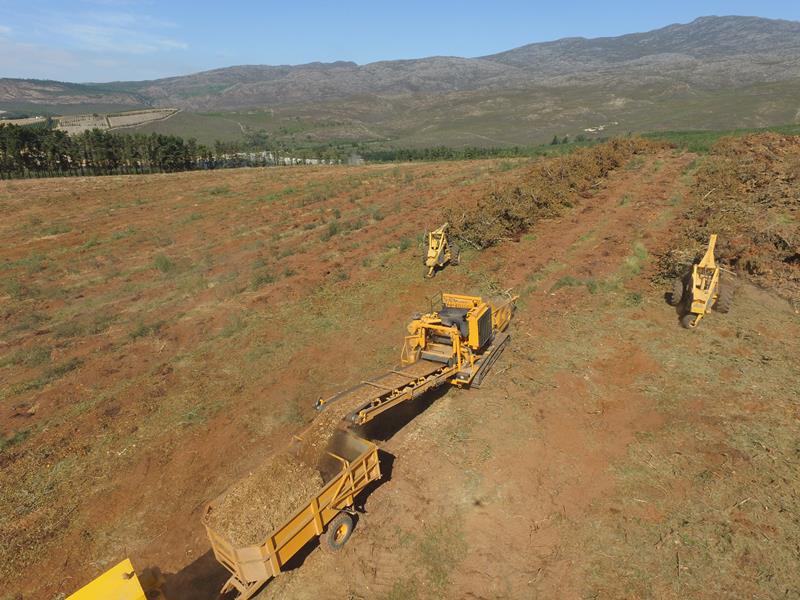 Biomass-to-energy projects will accelerate the "Working for Water" and "Working on Fire" programmes of the Department of Environmental Affairs and Provincial Departments of Agriculture.
By absorbing cleared invasive alien trees into base load energy generation will not only give a monitory value to biomass as a renewable fuel, it would hopefully lead to riparian zone and river catchment area clearing of unwanted biomass at a tempo larger than the current tempo of infestation and regrowth.
It is estimated that > 400 000 t.p.a. of alien trees need to be cleared in the Western Cape Province if the tempo of regrowth and infestation of invasive alien trees need to be brought under control.
---

Error: Contact form not found.