A diverse group of black-owned SMMEs are benefiting from a Western Cape initiative to unlock supplier opportunities outside government institutions. The City of Cape Town's Enterprise Development Unit has committed to educate and direct these suppliers with a practical workshop, in partnership with Smart Procurement.
The event was hosted on February 19 at GrandWest with the focus on "How to do business with corporate supply chain". This was part of Cape Town's smart supplier development programme and competition.
A capacity development platform was created by the workshop for 58 small business owners. They benefited from interactive topics on competing in a supply chain along with skills development in negotiation, contracts/legal compliance and anti-corruption.
"The City of Cape Town is delighted to have been part of the practical workshop with suppliers and look forward to the upcoming Smart Procurement World Summit and co-located Enterprise & Supplier Development Expo in May. The City is of Cape Town is driving inclusive economic growth through cutting red tape to make doing business with and in the City easy. Our vision is to be an opportunity city that creates an enabling environment for economic growth and job creation, and to provide assistance to those who need it most. The aim of the Enterprise & Investment Department, located in the Directorate of the Mayor, is to work to enhance the enabling environment for new investment and the creation of new enterprises within the local economy. Key to this is our strategy to continuously engage with key economic stakeholders, to provide expert knowledge and to support and develop small and medium size enterprises." Executive Mayor of Cape Town, Patricia de Lille.
Participating small business owners were in agreement that this year's programme was an eye-opener.
Mahmood Kariel from Chiefs Hydraulics said, "It was informative on things I did not know about procurement and good for individuals who do not have exposure to this".
Martha Rafula, owner of Rafula Martha Enterprises Pty Ltd, was excited about new perspectives from the workshop. "I am very grateful about this course. It has taken me to another level of thinking and running my company," she said.
This was the third annual City of Cape Town Smart Supplier Development Programme and Competition with the aim to enable SMMEs to engage effectively with their supply chain.
The initiative continues to support the small business supplier community through expanding their understanding of and ability to navigate through a maze of corporate opportunities. In addition, the programme grows SMME networks to acquire valuable market access.
If you missed it…
Other small businesses can benefit from such linkage platforms by attending the Smart Supplier Conference – Enterprise & Supplier Development Expo – Western Cape, to be held at GrandWest on May 15 – 16, 2018.
This is your Free Exhibition Visitor Invitation to SA's Largest Linkage programme where Buyers & Sellers meet!

Attend the Enterprise & Supplier Development Expo part of Smart Procurement World WC on Wednesday, 16 May at GrandWest, Cape Town.
Your opportunity:
Attend the Expo at no cost by registering online here.
Attend industry-specific Buyer Match-up sessions, where all buyers and sellers will meet in one place at one time!
Attend the Knowledge Hubs – covering key topics for all SMMEs and new businesses.
Book your stand! For available options email: patience@smartprocurement.net
Download the ticket here and share with a friend.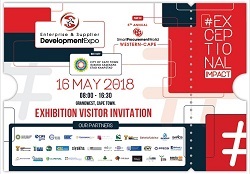 For more information go to:
Quick facts about Smart Supplier Development Programme and Competition:
Offered by the City of Cape Town in partnership with Smart Procurement World
Third year running in 2018
Business participation in 2018 was represented by a variety of sectors, for example: engineering, manufacturing, fleet services and repairs (i.e. vehicles, trucks, heavy/small/marine/hydraulic plant) and ICT
285 entries were received in February 2018
58 SMMEs attended the first interactive workshop for 2018 on February 19, with a second session scheduled for March 20