Northern Provinces
This early region has about 2 to 3 weeks of packing left until their season ends. Producers are still experiencing suitable harvesting conditions with good grape quality. It is expected that this region will end within the estimated range.
While the last black grapes are being harvested they will finish with Crimson and Scarlotta.
Orange River
Packing is well underway in this region, which is between a week or two late. The overall view of producers is that the crop estimate will be reached. Very favourable harvest conditions remain.
Producers are currently packing Thompson and Autumn Crisp.
Olifants River
Although this region started slowly, packing is now well underway. An unseasonal shower of rain early in their season had a negative impact on the start of their harvest.
Early indications are that this region is recovering slower than anticipated from the severe drought. However, the prospects for this region remain markedly better than last year.
They are currently packing Tawny, Flame and Prime. Krissy, Magenta and Crimson will follow in about two weeks time.
Berg River and Hex River
These two later regions just started packing without any weather related incidents. They started packing white seedless grapes. Favourable weather conditions remain while vineyards look healthy and the crop very promising.
2018/2019 Season Statistics
*Intake Week 1
Exports Week 2 (up until 8 am Thursday 10 January 2019)
*Intake PPECB data
*Exports AgriHub data (up until 8am Thursday 10 January 2019)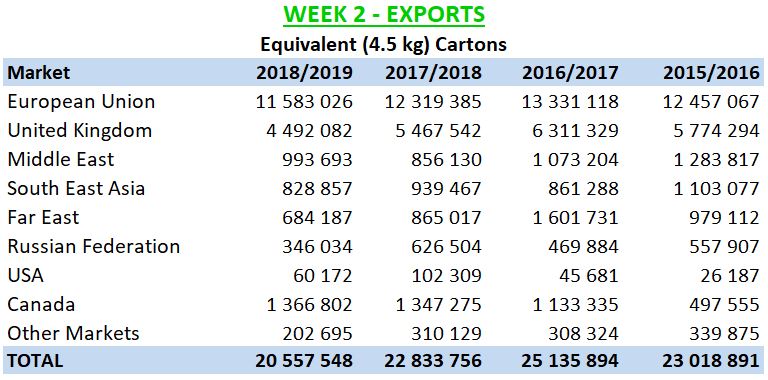 The South African Table Grape Industry (SATI) 1st Crop Estimate for the 2018/2019 season remains unchanged with volumes estimated to be between 63,2 and 70,1 million cartons (4.5 kg equivalent). Read the full statement.