Rather crowded, somewhat smelly, useful but of limited value. That just about sums up the old small slipway that served the small town of Kleinmond on the Whale Coast near Hermanus. A major revamp has transformed the area into a vibrant and varied economic node, while still allowing fishers access to the sea and their snoek via the slipway.
The Harbour Road development has seen the infrastructure leading to the sea upgraded and transformed: roadside trees shade coffee shops and traders, and bookshops and restaurants line the cobbled road leading to the water's edge. Several new apartments are for sale or available for holiday rental.
This kind of upmarket development will not suit every small harbour, jetty or cove along the coast of South Africa (and the Harbour Road development was also not everyone's cup of tea), but it highlights what can be done with a bit of imagination and intelligent partnerships between public landowners and private developers.
The Northern Cape boasts a coastline of 313 km but the economic value of this asset has barely been touched, despite a growth in the abalone industry in recent years and some fishing and lobster operations.
This is set to change.
Plans to boost the maritime economy in the province form part of two broader national
programmes. Operation Phakisa is an initiative of the South African government to fast-track parts of the National Development Plan. The focus is on delivery and results, with strict timelines. "Phakisa" means "hurry up" in Sotho. One of the focus areas within Phakisa is the Oceans Economy programme. Three Northern Cape harbours feature in the list of harbours that need attention: Port Nolloth, Boegoe Baai and Hondeklip Bay. The last-named port has already received investment in the aquaculture sector.
According to Operation Phakisa documents, the untapped potential that passes South Africa's coast is immense. This includes:
the fact that South Africa only does maintenance on 5% of the 13 000 vessels that use SA ports;
that South Africa is currently only servicing 4-5% of the 80 rigs close to Cape Town. (Cape Town recently did a R1-billion job on a rig.) About 130 rigs pass along the coast each year;
vessels carry 1.2-million tons of liquid fuel around South Africa;
foreign vessels ship 300-million tons of cargo in and out of South African ports.
The coast controlled by South Africa and adjacent waters have "possible resources" of oil that could supply the country's needs for 40 years, and natural gas that could supply the country's needs for 375 years. This has the potential to lead to production of 370 000 barrels per day, but this could not happen without significant investment.
Port Nolloth
The province has been allocated an increased quota for landing fish (primarily hake) which makes Port Nolloth more attractive as a site for investors in fish processing. A pilot abalone ranching project located south of Port Nolloth will start operating soon.
Bigger plans are under way to convert Port Nolloth into a deepwater port capable of receiving large vessels. Both a pre-feasibility study and a follow-up Gap Analysis have been done, and the plans have been registered with the provincial and national Treasuries.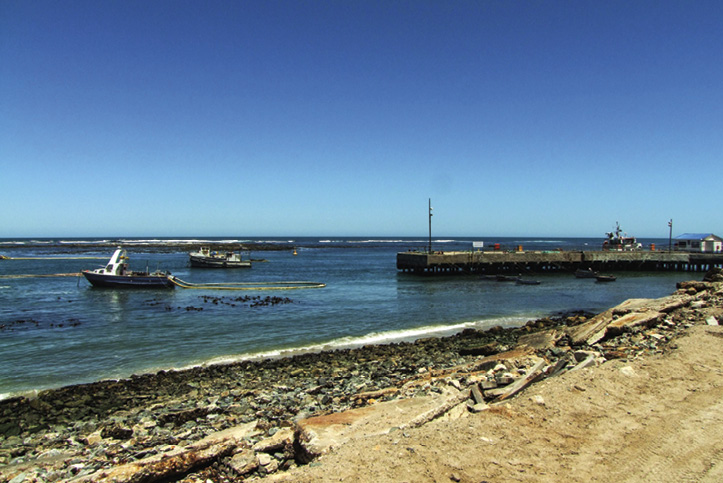 Port Nolloth itself is today a small fishing harbour and the studies have shown that better potential exists at nearby Boegoe Baai to develop deep-sea facilities. The plan would incorporate both areas. A commodity mix study has been completed and submitted to the National Steering Committee on Ports for further processing and final decision-making.
Preliminary research indicates that the project could generate income of R2.1-billion annually by handling bulk cargoes and minerals such as manganese and iron ore. There would be possibilities for linking the port to the gas fields and developing ship-repair facilities. The intention is to find a private investor or a consortium to take the project forward.
If the harbour project gets the green light, then accompanying infrastructure will follow. The best route to connect to Upington will be the subject of further studies, as will the feasibility of a new rail link.
In announcing that the deep-sea harbour project was "progressing well" in her 2016 State of the Province address, Premier Sylvia Lucas referred to "aligning infrastructure to freight type and ensuring that network connectivity links complementary ports with inland connections". Logistics comprises a complicated set of interlocking networks that requires very careful planning.
The preliminary studies suggest that it would cost about R2.4-billion for the first phase of the seaside construction, with a further R800-million needed on the landside. There is an expectation that volumes through the harbour could be 20-million tons (for bulk commodities like manganese and iron ore) and 6.3-million tons of break-bulk cargo.
The construction requirements of a project this size would themselves be a boost to the economy of the Northern Cape. The harbour project has the potential to be transformative.
Small harbours
Another Operation Phakisa initiative is the Small Harbours Development Unit. Set up within the national Department of Public Works, it aims to drive new economic development in coastal areas by unlocking the potential of small harbours. Small harbours are also seen as having a key role to play in safety, security and territorial integrity.
As a first step, 13 smaller fishing harbours in the Western Cape were identified and work began on a series of projects to start the revival process: repairing slipways, towing away sunken vessels and dredging.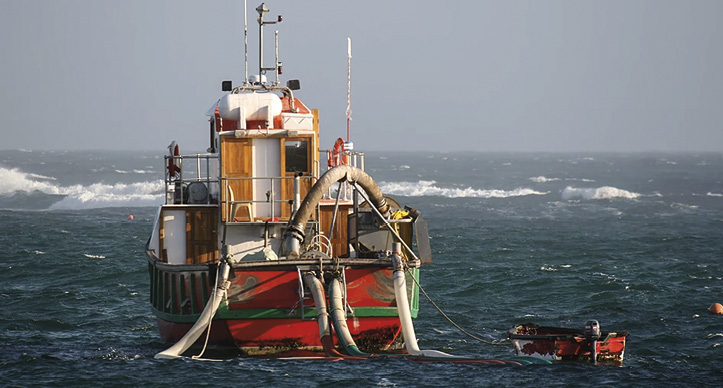 Many more creative and value-adding interventions lie ahead, and are expected to be undertaken even in areas that are currently not "proclaimed" fishing harbours. South Africa's four coastal provinces have as many as 50 potential and existing unproclaimed harbours. The key is to stimulate economic activity.
Activities to promote primary maritime activity could include:
infrastructure to support fishers: processing, ice production, cold storage
infrastructure for boat-building and repair
additional berthing and launching facilities
new recreational fishing points
access to better amenities for fishers.
Tourism could be promoted through better:
pedestrian access
cleaning and maintenance
policing
stalls or shelters to sell crafts
partnerships with developers to develop restaurant, curio shops, retail, martime or marine museums and accommodation options
water recreation and sports.
Steps are being taken to include the country's small harbours as national assets in terms of the Government Immovable Assets Management Act (GIAMA). The National Department of Public Works is the custodian of the state's immovable assets.
The Small Harbours unit intends implementing the Spatial and Economic Development Frameworks (SEDFs) for the 12 proclaimed fishing harbours which were completed in 2014 and develop SEDFs for the remaining small harbours along South Africa's coastline. An audit of all state coastal reserves needs to be done, and land for aquaculture projects must be made available for these enterprises.
Short-term leases within harbours are also to be converted to three-five year leases so that business owners can have better security of tenure, allowing them to plan and expand.
Originally published as a Special Feature in Northern Cape Business 2017/18 edition.