SMMEs are a driving force in South Africa's social and economic transition and have attracted increasing attention because of their labour-absorptive capacity and potential to grow and stimulate the economy.
More than a third of young South Africans in the labour force are unemployed. This statistic creates a significant gap that can be filled by the development of small business professionals and entrepreneurs in the manufacturing sector. SMMEs are reported to resolve the persistent problems of insufficient employment growth while being highly efficient in flexibly serving increasingly segmented consumer markets.
Understanding the small manufacturer's point of view on manufacturing issues requires an understanding of the markets for their products, along with many common issues of interest to small manufacturers that need to be addressed. The Small Business Indaba provides a platform for SMME's to connect with the big players in South Africa's manufacturing industries as well as an opportunity to learn how to grow and manage their businesses.
Leveraging on the success and partnership of the National Manufacturing Indaba, the Small Business Indaba – complete with nationally recognised manufacturing experts, government policymakers and innovators – provides the small business owner with informative keynotes, interactive panels, one-on-one brainstorming and hands-on networking – everything that the manufacturing entrepreneur needs to address their changing business landscapes.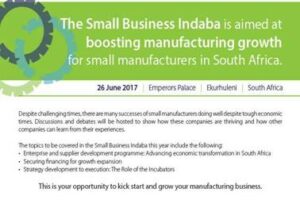 The Small Business Indaba will take place on the 26th June 2017 at Emperors Palace, Ekurhuleni alongside the Manufacturing Indaba, with the main objective being to provide manufacturing entrepreneurs and SMMEs with the tools, networking opportunities and an unparalleled platform to establish their businesses for success and grow their manufacturing operations to the next level of innovation and job creation.