South Africa has always been a water-scarce country, but recent events have focused the minds of all citizens to the pressing need to preserve water resources and to use water more intelligently.
One response at national level was to create nine Catchment Management Agencies. They have been tasked to protect water resources, allocate and regulate water use and to coordinate the activities of water users.
The Breede-Gouritz Catchment Management Agency (BGCMA) is the southernmost of the catchment agencies and falls mostly in the Western Cape. The two largest rivers in the BGCMA's area are the Breede and Gouritz rivers. Their tributaries, as well as the catchments of the smaller coastal rivers, all fall under the agency.
BGCMA offices are located in Worcester and George which enable the agency to assist local authorities such as municipalities, local communities, Water User Associations (WUA), Irrigation Boards (IB), relevant stakeholders and other state organs and institutions.
Change is needed
Among the steps that South Africa needs to take are changing the pattern of water usage so less water is used, conserving water where groundwater recharges are feasible, and focusing on capturing and storing stormwater in urban areas. This is according to the BGCMA's Acting Water Use Manager and Geohydrologist, John Sibanyoni.
John also suggests that municipal budgets "have at least a Hydrogeologist and an Engineer for water supply." He adds, "Government needs to attempt to work with Non-Governmental Organizations (NGOs) that are willing to assist on drought areas to avoid duplication of interventions." With regard to stormwater management, John notes that, "floods taking place in urban areas can be captured and purified in a designed system, namely Dual Porosity Filters, DPF (membranes), then released into recharge zones or other usages thereafter."
John, who has an MSc Geohydrology from the University of the Free State and is a Certified Professional Natural Scientist with the South African Council for Natural Scientific Professions (SACNASP), believes that the country and its citizens really need to focus or engage in interventions such as those outlined above.
Dry times
The drought afflicting the Karoo region is the result of a combination of factors, not limited to climate change and the lack of specialist skills in municipalities. The reliance on surface water as the sole supply of water is a key reason for the current situation, according to John. "As a result," he says, "less focus on groundwater or on a water-mix resulted in the country being prone to droughts; contingency measures worked only for a short time."
Dams in the Breede water management area (serving the towns of Worcester, Grabouw and Swellendam) have done relatively better than the Gouritz area, under which the Karoo falls. "The drought started around 2015 but it started to be felt from 2017," says John. The following towns located within the Karoo experienced the biggest challenges: Beaufort West, Laingsburg, Prince Albert, Ladismith and Oudtshoorn. "Most of those towns end up relying solely on groundwater or, in the case of Beaufort West, recycled water."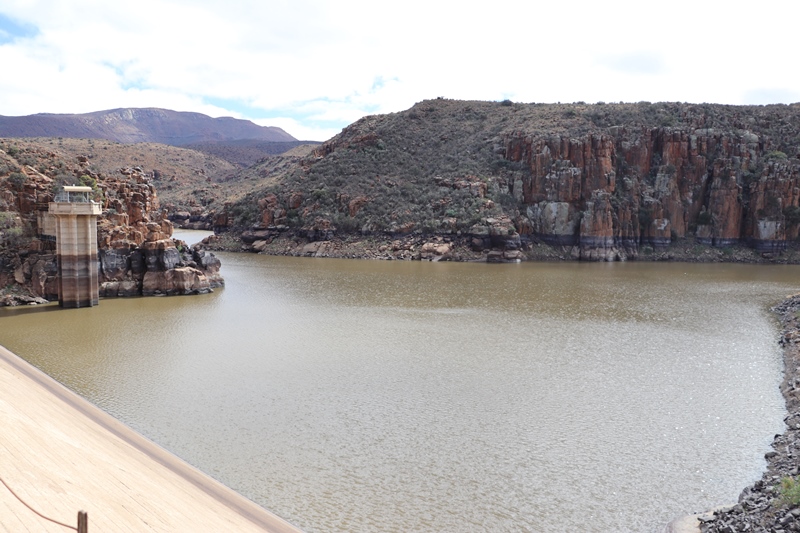 Catchment agencies are not responsible for the disbursement of funds, but the BGCMA has been directly involved in various initiatives for the implementation of drought relief. For example, BGCMA is participating in technical planning for the development of new wellfields for water supply in local municipalities such as Beaufort West.
Other activities that the BGCMA provides as assistance to local authorities include:
Water scarcity and usage awareness campaigns
Fast-track the finalisation of licence applications (the City of Cape Town was granted a drought emergency licence in two weeks as compared to the normal legislated timeframe of 300 days)
Media tour participation where BGCMA provides information on issues such as water usage and borehole registration.
Licences and permits
Drilling a borehole does not necessarily trigger the need for a permit unless the following conditions exist:
municipal by-laws require a specific permit;
it is a delineated sensitive area;
it is a wetland or riparian zone or 1:100 flood line.
What does trigger a licence permit application is the taking of water (types include taking, discharge and storing) as defined by the National Water Act (Act 36 of 1998). The licence process has four types of permits:
Schedule One: General low volume, emergency use, should be consistent with domestic or household use with no commercial activities; no licence required.
General Authorisation (GA): a permit for minimal commercial water usage in small schemes; needs licence.
Water Use Licence: a high-level permit which considers many aspects related to the economy, the ecosystem and basic human needs; needs licence.
Existing Lawful Use (ELU): This type of permit considers existing lawful use if water use was taking place prior to the NWA of 1998; registration required.