The Northern Cape is attracting hundreds of millions of rands in investment in renewable energy. Most of this money is being put into solar energy plants, with the most popular technology being solar photovoltaic (SV). However, several of the most recent investments have been in concentrated solar power (CSP) technology, a method that offers better storage possibilities. Solar voltaic technology essentially uses many panels to capture the sun's rays, while CSP normally uses a tower or troughs to concentrate the sun's rays.
With four rounds of bidding finished at the end of 2016, South Africa's programme to encourage private power producers to bid for and build renewable energy plants has led to 92 projects being approved. Fully 48 of those are situated in the Northern Cape: 35 of these are solar projects.
The national programme is known as the Renewable Energy Independent Power Producer Procurement Programme (REIPPPP) and it aims to add some 6 000 MW to the national grid by 2020 (and 13 225 MW by 2025).
At the end of the fourth window, it was calculated that R192-billion had been invested into South Africa through the REIPPPP, with R53-billion of that being supplied by foreign investors. At the time of writing, the signing of power-purchase agreements with companies that have won bids, had been delayed but national government has repeatedly said that the REIPPPP is definitely approved policy and it will go ahead.
The countries of origin of the companies investing in this new industry are very varied. They include Vestas (Denmark), Enel Green Power (Italy), Scatec Solar (Norway), Globeleq (United Kingdom), Mainstream Renewable Power and Solar Capital (Ireland), Gestamp Renewable Energies and Abengoa (Spain), SunEdison and SolarReserve (USA), ACWA Power (Saudi Arabia), Tata Power (India), China Longyuan Power Group, (China), Genie (Gulf states), and juwi Group (Germany). Some of these investors are investment funds, some are utility companies expert in power generation, others specialise in renewable energy technology such as wind blades. Every project has a joint ownership consortium or joint venture that includes a local company and a community trust of some sort.
Most of the projects approved in the Northern Cape are on a large scale, with big investors obliged to go into joint ventures with local communities, normally in the form of trusts. The provincial government is giving attention to smaller ventures, in the 1.5 MW range, with the aim of bringing local investors and communities on board. To support this goal, and to grow the renewable energy sector as a whole, a Renewable Energy Conference was held in 2016.
A concrete example of this on a small scale is the solar energy plant established at the rooibos tea factory in Nieuwoudtville by the Northern Cape Department of Agriculture, Land Reform and Rural Development. Any excess power generated is sent on to the Hantam Municipality.
The provincial government of the Northern Cape is using clean energy production, supported by the procurement strategy of the REIPPPP, to boost economic growth and development. The province's comprehensive road network provides a good platform for the establishment of new power infrastructure. The province is connected to Namibia via the Kalahari and the Orange River Basin Corridors, strengthening trade and transport linkages between the two countries.
Trade and investment
The Northern Cape Renewable Energy Incubator (//NCREI) is a broad-based black economic growth initiative conceptualised by the Northern Cape Department of Economic Development and Tourism, as a response to green economy activity in the Northern Cape, with specific reference to the Renewable Energy Independent Power Producer Procurement Programme (REI4P). //NCREI will be a hybrid incubator approach to enable the development of professional and entrepreneurial capacity of local SMMEs in the province.
This is one of the interventions that has substantial potential to contribute towards accelerated job creation, as well as economic empowerment. In addition to being a priority sector in the province, renewable energy also has the potential to unlock various other sectors such as manufacturing and construction, thus offering many linkages throughout the value-chain of renewable energy. //NCREI will also provide local SMMEs an opportunity to grow their businesses under a comprehensive enterprise development programme, thus ensuring that the province builds capacity to ensure a good supply of locally based SMMEs to participate in the localisation aspect of the REI4P.
The following are the sector units that //NCREI will create: Renewable Energy; Energy Efficiency; Clean Transportation; Built Environment; Water Management; Waste Management; and Technologies for Green Economy. A business plan for //NCREI is available from the Northern Cape Department of Economic Development and Tourism.
Water and wind
The Northern Cape has had 12 wind farms and one small (10 MW) hydro-electric project on the Orange River approved in the REIPPPP process.
One of the earliest wind farms to be constructed in the Northern Cape was at Noblesfontein, about 40 km from Victoria West. Spanish company, Gestamp Wind, was an early investor in South African renewable energy when it got behind the Noblesfontein project.
Loeriesfontein (valued at R3.5-billion) is owned by a consortium led by Lekela Power, a joint venture between Actis, a private equity company, and Mainstream Renewable Power. Mainstream and various partners have won approved bidder status for wind and solar projects in each of the windows.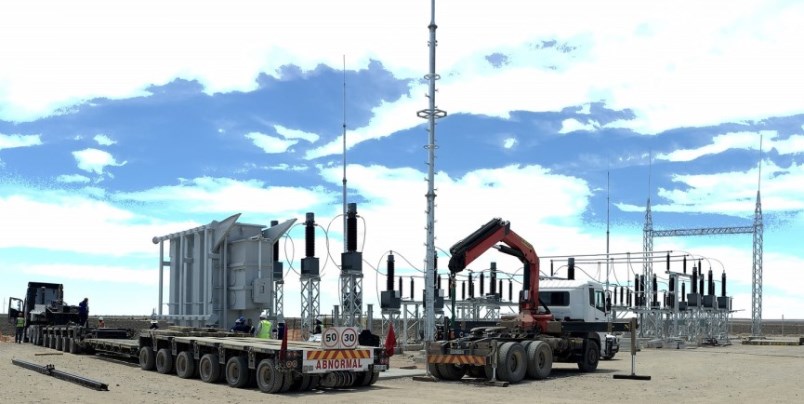 In the early bidding rounds, Mainstream's three Northern Cape wind projects amounted to 360 MW (Loeriesfontein and Khobab in the Namakwa District Municipality, also 140 MW, and Noupoort wind farm, 80 MW). Another 140 MW project at Kangnas (Springbok) has subsequently been given the green light.
Chinese power producer China Longyuan Power Group is developing two wind farms near De Aar.
Solar
The Northern Cape is the natural home for the generation of solar power. Long-term annual direct normal irradiance (DNI) at Upington is 2 816 kWh/m², according to a survey done for Stellenbosch University by Slovakian company GeoModal Solar. CSP Today reports a national average that is among the best in the world. Stellenbosch University's Solar Thermal Energy Research Group has six sites monitoring irradiation levels.
The small towns of Postmastburg and Groblershoop lie between Upington and Kimberley. They are modest settlements which have ticked along for many years in support of surrounding farmers with some diamond mining and wine cultivation along the way. They are now the centre of some of the world's most advanced technological innovation in concentrated solar power (CSP).
Saudi Arabian electricity group ACWA Power has won approval for the 100 MW Redstone project near Postmastburg and the 50 MW Bokpoort CSP plant near Groblershoop has been running since the first quarter of 2016. The Bokpoort site covers an area of about 6 700 ha, of which its facilities cover a total area of about 250 ha. The facility could serve the equivalent of about 21 000 households and offset 230 000 t/y of carbon emissions.
The Redstone project is exceptional because of the unique method called Molten Salt Thermal Energy Storage. A dry cooling method also decreases the amount of water used to support the plant.
Redstone expects to spend R150-million annually on salaries and other expenses for 30 years. More than 40% of the total project value will be provided by South African suppliers. R2.4-billion of equity investment has been pledged, with a further R5.6-billion of debt being sourced locally and internationally.
ACWA's technology partner in Redstone is the American company SolarReserve which holds the CSP tower proprietary rights and is invested in two other (photovoltaic) projects near Postmastburg: Jasper (75 MW) and Lesedi (75 MW). It has a similar project in the Free State province. SolarReserve is also active in Chile.
ACWA wants to develop 5 000 MW of renewable energy and conventional power in Southern Africa. This includes bidding for a coal project in Mpumalanga and involvement in South Africa's natural-gas-to=power programme.
The biggest solar farm so far in South Africa was launched in March 2016 when Solar Capital presented its 175 MW farm at De Aar. Formerly famous as the railway junction that combined the country's two rail systems, De Aar is becoming better known as a renewable energy hub. About 200 jobs were created in the construction phase of this R4.8-billion project and 100 people are now employed in running the plant. Solar Capital, which is a subsidiary of the Phelan Energy Group, intends spending on Internet connections, arts training and building a community training centre in De Aar.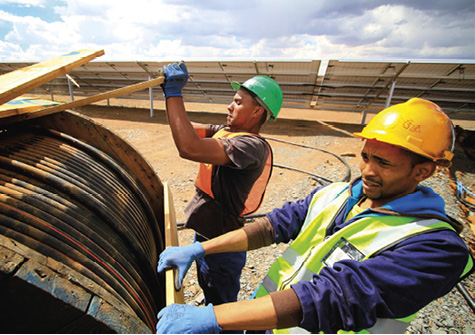 In the first round of submissions, Mainstream South Africa put in bids for 100 MW of solar power: both projects came in on time and on budget in 2014: Droogfontein and De Aar Solar Energy. The company has built 170 000 solar panels on the land owned by the Droogfontein Community Property Association, which has taken a 4% stake in the energy company. Mainstream SA is a joint venture between Mainstream Renewable Power (Ireland) and Genesis Eco-Energy (SA), and it has also established a consortium that includes Absa Capital, Thebe Investment Corporation and Siemens Energy Southern Africa, which it hopes will play a role in turning South Africa into a renewable energy hub.The 86 MW Mulilo-Sonnedix-Prieska photovoltaic (PV) solar plant project, situated 50 km south-west of Prieska in the Northern Cape, was built by Sonnedix with a minority partner in local renewable energy developer Mulilo. More than 500 jobs were created during the building phase. The 125 ha solar PV project achieved commercial operation in July 2016. Construction took 17 months.
The main contractor on the project was juwi Renewable Energies, the South African subsidiary of the large German company, the juwi Group. BioTherm Energy is another renewable energy company that has used juwi's construction skills on several of their projects in the province. BioTherm has developed solar projects near Kenhardt and Pofadder.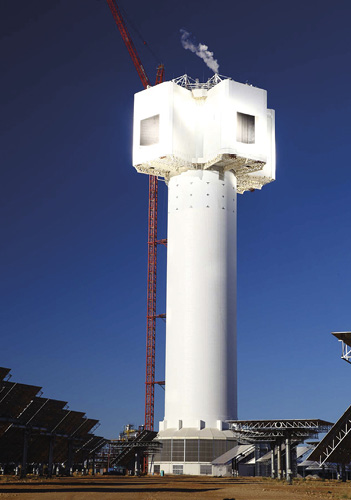 Gulf power company Engie (formally known as GDF SUEZ) is a major investor in the 100MW Kathu Solar Park project, a CSP project which is also backed by the Public Investment Corporation (PIC), Investec Bank and the Sishen Iron Ore Company Community Development Trust. Engie is listed on the stock exchanges of Paris and Brussels.
Norwegian company Scatec Solar is involved in the design of a 75 MW scheme being built at Kalkbult.
In the Namakwa District lies the small town of Pofadder. Like Timbuktu, the name "Pofadder" is used to represent somewhere very remote, far away and out of the mainstream.
Pofadder had the distinction of being the chosen site of the first CSP plant in South Africa, named KaXu Solar One. The region's KaXu Solar One will be a catalyst for economic development role in the Khai Ma Municipality. A 50 MW CSP plant (Khi Solar One) at Upington connected to the grid in January 2016.
Another innovative CSP project, Xina Solar One, also by Spanish company Abengoa, achieved commercial operation in the first quarter of 2016. Xina Solar One is a 100 MW parabolic trough plant that uses molten salts to store energy for night time or times when the sun is not shining. This is Abengoa's third plant, and its fellow investors are the Public Investment Corporation (PIC), the Industrial Development Corporation (IDC) and the Khi Community Trust.
The same technology (parabolic trough CSP) is being used by Emvelo and Cobra at the Ilanga plant about 30 km east of Upington. In 2015 the Public Investment Corporation became a 20% investor in the Xina and Ilanga solar plants.