Ramaphosa: Path to Power
By Ray Hartley
ISBN 9781868429165
This is a highly readable and timely compilation of events since 1994 leading to Ramaphosa's election as president of the ANC and becoming president of the Republic on 15 February 2018.
Ramaphosa (known as Cyril) is described as a pragmatic social democrat with strength as a negotiator which saw him play the leading role in the formation of the new Constitution.
When Thabo Mbeki became Nelson Mandela's successor, Ramaphosa left politics for business, leading a group of black investors in an empowerment deal when Anglo American Corporation sold Johnnic.
Mbeki became president and his deputy, Jacob Zuma took over when Mbeki was recalled.
Ramaphosa returned to politics when Zuma lost support following state capture reports.
Steve Biko's Black Consciousness Movement and his SA Students' Organisation at Turfloop have their place in Ramsphosa's political life. In 1972 he attended Turfloop, joining the Student Christian Movement which he changed into an activist organisation.
When Biko's Saso broke up in 1974 the SCM took over. He was held in solitary confinement for 11 months, and again for six months in 1976. Biko died after brutal interrogation.
Ramaphosa completed his BProc degree in 1981, and became advisor to the Council of Unions of SA, Cusa.
The Wiehahn Commission's report in 1979 saw the recognition of black trade unions, the removal of job reservation based on race and other benefits for black employees.
In 1981 Anglo accepted NUM and Ramaohosa and Anglo's Bobby Godsell improved workers' conditions, and Ramaphosa moved closer to the ANC-aligned United Democratic Front (1983.
Ramaphosa united all 33 major unions to form the Congress of SA Trade Unions, Cosatu, in November 1985. The ANC carried out 112 attacks and bombings between 1976 and 1981.
Ramaphosa, then Cosatu general secretary, met Joe Slovo, secretary general of the SA Communist Party, and Kgalema Motlanthe, who succeeded him as general secretary of Cosatu.
In 1986 Ramaphosa and Harry Oppenheimer became embroiled in bitter labour conflicts. That year, 1,3 million "man days" were lost to strikes. Ramaphosa presented the Chamber of Mines with demands for a 30 % wage increase, and two months later for 40 to 55 % increases. Deadlock saw NUM respond on 8 August when 340 000 mineworkers went on strike. Between 40 000 and 50 000 miners were dismissed.
Ramaphosa, Godsell and others came to an agreement which ended it. Ramapholsa was now an ANC political force. On Mandela's release in February 1990 he was general secretary of NUM, and when Mandela emerged from prison he was at his side when he appeared at Cape Town City Hall.
Ramaphosa was elected secretary general of the ANC but he and Mbeki drifted into a bitter relationship as Ramaphosa had broken the hold of the exiled movement on leadership.
President Mandela chose Mbeki as his deputy. According to the author, what followed was the greatest political event in SA history when Ramaphosa did not attend at Mandela's inauguration.
Mandela called on Ramaphosa to lead in finalising the Interim Constitution.
Negotiations with National Party President FW de Klerk saw the Constitution adopted in 1996. A key reason for the success was the relationship between Ramaphosa and the NP's Roelf Meyer. Talks continued despite Inkatagate, the breakdown of Codesa after the Boipatong massacre in June 1992, and troops in the Ciskei killing 29 protestors. Talks were called off but close contact between Ramaphosa and Meyer saw an Interim Constitution produced in 1992.
In December 1994 Ramaphosa became secretary general but played no role after being turned down as deputy president. His name was on top of the list when white business looked for empowerment partners and he and others bought a package of Anglo American's Johnnic assets.
In 1998 Mbeki appointed Ramaphosa to head a commission which led to the Broad-Based Black Economic Empowerment Act of 2003. Ramaphosa stepped down as chairman of Johnnic in January 2006.
Jacob Zuma defeated Mbeki for ANC presidency in September 2007, recalled Mbeki and became president. In December 2012 Ramaphosa was elected ANC deputy president.
In 2004 he had formed the Shanduka Group but resigned as executive chairman, and in July 2014 he was given four months by Jacob Zuma to complete his exit from business.
He had a close brush with the Guptas through supplying coal to Eskom. Optimum coal mine assets were sold to Glencore which was the Shanduka Group's empowerment partner.
Brian Molefe, Eskom CEO, in April 2015 enforced the original contract and in August imposed a R2.1-billion fine on Optimum. Eskom sourced coal from the Guptas' Brakfontein mine.
The Department of Mineral Resources suspended Optimum. KPMG, acting for the Guptas, offered R2-billion for Glencore's assets. Eskom's Matshela Koko showed interest.
In September 2015 President Zuma appointed Mosebenzi Zwane as Mineral Resources Minister. Zwane had organised the wedding-guests plane to land at Waterkloof Airforce Base in April 2013. Earlier in his career he had sponsored a dairy farm project for the Guptas, and in 2015, after three months as Minister he facilitated the transfer of Optimum assets from Glencore to Oakbay.
Through technicalities Eskom agreed to settle its penalty at R300-million, thus handing R1,8-billion to Optimum's new owners.
In November 2016 Cosatu backed Ramaphosa for the ANC presidency and the largest community organisation, SA National Civic Organisation, endorsed Ramaphosa.
After a woman beating report Nkosazana Dlamini Zuma hinted that others were guilty and Julius Malema claimed she was suggesting Ramaphosa had beaten his wife. No truth was found in this.
Ramaphosa sealed Cosatu's support in May 2017, and in November he brought up land dispossession, colonialism and apartheid.
The vote for presidency of the ANC at its December conference was between Ramaphosa and Noksazana Dlamini Zuma. On 17 December Ramaphosa beat Dlamini Zuma by 179 votes – 2 440 to 2 261. His supporters, Paul Mashatile and Gwede Mantashe, were in the top six, but Zuma supporters David Mabuza, vice president, Ace Magashule, secretary general, and Jesse Duarte, all associated with Zuma, also won.
Attention was given to amending the Constitution to expropriate land without compensation. Ramaphosa insisted the economy, agriculture and food security be maintained. Zuma, still SA president, was ordered to report on his decisions as president and on state capture. Zuma wanted to see out his term of office and make the State of the Nation address.
Ramaphosa attended the World Economic Forum in Davos in January 2018 and re-insured investment companies of good governance.
Ramaphosa had accumulated great wealth and had seen the destruction by the Guptas through state-capture. Optimum was forced to submit by Eskom and the Department of Mineral Resources and the Minister closed a deal in Switzerland.
When Ramaphosa was returning to politics he suffered great damage through the Marikana deaths in 2012. The author gives this extensive coverage. Ramaphosa took responsibility for the death of strikers at a Lonmin platinum mine near Marikana. Assuming worker deaths were criminal acts, he had said the law should take its course with concomitant action, admitting this was inappropriate as it could have been interpreted that police take control. In May 2017 when he began to campaign for the ANC presidency he issued a full apology to the victims of Marikana.
Ramaphosa was not held responsible by the Farlam Commission. On 31 March 2015 it stated there was no basis to find even on a prima facie basis that he was guilty of any crime. Ballistic evidence could not link any strikers' death to any person.
NUM's influence had diminished since the strike at Lonmin's Implats mine earlier. The Marikana strike was well organised and became violent and destructive. The police had arrived in force.
When Zuma resigned, Ramaphosa took over. Reshuffling saw Mosebenzi Zwane, Des van Rooyen and Bathabile Dlamini fired, and the return of Nhlanhla Nene as finance minister, Pravin Gordham as Minister of Public Enterprises and the disgraced Bheki Cele as police commissioner. Malusi Gigaba returned to Home Affairs Ministry where he had overseen the naturalisation of the Guptas.
Eskom was at the centre of Zuma's state capture and the board was replaced with good leaders. Money had flowed to the Guptas and board members through coal contracts, inflated salaries and golden handshakes. Ramaphosa's message was that the old order was dying.
In his first State of the Nation address, he concentrated on land redistribution without compensation, an investment conference, a closer look at the mining charter, setting up an economic advisory council, state accountability and an industrial digital revolution commission.
The EFF introduced a motion in parliament to investigate the amendment of the Constitution to allow for the expropriation of farmland without compensation. The ANC voted in favour.
Ramaphosa had introduced a new sense of optimism, and economic growth was possible for the first time in years. He would need all his skills to turn his presidency into a new beginning for the nation.
The Author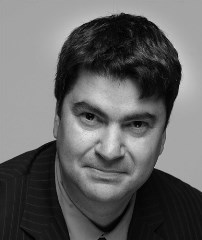 Ray Hartley worked as an administrator at the CODESA negotiations, which ended apartheid. He has covered the unfolding drama of the new South Africa as a political correspondent, travelling extensively with Nelson Mandela and Thabo Mbeki.
Hartley was the founding editor of The Times and editor of South Africa's largest newspaper, The Sunday Times, from 2010 to 2013. He is author of Ragged Glory: The Rainbow Nation in Black and White and editor of the essay collection How to Fix South Africa.
---
Buy Ramaphosa: Path to Power here: