Interview with Dr Thomas Gyedu-Ababio, CEO of Inkomati-Usuthu Catchment Management Agency.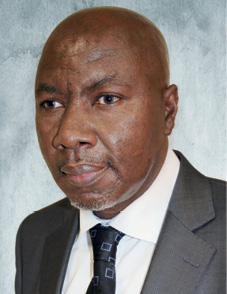 What is the agency's current mandate?
Inkomati-Usuthu CMA has to ensure proper management of water resources at the local level involving stakeholders. We do not provide water services, but work with water services authorities, making sure the resource that they use and give to people is protected, clean and safe. We investigate and advise as well as empower stakeholders on water use. We undertake verification and validation to ascertain whether or not people have the right to use water.
What are the challenges the agency faces with regard to the drought?
We have to monitor water allocation, which is a challenge as the Kwena Dam that supplies an area from upstream of Nelspruit to Mozambique isn't big enough to release water for all the people. The impact of drought on our planning activities in the past year has been bad for us. We have international obligations to honour, with an agreement to supply a certain volume of water to the other side of the Crocodile and Komati rivers across the Mozambique border. However, we don't have enough water as our catchment area gets insufficient rainfall. We don't have enough water storage for the region, as we also share water with Swaziland.
Please share with us the details of the agency's successes that you are most proud of?
As the first CMA in the country, we are proud of what we achieved so far: the compilation of the CMS; reducing pollution in the water management area; empowering stakeholders, especially Historically Disadvantaged Individuals, to understand issues of water resources management and legislation; verification and validation of water uses; Water Use Authorisations and bringing stakeholders together. We have also assisted schools by providing water and sanitation as part of our Corporate Social Investment.
After studying science, Thomas worked as a science teacher for eight years before pursuing his masters and doctorate in water quality and water resources management. Thereafter he worked for Rand Water Board, managing the Vaal Dam Catchment for six years, followed by 10 years as the Water Resources Manager for the Kruger National Park. He was appointed to the position of CEO of Inkomati-Usuthu Catchment Management Agency in 2016, after serving three years as COO.
Top image: Injaka Dam
Originally published in the 2017 edition Mpumalanga Business