Our roof coatings and roof sealants have been protecting and sealing roofs, stopping roof leaks and extending roof life for decades.
The Topps® company roots in this business – which date back to 1958 – are based upon a simple concept: product selection for your roofing needs is as important as the company that installs it. Our roof coating systems work together to restore, protect and enhance the energy efficiency of commercial and industrial buildings. These systems always include a versatile group of surface preparation, reinforcement, roof repair and roof coating products which all work together to improve the performance of your roof.
Providing effective roofing solutions to contractors, building owners and facility managers – and supporting our full line of roof coating and roof repair products with a dedicated support team – is our top priority.
Our roof coating will reduce the temperature of your steel roof
Topps Seal coating's capacity to cool is demonstrated through standardized EPA test outcomes, validated through 3rd party independent tests.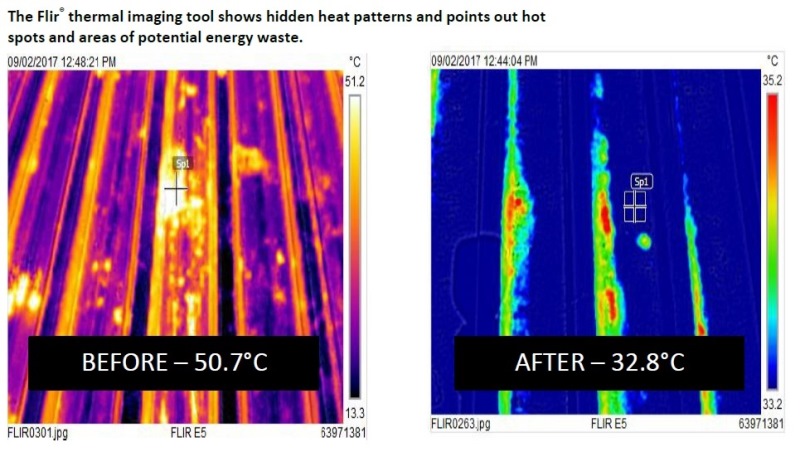 Further independent tests reveal Topps Seal® after aging continues to cool, by exceeding published standards by 50%. This has earned Topps Seal the EPA designation as an Energy Star® Partner Product. Topps Seal is certified by CRRC® as exceeding national standards and the tough Miami/Dade County Certification by exceeding all established performance standards for a roof coating, and meets IGCC (Int'l Green Construction Code) cool roof requirements.
See more products for metal roofs here 
Topps Products growing at an amazing rate in South Africa
Over the past few years, the company's products have been well received, resulting in effective solutions for clients' roofing problems.
This is what some of our clients have to say:
"Could I please ask that you come down to the other restaurant, I need some work done on a leak above our kitchen office." (Restaurant Owner)
"Die produk maak 'n groot verskil in temperatuur beheer en die waterdigtings problem is nou opgelos." (Architect)
"The products that you have used have finally fixed the problem that could not be resolved for years." (Home Owner)
Do you have face brick or sandstone that draws water?
We have a product that allows the brick to breath, but repels water. The picture below shows an area where the product is applied, showing the square still dry even though the wall is saturated.
Contact us for more information
Contact details Cape Town: dave.cpt@toppsproductssa.co.za
Tel: 084 676 6289
Contact National Office: admin@toppsproductssa.co.za
Tel: 087 813 0349