Overview of the Transport and Logistics sector in South Africa
The decision by Imperial Holdings to create a separate stock exchange listing for its automotive division marks an interesting departure for one of the biggest logistics companies in South Africa.
Imperial Holdings employs 49 000 people and Imperial Logistics, apart from its large South African footprint, has a presence via multiple companies in other African countries and in Europe, the Americas, the Middle East and the Far East. The Motus division represents 22 OEMs through 358 vehicle dealerships and runs two car rental companies, Europcar and Tempest.
Companies like Imperial Logistics and Barloworld carry just about anything while other listed companies specialise. Cargo Carriers has a fairly broad range of specialised services: fuel, steel, chemicals, gas, powders and services to the mining and sugar industries. Other companies specialise even further, for example CSS Logistics operates 12 refrigerated warehouses around South Africa. Laser Logistics describes itself as a specialist in distribution for retailers and wholesalers in the clothing, footwear, lifestyle, electronics and appliance markets.
Industry news
DHL Express has launched a green distribution centre in Johannesburg. Energy consumption will be reduced by 55%.
The inland manganese terminal at Lohatlha in the Northern Cape has been taken over by Transnet Port Terminals. Allowing miners to move ore by rail reduces costs. Transnet also operates inland terminals in Brits (North West) and Newcastle (KwaZulu-Natal).
The building of the Musina-Makhado Special Economic Zone (SEZ) will boost Limpopo's role as a transport and logistics hub. The Musina Intermodal Terminal, which was officially opened in June 2017, is 15 km from the busy Beit Bridge border crossing. It will boost efforts to move cargo from road to rail. Warehousing facilities on-site make for loading efficiencies in the main cargoes such as chrome, fertiliser, coal, fuel and citrus.
The Nkomazi SEZ near the border with Mozambique in Mpumalanga has similar advantages as it forms part of the Maputo Development Corridor.
The purchase of 75% of German logistics company In Time for €137.2m in 2015 has paid off well for South African logistics company Super Group.
Road and rail
South Africa has 21 000 km of railway lines and 747 000 km of roads, 325 019 heavy-load vehicles and the road freight industry employs 65 000 drivers. The logistics and courier market is worth R10-billion. There are 135 licensed airports in the country, 10 of which have international status.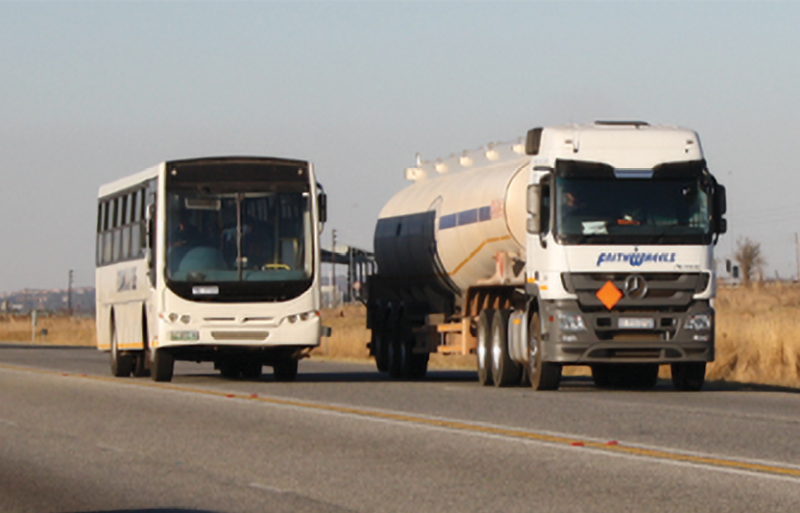 Investment in improved infrastructure is being made at all of South Africa's ports.
Special Economic Zones are in place at the ports of Saldanha on the West Coast, Coega (Port Elizabeth), East London, and Richards Bay in northern KwaZulu-Natal. The Maputo Development Corridor is Africa's most advanced Spatial Development Initiative. Run by the Maputo Development Corridor Logistics Initiative (MCLI), the corridor runs from near Pretoria in Gauteng, to Maputo in Mozambique.
The Harrismith Logistics Hub at the Maluti-A-Phofung SEZ on the N3 is an inland port that can handle cargo containers and shift cargo from road to rail, reducing congestion and costs.
Transnet is the state-owned enterprise focussed on transport and logistics. It comprises Transnet Freight Rail, Transnet Engineering, Transnet National Ports Authority, Transnet Port Terminals and Transnet Pipelines. Transnet Freight Rail's operations represent about 80% of Africa's rail infrastructure. With 25 000 employees TFR has specialist divisions for hauling coal and iron ore together with a general freight division which transports everything from grain to chemicals.
The major rail haulage lines are the manganese line from the Northern Cape to Port Elizabeth; from Sishen in the Northern Cape to the Port of Saldanha (iron ore); and from the coal fields of Mpumalanga to Richards Bay. More than 55-million tons is regularly transported along the former and upwards of 70-million tons can travel annually along the latter.
Almost 90% of freight is transported by road and the logistics sector is very reliable. However, these volumes are not good for the condition of the country's roads and Transnet is working hard to attract more business to the rail network. TFR has put 28 new electric locomotives on the line supporting steel producer ArcelorMittal to improve service.
The rail sector is receiving many investments. The speedy Gautrain which started life as a service to the main airport in Johannesburg has been tremendously popular and there are plans to expand its network. Bids to supply 12 new trains will be adjudicated on in 2018.
A total of 600 new passenger trains will be added to Metrorail's fleet at a cost of R51-billion. Transnet Freight Rail has ordered 1 064 diesel and electric locomotives from four suppliers.
Sheltam Group is expanding its services beyond rail services. A new lease company (for rolling stock) and an investment company (focussed on rail infrastructure) underpin the group's African ambitions.
Multi-billion- rand road projects planned by the South African National Roads Agency Limited (Sanral) include a Wild Coast toll road project. The bridge over the Mtentu River will be the highest bridge in the country at 217 m and will cost R1.6-billion.
Air transport
Airports Company South Africa (ACSA) owns and operates the country's 10 biggest airports. The company also manages airports in India and Brazil. In 2016/17 the company reported a profit of R2-billion.
Ekurhuleni wants to leverage the location of South Africa's biggest airport, OR Tambo International, into a major economic asset. OR Tambo International in Gauteng caters for more than 17-million passengers every year. The Cape Town International Airport has been expanded and improved and recorded 10-million passengers in 2016. King Shaka International Airport (KSIA) is north of Durban.
Several airports are possible future regional freight nodes: Wonderboom Airport in Pretoria, Polokwane Airport in Limpopo and Mafikeng Airport in North West Province.
The South African Ministry of Transport has several agencies and businesses reporting to it: Air Traffic and Navigation Services Company, Airports Company South Africa (ACSA), National Transport Information System, Road Accident Fund, South African Civil Aviation Authority, South African Maritime Safety Authority (SAMSA), the South African National Roads Agency Limited (Sanral) and the Passenger Rail Agency of SA (PRASA).
The Polokwane International Airport (PIA) is wholly owned by the Limpopo provincial government and run by the Gateway Airport Authority Ltd (GAAL), an agency of the Department of Roads and Transport. It has the potential to be an important regional cargo airport.
Online resources
Airports Company South Africa: www.acsa.co.za
National Department of Transport: www.transport.gov.za
Road Freight Association of South Africa: www.rfa.co.za
South African Association of Freight Forwarders: www.saaff.org.za
South African Heavy Haul Association: www.saheavyhaul.co.za