Ghana's public procurement space is expected to be professionalised following the signing of a Memorandum of Understanding (MoU) between the Public Procurement Authority (PPA) and Commerce Edge of South Africa.
The agreement is expected to result in a comprehensive Certification and Licensing Programme for Public Procurement Practitioners in Ghana.
Mr. Agyenim Boateng Adjei, the Chief Executive Officer of PPA, reckoned industry players will now have the benefit of a one-stop training leading to enhanced efficiency while contributing significantly to organisational profitability.
He said the collaboration would strengthen the implementation of section (3) K of the Public Procurement Act, 2003 (Act 663) as amended adding the operationalisation of the MoU would recognise and ensure active involvement of procurement and supply chain professional bodies, including the Chartered Institute of Supply Chain Management (CISCM), Chartered Institute of Procurement and Supply (CIPS) and the Ghana Institute of Procurement and Supply (GIPS).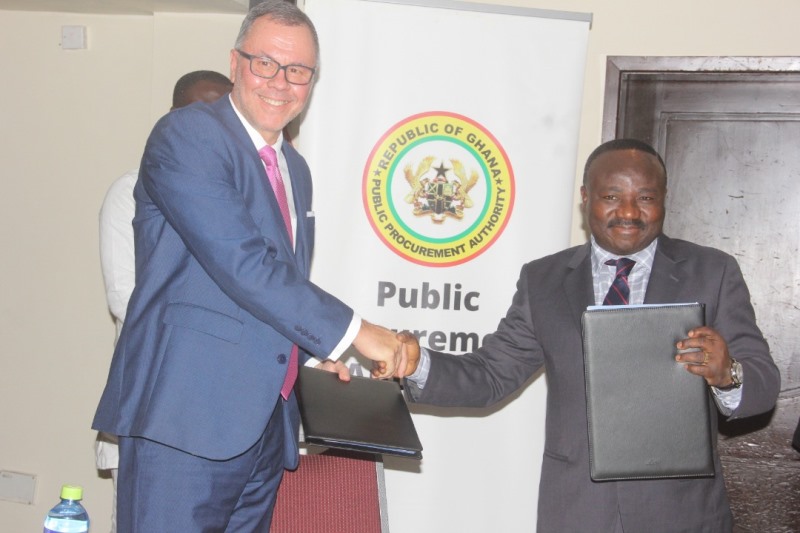 Mr. Adjei, while acknowledging the role of procurement in the Supply Chain framework, also observed Stores and Inventory Control, Transport and Distribution, Procurement/Production Planning and Contract Management must all be aligned to achieve cohesion.
Minister of State in charge of Public Procurement, Ms. Sarah Adwoa Safo, stated that the partnership will help raise the procurement function to a higher standard while helping check corruption in the public procurement space, ensure value for money, integrity, accountability and aid the government's vision of moving "Ghana beyond Aid".
Mr. Andre Coetzee, the Managing Director Commerce Edge Africa (excluding South Africa), said the operationalisation of the MoU would move Procurement and Supply Chain Management from which was historically a backroom function to a strategic one. He added that competent procurement and supply chain professionals will improve governance and ultimately enhance service delivery to improve the lives of the people of Ghana.
Mr. Coetzee further stated that procurement can play a pivotal role in the socio-economic development of Ghana and the West Africa region.
Commenting on this historical partnership, Professor Douglas Boateng, UNISA SBL Professor extraordinaire for Supply Chain governance and industrialisation and the Board Chair of Ghana's Public Procurement Authority said, "This is part of the long-term initiative where Africans join hands to come up with thought leading, Afrocentric solutions to solve continental wide functional skills development issues."
Among other things, the MoU covers the following:
The development of a local Ghana supply chain qualification in line with the global standard
The certification of local practitioners
The integration of online platforms and E-Learning
Procurement Supply Competency Assessment Tools
Short courses and work-based integration
The development of a Continuous Professional Development (CPD) programme
Publication of procurement journals
The delivery of an Annual West African Procurement and Enterprise Development Summit through Smart Procurement
For more information, please contact:

About Commerce Edge
Commerce Edge is the leading 'People Development' provider that offers tailor competency development solutions that enable organizations to leverage their capacity, competency and capability through world-class supply chain and procurement training.
For further information about Commerce Edge, please visit http://www.commerce-edge.com
About Smart Procurement
Smart Procurement is a trusted media and value-adding service provider in the niche and primary business market place of Procurement & Supply Management departments and their directors, executives and operational personnel. It organizes international procurement conferences and events.
For further information about Smart Procurement World, please visit http://www.smartprocurement.co.za
About Ghana PPA
The PPA was established under the Public Procurement Act, 2003, Act 663 as amended by act 914, a corporate body charged with the responsibility of regulating public sector procurement activities. The object of the Authority is to ensure a judicious, economic and efficient use of public funds in a fair, transparent and non-discriminatory manner, ensuring value for money while promoting a competitive local industry.
For further information about Ghana PPA, please visit https://www.ppaghana.org