To help highlight and alleviate the monthly plight of underprivileged girls across South Africa, the Old Mutual Foundation will be donating R150 000 towards the Imbumba Foundation's Caring4Girls programme.
The programme provides dignity packs for young girls in townships and rural schools. An annual girls' Trek4Mandela expedition to Mount Kilimanjaro was launched in July 2012 as part of the programme to increase awareness of the tough challenges faced by girls in underprivileged schools and to help raise funds for them.
"In South Africa girls and young women who can't afford or access basic feminine products are often stigmatised and unable to attend school during their periods. These dignity packs give them the opportunity to get an uninterrupted education, which in turn enables them to empower themselves and improve the lives of their families for many years to come," says Millicent Maroga, Head of the Old Mutual Foundation.
The aims of the Caring4Girls programme are closely aligned to our own goals of integrating marginalised South Africans into the mainstream economy, providing critical educational support to our next generation, and caring for vulnerable communities, particularly those in rural and peri-urban communities, where this need is often greatest.
The learners who will be provided these dignity packs are all from schools that are currently supported by Old Mutual through the Old Mutual Education Flagship programme. Through this partnership with the Caring 4Girls programme, Old Mutual will supply 317 primary schools girls and 2 323 high schools girls from greater Sekhukhune in Limpopo with sanitary towels for 6 months.
"The Caring4Girls programme has to date distributed more than 130 000 packs of sanitary pads and already improved the lives of more than 10 000 girls. Through these initiatives, we can ensure girls are able to go to school and obtain an education," concludes Maroga.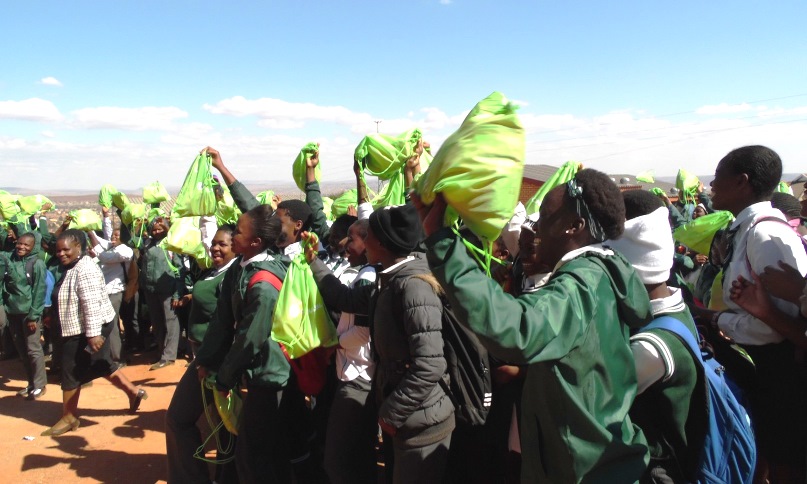 About the Old Mutual Foundation
Established in 1999, the Old Mutual Foundation is a corporate social investment arm of Old Mutual. It is deeply committed to playing a significant role in building a strong and financially inclusive South Africa by empowering people and communities.
The Foundation has five key focus areas: Enterprise Development, Education, Skills Capacity Building, Support for Vulnerable Members of our Community and Staff Volunteerism. Its bias is towards rural and peri-urban communities, where the needs are the greatest.
The Imbumba Foundation
The Imbumba Foundation is a non-profit organisation founded by Mr Richard Mabaso in 2011. As an innovative social enterprise that understands contemporary challenges facing humanity, our overall strategic intent is to be on the leading edge of pioneering social innovations that help public sector, private sector and communities to work together: thus achieving effective public-private-partnerships (PPP).
The Caring4Girls programme was established by the Imbumba Foundation two years ago and to date has distributed more than 130 000 packs of sanitary pads and already improved the lives of more than 10 000 girls.
For more information, please contact Old Mutual.