Nokeng Fluorspar Mine has broken ground at the site of its R1.7-billion fluorspar mine, near Rust de Winter, in Gauteng. This is the first new fluorspar mine to be built in Gauteng in 12 years, Sepfluor chairperson Dr Lelau Mohuba noted at the groundbreaking ceremony on Thursday, while Sepfluor CEO Rob Wagner highlighted the mine was one of only three new fluorspar mines in the world.
Mohuba noted that the road to opening the mine had been long, with Nokeng having started the process of a mining license application in 2004 and with financial close on the funding finalised earlier this year. He said the project "was an indication of resilience, patience, hope, faith and a lot of prayer".
Development at the open pit fluorspar mine, which is being developed by Sepfluor's wholly-owned Nokeng Fluorspar Mine, started in June 2017, with construction of the process plant expected to be completed in 2018 and final handover expected by February 2019. Engineering, procurement and construction majors DRA and Group Five will jointly manage construction. First production is expected by the first quarter of 2019. Nokeng's orebody comprises a 12.2-million-tonne reserve that is compliant with the South African Code for the Reporting of Exploration Results, Mineral Resources and Reserves. The mine has an estimated 19-year mine life and will comprise an open pit mine and a concentrator plant and will have an average run-of-mine feed rate of 630 000 t/y. The concentrator will produce up to 180 000 t/y of fluorspar.
Currently, South Africa's production of fluorspar is around 180 000 t/y; however, Nokeng aims to double that, Wagner said. "Further, the start of this mine [will help in the creation of a] second mine, as the cash flow from this mine will be reinvested to build the Wallmansthal mine," he underscored.
Meanwhile, Department of Minerals Resources (DMR) chief director of mineral regulation and administration for the western regions Rebone Nkambule added that the start of the new mine was indeed a milestone, with fluorspar being a rare earth mineral in the country. "We celebrate this big investment by Sepfluor and its partners amid a shrinking world economy. This can only signal that South Africa remains a stable and attractive destination for investment," Nkambule noted.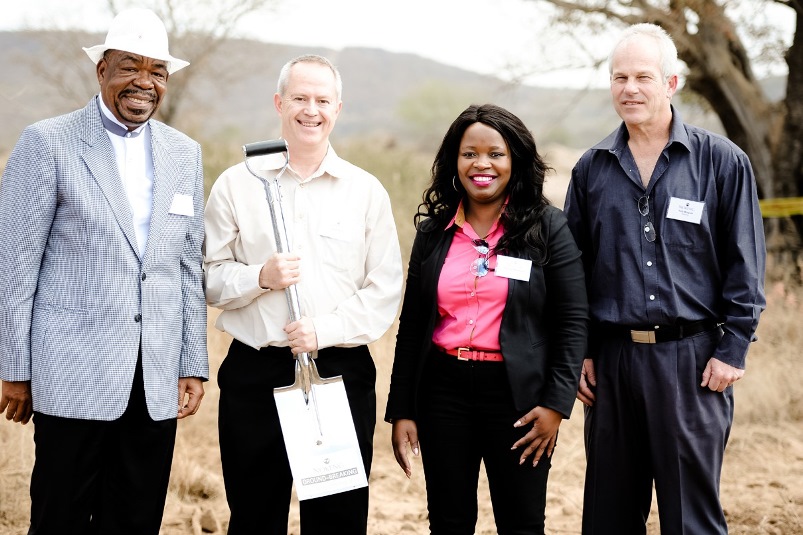 Further, the opening of the mine signifies job opportunities for host communities and it signifies procurement opportunities to community members who have mining-related business acumen to procure capital goods, services and consumables for the company, she pointed out. She also trusted in Nokeng to "advance transformation by ensuring that historically-disadvantaged South Africans gain a meaningful foot in the door and do business with the mine in a sustainable way".
The mine is expected to create about 300 fixed-term jobs during construction and about 200 permanent jobs after construction. Nokeng has also committed about R26-million for its social and labour plan. Mohuba, meanwhile, highlighted that Sepfluor is in the business "for the long haul", with the company having several projects in the pipeline. The first would be Wallmansthal, followed by Welgelegen, Welgevonden and Kruidfontein. "We plan to build a massive fluorspar company," Mohuba said, noting that as fluorspar has significance locally and internationally, Sepfluor and Nokeng will represent South Africa throughout the world.