South Africa's two most common modes of road transportation both present concerns. The high incidence of private vehicle usage, particularly in transporting single occupants, is a major cause of both pollution and congestion on South Africa's roads, while the majority of South Africans have little choice but to use minibus taxis, which are often unroadworthy and sometimes driven quite recklessly. The City of Ekurhuleni is actively engaged in changing this over-reliance, through the development of its IRPTN.
The IRPTN aims to transform public transport within Ekurhuleni, providing an affordable, yet high-quality public transport system in line with national policy. Its main objective is to provide a new and attractive transport network that includes road and rail public transport that serves the needs of the people of Ekurhuleni as a whole.
Harambee goes live!
Limited service of the Harambee BRT system started in October 2017. Eight buses run in mixed traffic along a 38 km service route between Tembisa and Isando. With the completion of Phase 1A, there are 33 kerbside stops along the route.
At R13 per single trip, the buses offer 36 seats and room for 54 standing passengers. They operate between 05:00 and 19:00 on weekdays, and from 06:00 to 16:30 on Saturdays, at 20-minute intervals during peak times and hourly off-peak; however, there is no service on Sundays or public holidays.
It is estimated that 32 buses will be added to the fleet by February 2018 and an electronic ticketing system is set to be introduced. Tickets are currently sold at two City of Ekurhuleni branded mobile kiosks. One is located at the Tembisa Police Station and the other at Birch Acres Mall in Isando.
The completion of the entire first phase of Harambee is planned for 2020.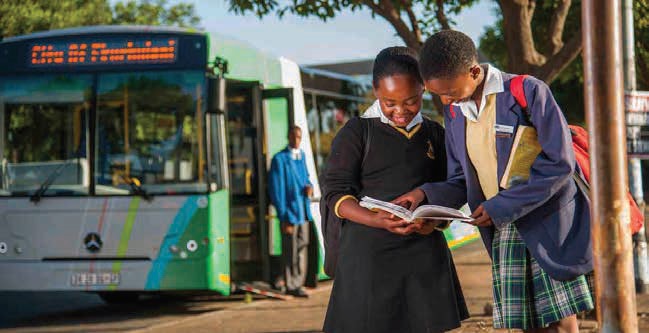 From a public transport point of view, the IRPTN is the most significant intervention to improve and promote the use of public transport in Ekurhuleni and responds to the City's transport vision of providing accessible, affordable and integrated transport services that are competitively priced yet world class.
The IRPTN has three main strategic objectives:
the provision of an affordable and accessible public transport system;
the integration of both motorised public transport – including rail, bus and taxi – and non-motorised transport (NMT);
the enabling of existing bus and taxi operators in Ekurhuleni to participate in the development and operation of new vehicle operating companies.
Ekurhuleni's IRPTN is comprised of trunk routes along the major mobility spines, with branch and feeder routes, ensuring significant coverage. These routes link the existing (and proposed) major residential and economic nodes of Ekurhuleni, providing equitable access to opportunities for all citizens.
Highlights to date
The IRPTN will be implemented incrementally along priority corridors, according to strategic priorities, available budget and operational viability of the system. The first phase is the implementation of the Harambee bus rapid transit (BRT) service along the corridor from Tembisa to Vosloorus.
Sub-phase 1A has recently been completed and the further development of sub-phases 1B and 1C will proceed in line with the development of Ekurhuleni's aerotropolis precinct, the extent of densification along the identified routes and the City's capital investment framework.
The progress on NMT infrastructure to date has been particularly commendable, with some 35 km of NMT infrastructure having been constructed thus far. Integrated NMT lanes facilitate passenger transition between different modes, as well as safe and efficient passenger movement. Such NMT lanes are characterised by designated cycling lanes and other facilities that allow for walking and the use of wheelchairs and small-wheeled transport such as skates, skateboards, push scooters and hand carts.
All NMT routes serving the trunk, complementary and feeder stations and stops have been identified and upgraded to provide sidewalks, bike lanes, street lighting and wayfinding signage. NMT infrastructure also includes pedestrianised areas, such as the space around the Tembisa Civic Centre station, which contains a number of buildings between which commuters are expected to move.
The brains behind it
A central control centre is one of the keys to ensuring well-functioning, integrated transport infrastructure in today's cities. Having long identified the need for this, the City of Ekurhuleni completed and launched its Transport Management Centre (TMC) in Kempton Park in 2016. The TMC was established to specifically host the IRPTN's identified core functions, which includes interfacing and integration with existing ITS components such as
traffic signals and CCTV surveillance cameras, as well as integration with the City's centralised public call centre.
The TMC will monitor the fleet and network infrastructure, provide a call centre for travel information and process the automatic fare collection system data. The TMC will also deal effectively with IRPTN-related incidents to ensure a safe and secure environment for commuters and operators. A central management system is integral to the functioning of the TMC, and will facilitate the integration and management of all subsystems through a variety of interfaces and protocols.
Medium-term deliverables
The City of Ekurhuleni aims to complete the construction of 2.5 km of dedicated BRT lane infrastructure along the major trunk route every financial year up until 2020/21 as well as some 40 km of pedestrian and cycle paths within the same five-year cycle.
Nine BRT stations between Tembisa Civic Centre and Zuurfontein are expected to be up and running by mid-2021, and five of the seven pedestrian bridges in Tembisa are marked to be complete by then. An automated fare collection system should also be fully operational and implemented on both the Harambee BRT and Ekurhuleni Bus Service buses, to further simplify the management, integration and use of both systems.
For more information, please contact the City of Ekurhuleni