A current overview of the mining sector in South Africa
The head office of the Minerals Council South Africa is powered by 40 ounces of platinum and natural gas. A fuel cell at the Johannesburg site of the national mine owners' association is South Africa and Africa's first base load installation.
Finding new uses for platinum is one of the new priorities exercising the minds of the leaders of the South African mining industry as it moves to adapt to a world which is moving away from fossil fuels.
While there is broad agreement that the world needs to steer away from minerals that pollute the environment, the supply of minerals used in electric car manufacture (such as nickel and cobalt) is also finite.
Speaking at the 2019 Investing in African Mining Indaba, Ford's head of Energy Storage Strategy and Research, Ted J Miller, said that the motor industry was "uncomfortable driving these commodities". He noted that Ford has already reduced cobalt production by two-thirds, but the challenge is scale.
In 2012, Anglo Platinum launched an underground locomotive powered by a fuel cell. Platinum coating greatly enhances the hydrogen absorption capacity of fuel cells. In 2016 Impala Platinum Refinery unveiled a fuel cell forklift and a hydrogen refuelling station in Springs.
The editor of the Mining Weekly publication, Martin Creamer, has published a series of articles and editorials extolling the virtues of what he calls the "best of two new carbon-reducing technology worlds".
Creamer notes that South Africa's abundant supplies of platinum group metals (PGMs) and manganese ore can make the country a leader in battery electric vehicles (BEV) and fuel cell electric vehicles (FCEV). He further points to the work being done by Hydrogen South Africa (HySA) at three universities and the Council for Scientific and Industrial Research (CSIR). South Africa's good supplies of sunshine and wind make it ideally suited to generate hydrogen and if the country could capture 25% of the world market, it would be worth $600-million (Mining Weekly).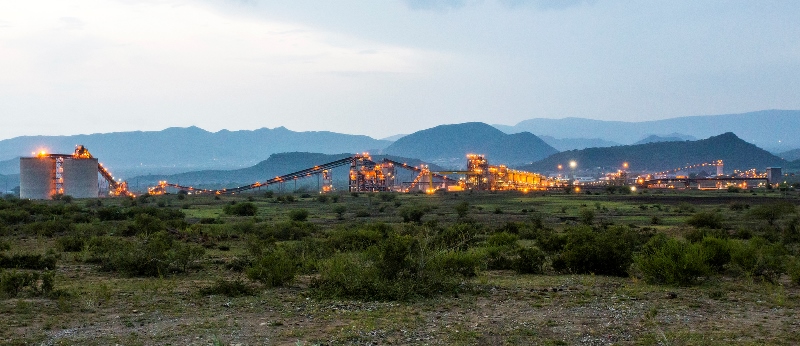 Coal
Several large players in the South African market have sold or intend selling their coal assets. These include South32, Anglo American and BHP Billiton. Seriti Resources has purchased the New Vaal Colliery and three Mpumalanga mines from Anglo American for R2.3-billion.
South Africa's largest coal producer is Exxaro, a South African company. Typically, coal mines were linked to power stations as is the case in Limpopo Province where Exxaro operates its Grootegeluk mine. This site is next to the Lephalale power station and the giant new Medupi power station. But uncertainty about how national utility Eskom wants to proceed with its coal purchases has made miners look increasingly to export markets.
Limpopo's Waterberg coal field still has billions of tons of coal in the ground. The country's other big coal province is Mpumalanga (where Sasol has just finished commissioning a third new mine) but it is also found in the northern part of the Free State.
Zinc
When phase three is reached, the biggest new mining project in South Africa will deliver 600 000 tons of zinc for Vedanta Zinc International.
Located at Aggeneys in the Northern Cape near the border with Namibia, the Gamsberg zinc project has so far attracted $400-million in investment from the company and started trucking product to the Port of Saldanha in 2018. Phase one of the open-pit operation will deliver an annual load of 250 000 tons of zinc. If it proceeds to phase three, it will likely go underground.
The Northern Cape Province is planning for a deep harbour at Boegoebaai. Part of the strategy involves the creation of a commodities corridor linking the Upington Special Economic Zone (SEZ) with the port.
Australian miner Orion is putting considerable resources into investigating the possible revival of the Prieska Zinc-Copper Project.
Diamonds
An ongoing project by De Beers to convert its Musina mine from an open-pit mine to a vertical-shaft mine will extend the life of mine of this northern Limpopo project to 2045. Venetia Mine is by far the most important part of De Beers' South African operation, accounting for 3.1-million of the 5.4-million carats recovered by the company from its six operations.
A R1.6-billion processing plant is being built at Cullinan in Gauteng by Petra Diamonds, with a throughput capacity of 6 Mtpa. The mine's orebody contains a diamond resource of 194 Mcts which is why Petra is expanding with a goal of annual production of 2.2Mcts by 2019.
In the Northern Cape, Ekapa Mining has paid R300-million to buy out Petra Diamonds from a JV.
Iron ore and manganese
In 2019 Sitatunga Resources purchased the East Manganese project on the Hotazel-Kalahari ore belt from Southern Ambition. Menar Holdings, which controls a majority share in Sitatunga, is mostly invested in coal.
Afrimat, a listed construction materials supplier and industrial minerals group, has added open-pit mining to its portfolio with the R322-million acquisition of the Diro mine, which had been in business rescue. The Diro mine has proven run-of-mine reserves of 10-million tons.
The overwhelming majority of the world's manganese comes from the Postmasburg and Kalahari regions of the Northern Cape. Assmang has two manganese mines in the province: Nchwaning and Gloria.
The Northern Cape produces more than 84% of South Africa's iron ore. The province has two major iron belts, from Postmasburg to Hotazel, and running through Sishen and Kathu. Sishen is the most important iron-ore mine in South Africa, where operations include extraction and four beneficiation plants.
Kumba Iron Ore has the huge Sishen facility at Kathu and Kolomela. Assmang, a joint venture comprising African Rainbow Minerals and Assore, mines at Khumani. The company will spend R2.7-billion on upgrading its Gloria mine.
South32 is active in the Northern Cape: Hotazel Manganese Mines is made up of two mines, Wessels (underground) and Mamatwan (open cut), and the Metalloys manganese smelter.
Hotazel is also the site of a relatively new manganese mine, Tshipi é Borwa. Tshipi e Ntle Manganese Mining (Tshipi) is a joint venture between Pallinghurst Co-Investors (led by Brian Gilbertson) and a black empowerment company representing several groups called Ntsimbintle Mining.
Platinum
Sibanye Gold came into existence as a result of the unbundling of Gold Fields. but it has been rebranded as Sibanye-Stillwater because of the purchase of a platinum and palladium mine in the US of that name. The company is now the world's leading main producer of primary platinum and the second largest producer of palladium. It has gold mines in the Free State and Gauteng.
Impala Platinum (Implats) has an interest in two big operations on the eastern limb of the Bushveld Igneous Complex. Marula is in Limpopo and it produced 85 100 ounces of platinum in concentrate in FY2018. In Mpumalanga, Implats is in a joint venture with African Rainbow Minerals (ARM) at the Two Rivers mine.
Implats has created Tubatse Platinum, a vehicle in which local businesses hold a 9% stake in the Marula mine. The company has also made Impala Refinery Services (IRS) a division, where it used to be a subsidiary. IRS smelts and refines concentrate and matte and recycles auto catalysts.
Anglo Platinum's (Amplats) Mogalakwena Mine produced a record 1 170 000 PGM ounces in 2018, an improvement of 7%. The sale in 2018 of Glencore's stake in the Mototolo PGM mine and chrome plant marked the end of that company's foray into platinum.
Northam bought the Tumela block from Amplats and invested heavily in a smelter expansion project at its Zondereinde mine.
Gold
AngloGold Ashanti has sold most of its Vaal River Complex mines to Harmony Gold Mining for $300-million. These assets will increase Harmony's underground resource base in South Africa by nearly 40%. The other buyer was Heaven-Sent, a Chinese company which controls the Tau Lekoa mine through Village Main Reef, bought the Kopanang mine. Another Chinese company, Taung Gold, runs the Jeanette mine near Welkom.
Gold mines in the Free State also supply a substantial portion of the country's silver produced, and large concentrations of uranium occurring in the gold-bearing conglomerates of the goldfields are extracted as a by-product.
---
Learn more about key sectors in South Africa: