Musina, South Africa – Musina Makhado Special Economic Zone (MMSEZ) SOC will be hosting Limpopo Premier Stanley Mathabatha for an oversight visit to the company's North Site in Antonvilla, Musina (Limpopo Province, South Africa). The North site is designated for the development of agro-processing, manufacturing and a logistics hub.
Premier Stanley Mathabatha will be accompanied by the Deputy Minister of Trade, Industry and Competition, Fikile Majola and the MEC for Economic Development, Environment and Tourism in Limpopo, Thabo Mokone.
The MMSEZ CEO, Lehlogonolo Masoga explains that the purpose of the visit is, "To afford the political principals an opportunity to assess progress made on the development of the North Site of the MMSEZ. The event will also mark the commencement of the development of bulk infrastructure of our North Site.
The bulk infrastructure, estimated at approximately R2.9-billion, will be implemented in phases. In 2021, the provincial government allocated R600-million over a medium-term expenditure framework (MTEF) for bulk installations."
Locality of MMSEZ Northern and Southern sites relative to Musina and Beitbridge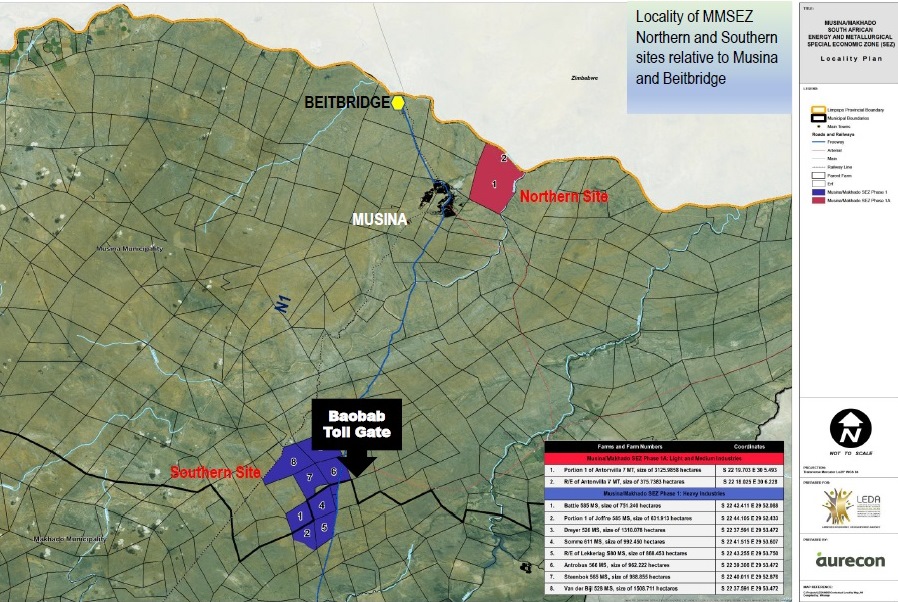 The development of MMSEZ constitutes an integral component of South Africa's Special Economic Zone programme, which play's a crucial role in the country's Economic Reconstruction and Recovery Plan.
Deputy Minister Fikile Majola reiterated: "As government we are excited about the new developments in MMSEZ, which will see the beginning of construction of the bulk infrastructure on the North Site. This is a commendable step towards achieving the South African government's industrial development agenda of transforming the country's economy into a globally competitive industrial economy, built on the full potential of all citizens and regions, using the Special Economic Zones Programme as one of the critical tools."
"The geographic location of the North Site places MMSEZ in a very strategic position to leverage on the benefits of the African Continental Free Trade Area (AfCTA)," explained MMSEZ CEO, Lehlogonolo Masoga. The AfCTA provides a platform for South African businesses to expand into markets across the continent, and for South Africa to position itself as a gateway to the continent.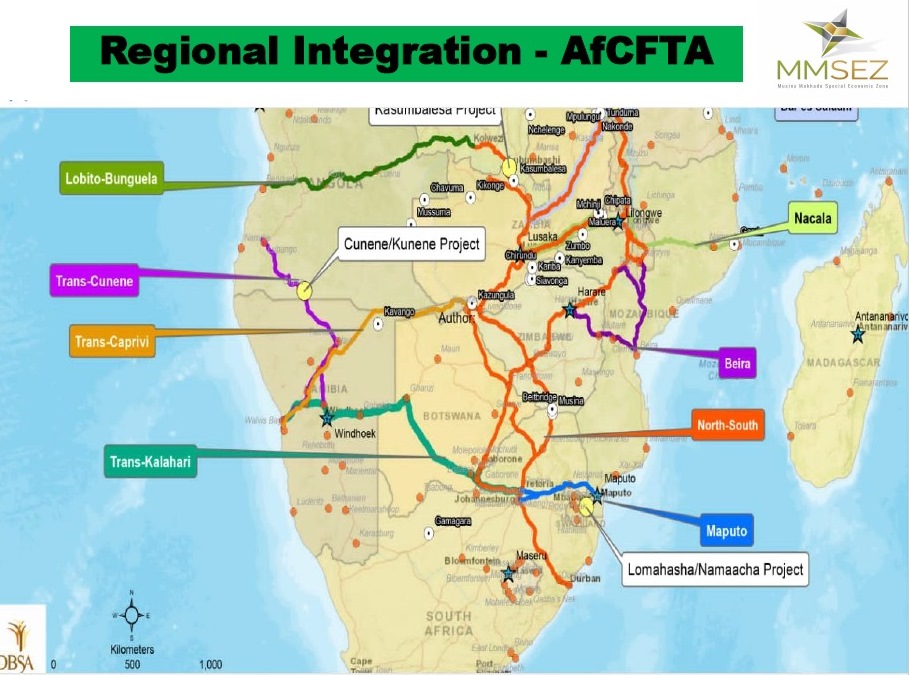 The oversight visit will also include various stakeholders so that they can also have an opportunity to understand the opportunities offered by MMSEZ as it becomes ready to welcome investors and tenants alike.
Mr Masoga said, "The visit marks a major milestone in the development of the MMSEZ, confirming that our payoff line 'A world of changing opportunities' is not just a vacuous statement, but a concrete one backed up by a tangible track record."
Find out more, visit: www.mmsez.co.za