The Manufacturing and Competitiveness Enhancement Programme (MCEP) of the National Department of Trade and Industry (dti) announced in 2017 that it had disbursed a total of 1 552 grants to the value of R5.8-billion which had resulted in 230 000 jobs being "sustained". Plastics, pharmaceuticals and chemicals received 31% of the money, metal fabrication, capital and real transport equipment 28% and agri-processing 21%.
Italian forged wheel manufacturer Lucchini received tax and training allowances from the dti which helped it decide to invest R200-million in a new forged wheel-making facility. Blank railway wheels imported from Italy will be completed at the Germiston plant.
Industry support from the state is necessary because the manufacturing sector's contribution to the national economy has slipped to below 13% from a high of 24% in the 1980s. This is according to the chairperson of the Manufacturing Circle, as reported in Engineering News. Andre de Ruyter added that if the percentage could be brought to 30%, the sector could contribute up to one-million more jobs. The Manufacturing Circle is in talks with government about how to improve policy to bring this about.
The sector that has done best since 1994 in terms of growth is the automotive sector, followed by resource-based manufacturing. The latter sector includes steel, aluminium, petrochemicals, paper and pulp, and non-metallic minerals.
Among other important sectors are metals beneficiation (more than 50% of the world's ferrochrome is produced in South Africa), coke and refined petroleum products, and information and communication technology. Steel and petroleum collectively make up about 45% of South Africa's total manufacturing production capacity.
Steel has been experiencing a volatile few years, with reduced demand from China severely reducing production volumes in South Africa. The Steel and Engineering Industries Federation of Southern Africa (Seifsa) reported that 19 000 jobs were lost in the metals and engineering sector in the nine months to September 2016. This sector makes up 28% of manufacturing. Cheap imports have been at the heart of problems for the steel sector, as they have for textiles, but other issues include energy prices and labour costs.
The National Department of Trade and Industry has moved to try to protect the local steel industry by regulating the use in the construction sector of locally produced and manufactured steel and steel products. Another possible intervention is related to energy prices. Silicon Smelters, which has plants in Mpumalanga and Limpopo, has asked for a two-year negotiated price agreement (NPA) on electricity, which would allow it to resume production. The National Energy Regulator of South Africa (Nersa) has the power to grant such exemptions where the industry is regarded as strategic.
The structural mill of Evraz Highveld Steel in Witbank was officially relaunched in June 2017 after ArcelorMittal South Africa signed a contract to supply blooms and slabs for the mill to make into heavy structural steel. Evraz Highveld went into business rescue in 2015. The contract is for two years with an option to renew for another year. Alternately, ArcelorMittal may buy the mill after the two years.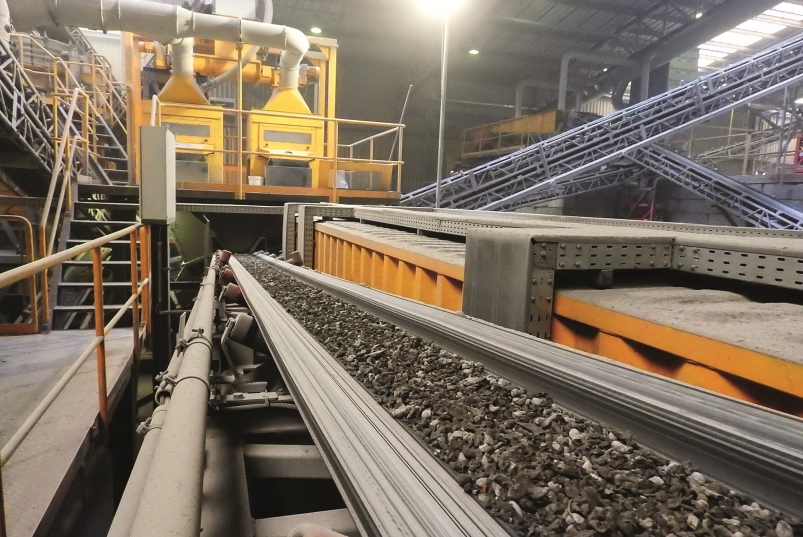 Elsewhere in Mpumalanga, the presence of Ferrometals means that Mpumalanga is still an important place for metals and machinery manufacturing, but the turbulence in the steel sector has reminded everyone of the need to diversify. Samancor Chrome (which runs Ferrometals) is the second-largest ferrochrome producer in the world with three plants.
Middelburg-based Columbus Stainless is a major supplier of stainless-steel products to the domestic and international market. The Manganese Metal Company in Nelspruit is the largest producer of pure electrolytic manganese metal in the world. Delta EMD, in the same town, is one of the biggest producers of electrolytic manganese dioxide.
Iron production at Saldanha in the Western Cape includes hot-rolled coil produced by ArcelorMittal and cold-rolled and galvanised steel by DSP, a joint venture between South Africa's Industrial Development Corporation (IDC) and a Belgian company, Duferco.
Local production
The manufacturing sector employs the third most people, about 1.7-million, after financial services and retail. Three of South Africa's most important manufacturing sectors (automotive, food and beverages, and pharmaceuticals and chemicals) are dealt with in separate sections of the website.
The Department of Trade and Industry (dti) is the state's lead promoter of the sector, as seen in the MCEP example above. The main vehicle for the dti is the Industrial Policy Action Plan (IPAP), the seventh version of which was launched in 2016. The Support Programme for Industrial Innovation (SPII), run by the Industrial Development Corporation (IDC) on behalf of the dti, promotes technology development.
New technology has been embraced by some innovative manufacturers. Desert Wolf's Skunk Riot Control Chopper is an unmanned light aerial vehicles (UAV) that has proved popular in the world market. Denel makes a drone product that can be adapted for use by conservationists.
Another IDC initiative has allocated R23-billion over three years to support the Black Industrialist Programme to help existing entrepreneurs grow.
Part of the drive to improve South Africa's rail infrastructure involves getting local companies to manufacture rolling stock. The Passenger Rail Agency of South Africa (PRASA) has signed local consortium Gibela to deliver 600 passenger trains. Transnet Freight Rail has contracted four suppliers to build 1 064 new diesel and electric locomotives.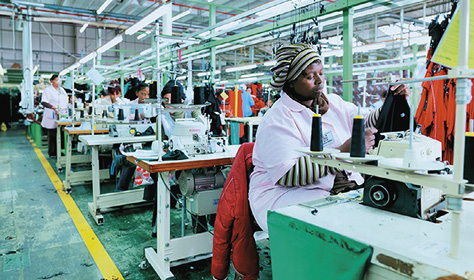 There has been a recovery in the textiles sector, greatly helped by an injection of R7-billion from the state in various forms since 2009.
There are about 90 000 workers employed in the sector, which means numbers are increasing after a big dip when the sector suffered from cheap imports.
KwaZulu-Natal is home to 219 clothing companies (Coface). Ninian & Lester is one of the larger employers in the textile sector, with 1 500 people making clothing (including the Jockey brand), textiles and polypropylene.
The footwear sector is also showing a good recovery. Two international safety footwear firms operate out of Pinetown: Bata Industrial and Beier. The latter company joined forces with three other South African safety footwear manufacturers in 2014 to form the BBF Safety Group, making them more competitive. K-Way is a very successful outdoor clothing manufacturer with a factory in Cape Town which supplies Cape Union Mart.
The furniture sector is not growing but there are about 2 200 companies in the country, employing more than 26 400 workers (1% of manufacturing GDP and 1.1% of manufacturing employment).
Solutions for Africa
Modern manufacturers are coming up with ways to improve efficiency. In Africa, water saving and conservation is becoming a vital part of doing business.

Marley Pipe Systems has released a revolutionary new hot and cold water supply solution called Pro-fit. Not only is Pro-fit made from the highest grade PE-RT (Polyethylene with Raised Temperature Resistance), which reduces loss through punctures and tears, but it also reduces installation costs by 50% and is resistant to corrosion and impact. Water passing through the system is healthier and by avoiding the use of metal any scrap value is eliminated, thus making the product more secure.
The recent extended drought has reminded all South Africans of how fragile water supply can be. The Marley Vynadeep® Rainwater System efficiently channels roofwater into tanks, reducing demand on ground water and supplying vital back-up for individual private or corporate premises.
Marley Pipe Systems is active in several parts of Africa and with an increased uptake in the use of gas, Marley's presence is growing. As big retailers expand their footprints in Namibia, Mozambique and Malawi, so Marley distributes larger volumes through those channels. With the mining sectors of countries such as Zambia, Tanzania and the DRC showing signs of recovery, so the gas market is growing further still.
---
Online resources