What is the history behind the Caltex Eastern Cape Marketer?
Caltex Eastern Cape Marketer (CECM) is the largest Caltex master franchisor in the Africa, Middle East and Pakistan region. A 100% Eastern Cape-owned company, CECM pioneered the Caltex branded marketer* model in South Africa, starting with 34 sites and a R10-million investment in 2005.
The company has almost trebled in size in its first decade of operation, becoming a major employer and investor in the Eastern Cape by 2015, with close to 100 sites and investment of over R300-million in new sites and ongoing refurbishment of existing sites.
CECM owns the rights to all Caltex sites in the Eastern Cape, where it has captured the second-biggest share of the provincial fuel retail market, and controls more than 12% of the brand's national retail network. The company has headquarters in East London and a regional office in Port Elizabeth. CECM was named Chevron South Africa's Top Branded Marketer for 2014, recognising its solid growth in difficult market conditions, as well as its contribution to customer value, innovation and building the Caltex brand.
Are there any new projects/ partnerships that you are currently involved in?
CECM drives an ongoing investment programme – acquisition of new sites, refurbishments to existing sites, fuel logistics and supply chain security, accessibility and customer-focused services. The company invested more than R70-million in site upgrades in 2015, and has a full pipeline of new projects planned in the retail fuel industry in the Eastern Cape for 2016 and onwards, with eight new sites set to launch by mid-2016.
Systems and programmes pioneered in the Eastern Cape by CECM have been adopted as best practice in the Caltex branded marketer model in Southern Africa. These include business software developed and piloted by CECM together with a software company run by a Caltex retailer in Barkly East, which has since been implemented by a number of Caltex Branded Marketers in other provinces. Proving pivotal to the running of the business, the software manages stock levels, ordering and delivery schedules, and enables information-sharing across the retail network.
In a joint venture with listed company Cargo Carriers (Pty) Ltd, CECM is a 50% shareholder in Uzuko Carriers which transports fuel to 95% of the CECM retail network, ensuring reliability and continuity of supply.
As part of a national Chevron initiative, CECM has placed 21 FreshStop convenience stores on Caltex forecourts in the Eastern Cape, in partnership with Food Lovers' Market, accounting for 10% of stores nationally.
Can you elaborate on Caltex's commitment to the Eastern Cape and the well-being and upliftment of its communities?
CECM retains more than 95% of its non-fuel expenditure in the Eastern Cape, and gives back to the local community through its corporate social investment programme focused on supporting education and sport in the province. The CECM philosophy is to develop people who will become future leaders; and to support projects that help to produce well-rounded people who will make a contribution to the local economy.
CECM supports school sports teams and high profile popular sports events across the Eastern Cape. The company also assists with fuel to support pupils and a teacher from a Cape Town school that travels in the school holidays every year to assist matric learners at Qolora Education Centre and Isolomzi High School with maths tuition.
CECM supports cultural initiatives in some smaller Eastern Cape towns, where these events contribute significantly to the economy of the town. These include the Bedford Garden Festival and the Caltex Kambi Easter Tournament in Mthatha. CECM has made a commitment to the wellbeing and development of the more than 2 000 forecourt staff employed under the Caltex banner in the Eastern Cape. Incentives, training, a dedicated quarterly publication and awards for top performers all support the development of customer service attendants at Caltex stations.
What is the latest industry news related to Caltex Eastern Cape?
Caltex Eastern Cape Marketer has shown consistent growth in sites and product volumes, and plans to continue this growth path by continuing to invest in infrastructure, safety and customer service. CECM is committed to investing in the Eastern Cape economy by supporting local suppliers and developing the skills of local people.
The CECM formula for success is providing on-the-ground support to each retailer in its network, with personal attention from experienced managers who understand local trading conditions and are able to deliver quick decisions.
The growth of the brand in the Eastern Cape will continue to be driven by supporting retailers in growing their businesses and developing relationships with their local communities.
* A Caltex branded marketer is the custodian of the Caltex brand (owned by Chevron SA) in its territory, responsible for supplying fuel and related products to the Caltex dealers in its region and supporting them with training, quality assurance, business acumen, marketing, and compliance.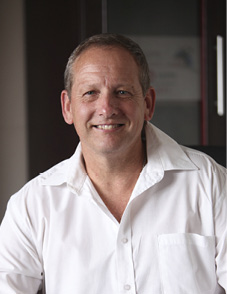 Patrick Kelly is Chief Operating Officer of CECM and a Director of CECM and Uzuko Carriers. He oversees all CECM operations, including new business development, sales and marketing, logistics, finance, and outsourced functions such as maintenance and transport.
Patrick was instrumental in developing systems for CECM that have since been adopted by other Caltex Branded Marketers. He was part of the founding group of CECM and is now the longest-serving staff member of the team.
Originally published in the 2016 edition of Eastern Cape Business, the premier business and investment guide to the Eastern Cape Province of South Africa.