Hydra Arc was awarded by the World Confederation of Businesses (WORLDCOB) with one of the world's most important business awards: "BIZZ 2017 Beyond Success Award". This recognition was granted on 3 May at a gala ceremony held at the Intercontinental Hotel in Bucharest, Romania.
This is the 3rd consecutive year that Hydra Arc has received an award from WORLDCOB.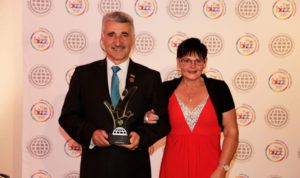 Directors, José and Diane Maciel received the award (above). In his acceptance speech Mr. Maciel thanked, and dedicated the award to, the people of Hydra Arc (see video below).