Hulamin is situated in South Africa, where there are large quantities of aluminium products, much of which is exported at little added value.
Hulamin creates value for its stakeholders through meeting customers' needs for high-value aluminium semi-fabricated products. In doing so, it brings economic activity to the province of KwaZulu-Natal, stimulating business activities, creating employment and contributing to the upliftment of the region.
We remain committed to grow aluminium usage in South Africa through our role as both supplier and customer, in addition to our role as a responsible leader in sustainable development in southern Africa. Each of our businesses shares a passion for aluminium, which is a truly unique metal that offers a superior range of benefits and endless application possibilities.
We have grown and expanded our operations over the last 20 years as a result of significant investments in order to ensure the future of our company and to promote the supply and use of aluminium. As South Africa underwent the transition to a democracy and the world markets opened up in the 1990s, we committed ourselves to unprecedented transformation. This included a R2.4-billion expansion project in 1996 that improved manufacturing processes and enabled us to invest heavily in production, facilities and equipment. The ambitious expansion unleashed enormous potential at the company and, by the year 2000, turnover had doubled. Rolled products today contribute the bulk of the company's turnover.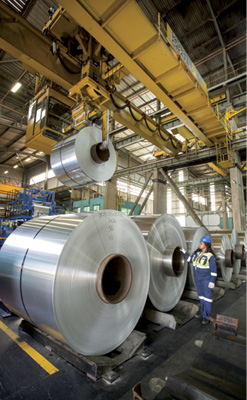 In 2006, we expanded our rolled products capacity as a result of a R940-million investment that increased production capacity and improved the company's ability to deliver higher value products. This expansion increased our rolled products capacity by 25%, increasing its competitiveness, especially in the foil and plate product markets.
The recent investment of the recycling plant followed a conversion of the local beverage can market from steel to aluminium in 2013. The R300-million state-of-the art facility was built to recycle used aluminium beverage cans. The expansion sees us providing aluminium can body stock for the manufacture of all-aluminium beverage cans to the local market.
In 2015 we ensured our future as a leading player in the aluminium industry when we became a strategic partner with Bingelela Capital, a BEE entity in Isizinda Aluminium to acquire and operate the Bayside cast house located in Richards Bay.
As we look back to our 76 years of contributing to both community building and economic activity in South Africa, we also continue to explore new opportunities and partnerships to the benefit of all our stakeholders.
Think Future. Think Aluminium. Think Hulamin.
Originally published in the 2016 edition KwaZulu-Natal Business.