Africa's future will be transformed by AI, IoT, 5G and other disruptive tech
Tech is impacting every industry in Africa and transforming lives across the continent. With the Fourth Industrial Revolution taking hold, hype is growing around key new technologies like AI and the IoT.
But what opportunities will we really see from these new technologies over the coming years? And what challenges does Africa face in bringing the benefits to everyone, urban and rural?
We're asking these big questions at the return of the AfricaCom Digital Week! Join us 10 – 14 September at the virtual event which puts you at the forefront of African tech and telecoms innovation.
This year's free webinars on groundbreaking tech:
Connecting Africa & 5G – Monday 10 September (12 noon CAT)
IoT & Smart Cities – Tuesday 11 September (12 noon CAT)
African AI Opportunities – Wednesday 12 September (12 noon CAT)
FinTech & the Findustrial Revolution – Thursday 13 September (12 noon CAT)
The Evolution of Broadcasting & Video – Friday 14 September (12 noon CAT)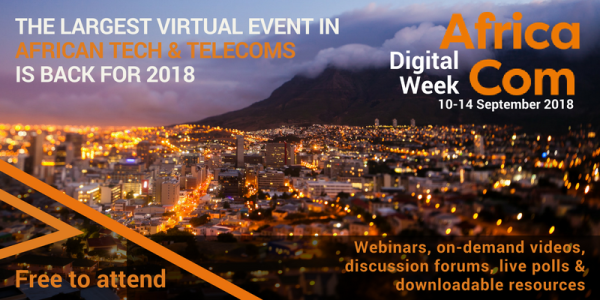 Are you interested in taking part as a speaker in one of our Digital Week webinars? Get in touch to register your interest.
News & insights from the Connecting Africa Community
Smart Cities, 5G & IoT Take Center Stage at AfricaCom 2018
The Fourth Industrial Revolution is now taking hold on the continent. But what, and who, are the key drivers behind these developments? And how far has Africa got in bridging the digital divide?
Liquid Telecom, Telecom Egypt to Complete 'One Africa' Network
Liquid Telecom and Telecom Egypt have struck an agreement that will enable the completion of a 60,000-km terrestrial data network, known as "The One Africa," that runs from Cairo to Cape Town.
Telkom Kenya Strikes Commercial Service Deal With Google's Loon
Telkom Kenya has struck a partnership with Google's Loon that will see the two companies jointly launch a commercial mobile service using a network of stratospheric balloons in 2019.
Music Streaming in an African Context

AfricaCom TV was pleased to be joined by Deezer's Head of Africa's Operations, Gillian Ezra, at the 20th anniversary event to discuss music streaming and big data.
Be part of Africa's digital future at AfricaCom
AfricaCom 2018 now includes free entry to the Headliner Keynotes, featuring MTN's Rob Shuter, the African Institute for Mathematical Science's Thierry Zomahoun, the Ghanian Minister of Communications Ursula Owusu-Ekulful and the Nigerian Communications Commission's Olabiyi Durojaiye and many more tech and telecoms leaders.
Join over 14,000 attendees at the event where brilliant ideas are born and game-changing deals are done in Cape Town, 13-15 November 2018.