Today, smartphone apps have many purposes besides entertainment. They help consumers to manage their finances and even earn money in the largest financial market in the world. Forex traders may work through powerful systems like MetaTrader 4. This app is increasingly popular in South Africa, the most important trading hub on the continent.
One Name, Three Systems
So, how does MetaTrader 4 make money? This system is built on the MQL 4 programming language. It provides users with all the necessary tools for market analysis and trading action. This app is a mobile version of the desktop terminal with the same name. MetaTrader 4 is available in three forms: as software for PCs and laptops, as a web-based system, and as a mobile app.
Thus, one may use this app as a standalone product, or as an addition to the full-size terminal. All three versions connect to the same cloud-based servers, so they share data instantly. This allows for cross-platform functionality.
Traders may open, manage and close positions from different devices throughout the day. For someone who is always on the go and needs to switch platforms, free MT4 download is ideal. Here is a look at the main features of the mobile terminal.
Customizable Charts
Traders make decisions by examining different charts and indicators. MT4 offers three formats of such visuals: line chart, bar graph and Japanese candlestick chart. Each of them can be opened with a few taps using the Quotes feature. To view a diagram, the user needs to top the currency pair and choose Open chart from the menu. They may also easily switch between formats of visuals via Settings.
Different Time Frames
To achieve profits, traders may pursue short-term or long-term strategies. Each method requires a specific set of instruments, including time frames. For example, a scalper needs to make frequent small-scale trades throughout the day. Such traders are focused on momentary movements in the market.
On the other hand, swing traders leave their positions open for days or even weeks. The MT4 app comes with nine embedded timeframes: M1, M5, M15, M30, H1, H4, D1, W1, and MN. They are always easy to adjust. Simply tap on the price chart and find the necessary format in the pop-up window.
Fundamental and Technical Analysis
This app accommodates the needs of fundamental and technical traders. The first group of users need access to financial news to monitor factors affecting their instruments. Meanwhile, the number of indicators for technical analysts is impressive.
MT4 has over 50 technical analysis tools, 30 technical indicators, and 24 analytical objects. You will find lines, geometric shapes, channels, Gann, Fibonacci and Elliott tools, etc. Users may apply indicators to price charts and indicator windows, and even pick colours.
The app facilitates both schools of trading analysis. All of its features are entirely free, and brokers like ForexTime also provide free resources to expedite your learning curve. The company offers both life and demo accounts, so you can practice for free and build your skills in a simulated environment.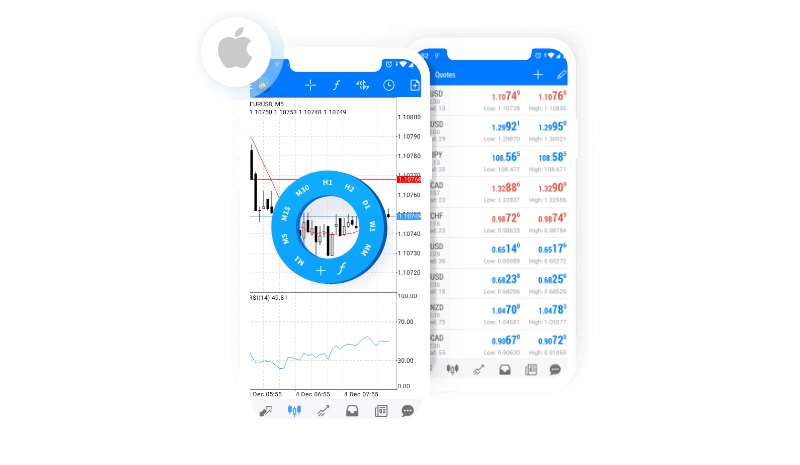 Opening an Order
So, what should you do to open an order using MT4? Open the Quotes tab and get the job done with a few taps on the screen. Opening order is just as easy as editing and closing.
A trade is initiated after the user taps the symbol of their instrument and uses the New Order feature. They should specify all the required parameters, including Stop Loss, Take Profit, and Deviation.
With a single tap, you can choose whether to buy or sell the instrument, opening a long, or a short position, respectively. Traders tend to buy when they expect the currency to become more expensive, and to sell if they think it will decline soon.
The final step is to choose either instant execution or market execution. A tap on Place will open your order. Voila! Traders may also modify their positions quite easily. The Trade feature reflects all details of trades. From there, the user may either edit or close their position.
Trade on Any Device
The app may be downloaded from Google Play or App store, as it works on any popular OS. You can install it on your tablet if you want a bigger screen. Seamless synchronization between the versions provides complete freedom of trading action.
MetaTrader 4 is a universal mobile solution. Traders may manage their positions and accounts whenever they need to. Use the MT4 app alone, or switch to it to continue trading on the go. You can monitor the market at a glance, and lucrative decisions are always a tap away!