Full details of a R1-billion incentive scheme to raise-up the South African agro-processing industry were revealed today at Africa's Big 7.
The plan, unveiled first at the country's 2017 budget, aims to boost productivity, create jobs and modernise both agricultural machinery and the production process.
The Honourable Rob Davies, Minister for the Department of Trade and Industry, outlined how the plan will work and its areas of focus.
"This incentive programme is aimed at strengthening an area which has been identified as one which offers the fastest growing job opportunities and also to create demand for new agricultural activity," said the Hon. Rob Davies.
Grants of up to R20-million are available from today (Tuesday June 27) for those who want to take up the offer.
The Government has identified five specific areas it wants to incentivise. These are food and beverage, furniture, as well as fibre, food and fertiliser production.
The Hon. Rob Davies said that the scheme will benefit across the industry, assisting growers, those who process resources and finally firms that package and distribute them – so allowing more of the industry's value chain to be kept within South Africa.
Incentive grants have been available in the past for both the generic economy and individual areas of commerce.
The minister said: "We have concluded that better results were obtained when incentives were sector specific.
"A good example of this is the textiles industry where under a similar scheme the initial take-up was quite slow, but those who did take part saw jobs being kept and (staffing levels) increased. This is now a vibrant part of the economy and is acting as a role model for the current scheme."
The title of the initiative is the Agro-Processing Support Scheme (APSS) and full details are available on the website www.dti.gov.za.
"Events such as this will create awareness of the APSS, and how it is available to stimulate the creation of jobs," said the Hon. Rob Davies.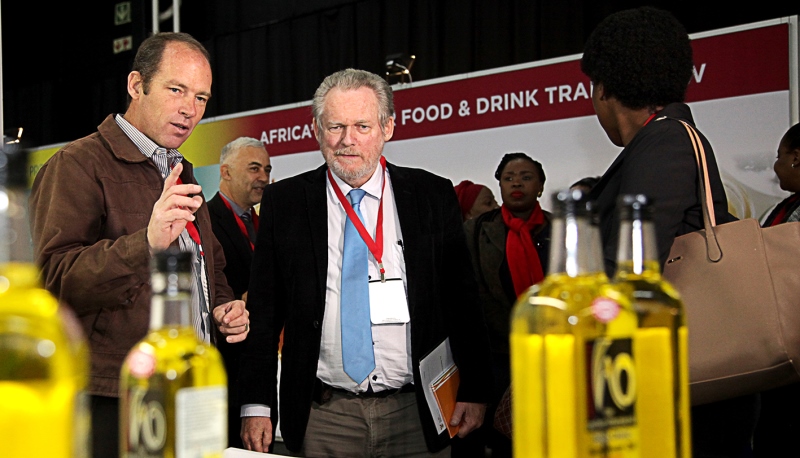 Following his keynote address the minister visited exhibitor stands at the event.
He spoke to Thandile Ngcoyi of the Green Fingers Multipurpose Co-operative, a company which grows, harvests, processes and bottles tomato and beetroot to create sauces.
"The scene is very interesting and we shall be applying as we only have a small plot and want to expand," she said. "This will enable us to create job opportunities and explain how we operate in order to allow others to establish their own businesses."
You can discover more about the expo and its conference the Food Forum programme at www.africabig7.com and also register for show and conference passes.