The major economic sectors using gas are the metals sector and the chemical, pulp and paper sector. Brick and glass manufacturers are also big consumers. National policy in South Africa is driving a switch to the use of gas, rather than fossil fuels. A national Gas Utilisation Master Plan (GUMP) is being developed and as the province that is the biggest consumer of energy in South Africa, Gauteng is leading the way.
The Liquefied Natural Gas Independent Power Producer Procurement Programme (LNG IPPPP) is part of the broader programme of the Department of Energy which encourages private investment in renewable energy, namely the Renewable Energy Independent Power Producer Procurement Programme (REIPPPP). The total allocated to gas-to-power in the national power plan is 3 726 MW, of which 3 000 MW is for LNG.
In 2018, Delta Natural Gas Energy broke ground on the first of a planned 400 LNG refuelling stations around South Africa. The taxi and freight sectors are the first sectors being targeted. CNG Holdings subsidiary NGV Gas has a compressed natural gas (CNG) public filling station at Langlaagte, Johannesburg.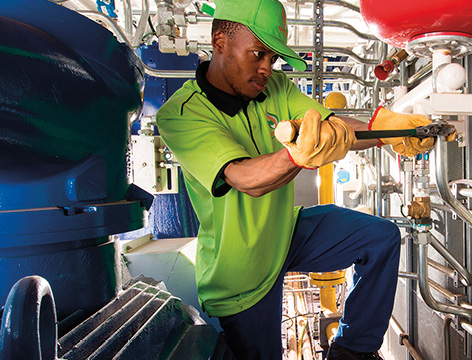 A new addition to South Africa's pipeline network is a pipe to get natural gas from Mozambique to Gauteng. SacOil's R90-billion project aims to deliver gas to Johannesburg and the nearby towns in 2020.
Transnet Pipelines has completed a sophisticated new multi-product pipeline (NMPP) between the coast and Gauteng which is bringing a range of products to the manufacturing heartland of South Africa. The company operates a 3 800 km network of underground, high-pressure petroleum and gas pipelines throughout the eastern parts of South Africa.
The country's biggest supplier of industrial heating fluids, FFS Refiners, supplies this product out of a plant at Chloorkop while the company's Evander site is responsible for heavy fuel oils. Evander also has a tank with installed capacity of 8 500 m³.
Egoli Gas has a pipeline network that extends over 1 200 km in and around Johannesburg and the company has 7 500 domestic, industrial and commercial customers. Vopak completed a new storage terminal in Lesedi on the East Rand in 2017 to receive product from the NMPP. The company that owns Egoli Gas, Reatile, has a 30% stake in Vopak.
The regulator and promoter of oil and gas exploration in South Africa, Petroleum Agency South Africa, has been awarding coalbed-methane-gas and natural-gas rights in the provinces on Gauteng's border, Free State and KwaZulu-Natal. The regulator also controls offshore exploration rights.
Online resources
Source: