The Absa ESD expo will be held at Gallagher Convention Centre from 18 to 19 September, with the second day being open to the public.
"There is simply no other event of its kind in the procurement sector that allows for such a high level of positive interaction between the stakeholders. The intensive programme and exhibition platform provide an unrivalled opportunity for SMMEs to launchpad their offerings and to forge fruitful relationships," says Mediacy Mudekwa, head of content for Smart Procurement World.
There are two types of exhibition stands available: self-funded and corporate-sponsored. Corporates are invited to sponsor their SMMEs/suppliers, by providing them with ESD support, market entry and supplier development training.
Have you registered for your Free Expo Visitor entry? If not, simply click here and register now!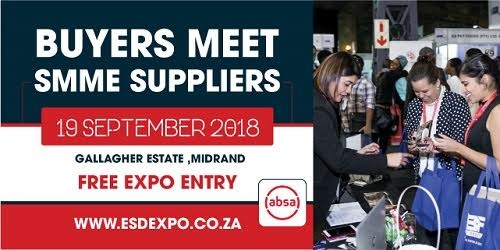 Be part of the largest market access event between big businesses, government and black owned business. Take advantage of onsite workshops, training and hours of networking.
In addition to the Expo, which attracts over 300 exhibitors, various other synergistic platforms add value for visiting SMMEs. The Knowledge Hub's workshops cover key topics for all SMMEs and new businesses, with topics that include:
How to expand your business through new market development;
Finance readiness: The key to accelerating growth & reducing business failure;
Small business incentives and compliance and
Negotiation & contract fundamentals.
These sessions run every 30 minutes between 09:00 and 15:00 on 19 September.
Knowledge Hub 2, which runs concurrently with Knowledge Hub 1, provides a forum for SMMEs and suppliers to learn about how to do business with selected corporates and public sector entities. A spokesperson from each organisation provides tips on expected deliverables and best practice.
On-floor complimentary procurement training for procurement and supply chain professionals, will run from 9:30 to 14:30 and covers topics such as:
Top negotiation failures and pitfalls;
How to adopt strategic sourcing and
Developing strategies for improving your SRM.
The supplier match-up sessions take place from 9:00 to 16:00 and create a fertile environment for buyers and sellers in a specific industry to meet in one place at one time. Focus industries include construction, engineering, facilities; manufacturing, agriculture, transport and logistics; services and retail; ICT; and resources such as petrochemical, energy and mining.
For more information on the Smart Procurement World Indaba and Absa Enterprise & Supplier Development Expo in Gauteng in mid-September, please visit the website at: http://www.esdexpo.co.za