Overview of the Automotive sector in South Africa
The automotive sector contributes 33% to manufacturing GDP and about 6% to overall GDP. It produces approximately 600 000 vehicles per year, supporting 113 000 jobs in three provinces. Exports have doubled in the 10 years to 2018.
Some of the world's leading original equipment manufacturers (OEMs) have recently made large investments in new plants and technology. According to the National Department of Trade and Industry (the dti), the figure invested since 2009 is approximately R45-billion.
Long-term state support of the industry through the Automotive Production and Development Programme (APDP) is a major reason for the continuing health of this vital sector. The industry itself is looking to Africa for new markets. By increasing total production numbers to one-million vehicles, the sector will be more viable.
The dti, working together with the NAAMSA, has set targets for 2035 to increase production to 1% of world volumes (1.4-million vehicles), to increase local content and to double employment and black-owned businesses in the sector. Automotive and automotive components make up 30.2% of total manufacturing output and about 7% of the nation's Gross Domestic Product (GDP). (Read more: The automotive industry gateway to sub-Saharan Africa.)
Beijing Automotive Industry Group (BAIC) expects to be building 50 000 vehicles per year at its site at Coega Industrial Development Zone (IDZ) by 2022. BAIC's investment follows that of another Chinese firm, First Automotive Works (FAW). Companies like BAIC may be positioning themselves to push into Africa, not only for selling vehicles but for automotive parts and partly-assembled kits.
A new pan-African organisation has been established to promote the auto industry on the continent, the African Association of Automotive Manufacturers (AAAM). Most international brands such as Volkswagen have given responsibility for Africa to their South African offices. VWSA is in a joint venture in Kenya and is exploring opportunities in Rwanda.
VWSA is based in the Eastern Cape where it manufactures half of the country's passenger vehicles and provides 51% of South Africa's vehicle exports. The sector accounts for over 40 000 formal sector jobs in the Eastern Cape.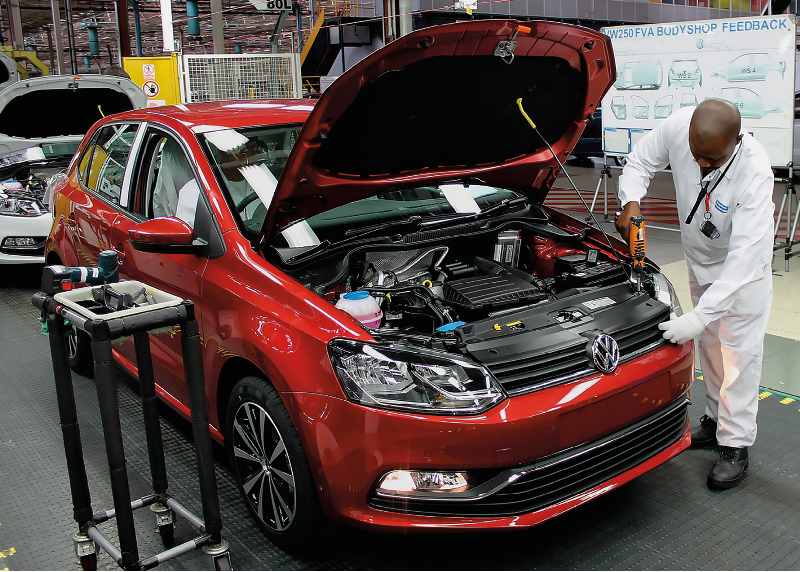 Volkswagen's two new types of Polos started rolling off the production line in Uitenhage in 2018. Volkswagen's R6.1-billion investment will take production up to full capacity of 160 000 vehicles in 2019, from 110 000 in 2017. The increase will mean that a third shift will be introduced.
In addition, VWSA makes 130 000 engines for local demand and for export. Ford in Port Elizabeth is the country's other engine manufacturer. Smart factories are the subject of research being undertaken by the Department of Computing Sciences at the Nelson Mandela Metropolitan University (NMMU). The research is supported by Volkswagen SA and Mercedes-Benz SA.
In January 2018, Mercedes-Benz South Africa (MBSA) started producing the Mercedes-AMG C 63 S at its East London factory, after an investment of R200-million. MBSA started exporting record volumes in 2016.
BMW South Africa has invested R6-billion in its Rosslyn plant to prepare for the manufacture of the new BMW X3 model. Nissan is another big automotive manufacturer with a plant at Rosslyn, northwest of Pretoria. Ford announced in 2017 that it would put R3-billion into taking the production of the Ranger vehicle to 167 00 per year.
Gauteng is also home to a strong automotive components industry, together with several bus and truck assembly plants. These include Scania, TFM Industries and MAN Truck and Bus South Africa, as well as the Chinese truck manufacturer FAW, which owns an assembly plant in Isando. Bejing Automotive Works (BAW) assembles taxis at Springs.
DCD Protected Mobility manufactures armoured cars in Boksburg, which are branded as Vehicle Mounted Mine Detectors. In Benoni, BAE Systems OMC designs and manufactures protected vehicles.
In 2016, Toyota invested R6.1-billion into its massive plant at Prospecton, Durban. The company regularly sells about a quarter of the vehicles sold in South Africa, and accounts for the same proportion of exports. The Corolla car, the Hilux bakkie and the Fortuner SUV are manufactured at the plant.
KwaZulu-Natal's other large OEM, Bell Equipment, is transferring production of its current truck range to its factory in Germany. Bell's Richards Bay plant will start assembling Kamaz heavy-duty trucks in 2019 for the African market.
Automotive components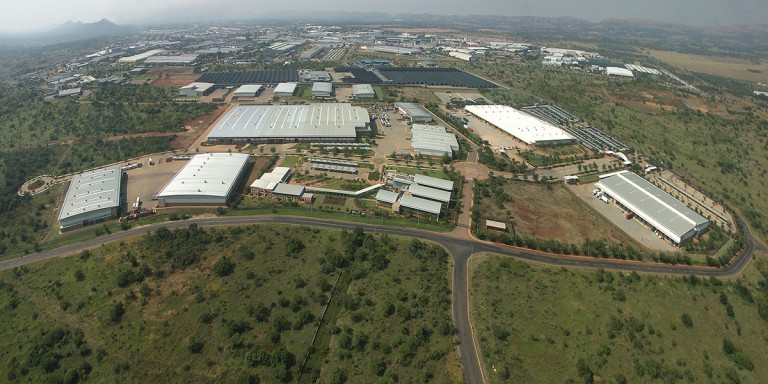 South Africa has a sophisticated automotive component sector. The catalytic converter sector experienced incredible growth for a number of years but volatility in the platinum mining sector, together with increased interest in electric vehicles and hybrids, means that exporters (largely based in Port Elizabeth) have had to work harder.
Tyre and glass manufacturers are clustered around the areas where the automotive industry is active. Sumitomo Rubber South Africa which includes Dunlop among its brands, is spending R2-billion on expanding production in Ladysmith, KwaZulu-Natal. Bridgestone Tyres has plants in Port Elizabeth and Brits and Continental makes tyres in Port Elizabeth.
The large number of vehicle models produced in South Africa is a complicating factor for the components sector: low volumes often mean high prices. Two Port Elizabeth companies export significant portions of their production to overcome this: Schaeffler SA exports to its international parent so that it can achieve higher volumes. Shatterprufe supplies the majority of windscreens to the South African market but there are 12 model ranges to serve.
Online resources