What is Standard Bank's purpose in South Africa?
Standard Bank Group purpose is "Africa is our home, we drive her growth". This is a phenomenal purpose that binds all Standard Bankers together; it talks about us as a bank and bankers being interwoven into the fabric of the continent. It shows that we are very clear in our understanding that we need to be instrumental in building the economies of Africa and helping the people of Africa reach their dreams and aspirations.
We are very proud that we have a brand and a heritage that extends beyond 153 years and a unique presence in Africa and beyond – this has earned us our legitimacy and has earned us the trust of the communities and nations we serve. In the North West Province, where I serve, this is no different. North West is our home, and as a consequence we purposefully place ourselves in a position where we are instrumental in her growth, the growth of the communities within North West and the growth of our people that we serve. This is our unifying purpose.
What is your footprint beyond South Africa?
Our footprint in Africa is very extensive; we are represented in 17 countries, which makes us the bank to talk to about Africa. Furthermore, we are also represented in Hong Kong, China, Brazil, Isle of Man, Jersey, Mauritius, United Arab Emirates, United Kingdom and the United States.
In your role of Provincial Head Retail and Business Banking, what is your strategy regarding Standard Bank's business in the region?
Our strategy in the North West Province aligns to the Group Strategy, at the core of which are some building blocks. One building block is our Vision. Our vision is to be the leading financial services organisation in, for and across Africa, delivering exceptional client experiences and superior value. This is what we endeavour to execute in the North West Province. We do so by ensuring that we hold ourselves to the highest standards when it comes to service, and by ensuring that management and leadership of the province are accessible to our customers and stakeholders.
Most significantly, we do so by ensuring that we provide our customers with solutions and services that meet their needs and help them to reach their aspirations and dreams.
Has Standard Bank introduced any new products and services recently?
We are extremely excited to offer the business community in the North West Province Ucount for business. This is our latest offering geared towards the SME segment. Members can collect rewards by using their Standard Bank Business Credit, Cheque or Debit Card to pay for the everyday running of their operations. We also have another new exciting offering for our Private Banking clients where they will have access to Café Blue, Library Lounge and Connection Hub, which are our own spectacular airport lounges at OR Tambo domestic airport. This is just to mention a few. The take up in the province, although in its infancy, suggests that this offering is addressing a need. Where we are extremely satisfied is that we are able to show our customers tangible appreciation for choosing to partner with us with respect to their banking needs.
Ucount means exactly that: You! Our customers, count.
What sectors are you finding to be the most active when it comes to clients requesting loans to start or expand businesses?
The sectoral activity in the North West Province is rather spread, and rightfully so, and we are finding activity in hospitality, transportation, suppliers to Provincial Government, retail and franchising, agriculture, construction, etc.
Is agriculture a focus area for Standard Bank in the North West?
The farming community is very important to us in the North West Province and as a bank we work very closely with this community. We have the necessary agricultural expertise, support and infrastructure within the province to assist our agricultural customers with all of their farming needs and requirements. We are represented throughout the province and are readily available to discuss farming and how we can assist as a bank.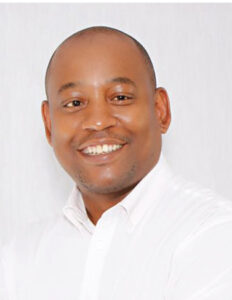 Trevor Holtman is the current Provincial Head of Standard Bank in the North West Province. His 23 years of banking experience began at the very bottom, and has included various senior roles in Retail Banking and Business Banking. His belief in people and that an organisation wins when its people are inspired to win has been the cornerstone of his leadership.
Published in the 2017 edition of North West Business