South Africa's successful Renewable Energy Independent Power Producer Procurement Programme (REIPPPP) has created large-scale solar and wind farms in areas where there is lots of space, but the country's smallest province by landmass is also taking big strides to procure energy from renewable sources.
Gauteng is the country's most densely populated area (with a population of over 14-million) and contributes about a third of South Africa's GDP (R1.59-trillion in 2017). In a short space of time, an entirely new sector has been created within the South African economy through legislation that invited local and foreign investors to bid for and then build renewable energy generation plants.
South Africa's National Development Plan (NDP) requires 20 000 MW of renewable energy by 2030. That will be achieved mainly through the REIPPPP.
Powering cities with renewable energy
Many companies and institutions are generating their own power. In Johannesburg, the Northern Wastewater Treatment Works, the largest of six wastewater plants serving the city, has its own electricity source in a 1.1 MW biogas plant. It produces electricity using co-generation (combined heat and power) and is helping the city to reduce expenditure on its water treatment works, which used to run to R100-million per year.
A landfill site at Robinson Deep in Johannesburg has started generating 3 MW of gas. This is the first of five renewable energy projects that Energy Systems SA is going to do in Johannesburg and is the first landfill gas generation project to fall under the REIPPPP.
Agriculture is another source of organic waste which is being used to provide power. With thousands of cattle farmed near big cities to provide beef and dairy products, biogas is a useful byproduct. The Bronkhorstspruit Biogas Plant, run by Bio2Watt, has an installed capacity of 4.6 MW which it produces from annual feedstock of about 120 000 tons of organic waste. The plant is located in the Tshwane Metropolitan area on the premises of Beefcor, one of South Africa's largest feedlots. The image of the feedlot and plant (below) is supplied by Danish company Combigas, who teamed up with Bosch Projects to design, manufacture and install the plant.
The company has plans to roll out small plants for farmers or agri-processors who want to produce power for themselves.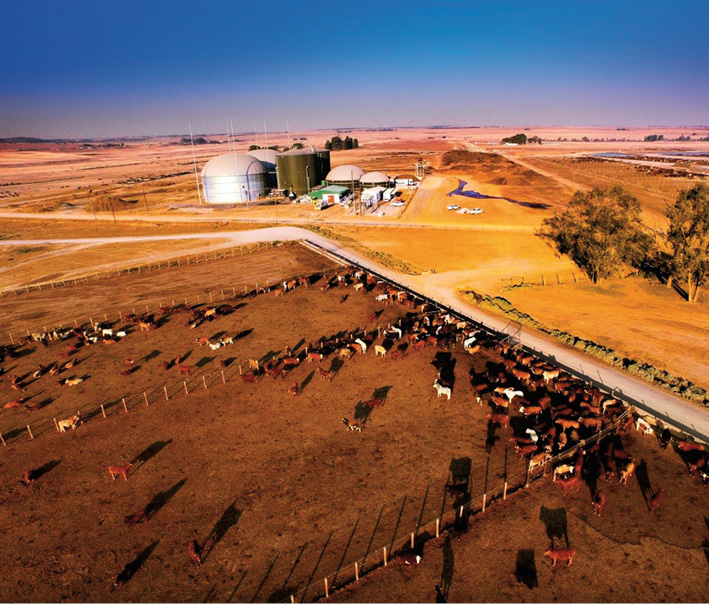 National power regulator NERSA has been asked by the National Minister of Mineral Resources to consider granting licences to small-scale power producers to sell any excess power. The likely granting of these licences will open up the market and help small manufacturers to cover the cost of installing generating capacity.
At the Cavalier abattoir in Cullinan, biowaste conversion company ibert provides about a quarter of the power that the abattoir needs to function, at a competitive rate. In the process, all of the facility's biowaste is disposed of.
Solar power
Absa Bank has followed up on its decision to take its central Johannesburg campus off the national electricity grid. Investments in a 6 000-panel rooftop solar system (which cost R10-million), the synchronisation of gas and diesel generators and sophisticated water and underfloor heating systems have all contributed to massive energy savings. The bank estimates that the power it generates is 70% cleaner than that provided by the national grid.
The rooftop solar installation at Absa's Pretoria office provides 17% of its electricity needs and the bank intends rolling out solar solutions for another five offices soon in addition to investigating battery solutions in pursuit of what it calls "net zero offices".
One of the biggest roofs in South Africa is to get one of the largest solar installations. Mall of Africa (pictured above), a joint venture by Attacq and Atterbury in Waterfall City, Midrand, will produce about 7 800 MWh/y from panels on 45 000 m² of roof space.
Vukile Property Fund has decided to equip all of the malls in its portfolio with rooftop solar panels. Among its properties are malls in Boksburg and Soweto. The company says that installations across the group have the capacity to generate 1.274 MW of solar energy, generating about 2 089 MWh annually. Retrofitting of light fittings has also taken place, to improve energy efficiency.
Local manufacturing
In 2016, the Department of Trade and Industry (the dti) established a Gas Industrialisation Unit (GIU) which will make plans to exploit the huge fields of natural gas off the coasts of Mozambique and Angola, and boost industrialisation in South Africa.
At the end of the annual Windaba conference in Cape Town in 2018, the South African Wind Energy Association (SAWEA) issued a Commitment Statement which noted that the REIPPP has a "built-in demand for local procurement", not only offering business opportunities to local companies, but also incentivising the industry to identify and support emerging entrepreneurs. This should have a positive spin-off in Gauteng province, which is the centre of the country's manufacturing sector.
First published as a Special Feature in the 2019/20 edition of Gauteng Business, the annual guide to business and investment in Gauteng.
View the e-book: