Zig Enterprises is a 100% black-owned company and graduate of the BBBEE Incubation Programme run by the Automotive Industry Development Centre (AIDC) at the Ford Motor Company of Southern Africa (FMCSA) assembly plant in Silverton.
Zig Enterprises, founded by Caiphus Mokotedi in 2011, partnered with Schnellecke SA, to provide sequencing and logistics of trim panels directly to the Ford T6 Ranger production line.
The company has also provided sequencing and logistics services to various component suppliers at the FMCSA plant.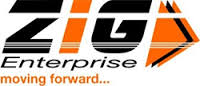 Related to Zig Enterprises