The Small Enterprise Development Agency (SEDA) is an agency of the Department of Small Business Development.
SEDA's mission is to develop, support and promote small enterprises throughout the country, ensuring their growth and sustainability in co–ordination and partnership with various role players, including global partners, who make international best practices available to local entrepreneurs.


Related to SEDA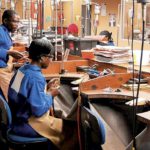 Interview with Koenie Slabbert, the Provincial Manager of Seda Limpopo.