The Sea Harvest Group is a leading, internationally recognised fishing and food business with operations in South Africa and Australia, servicing retail and foodservice customers in 22 countries.
The principal business is the fishing of Cape Hake and Shark Bay prawns, processing of the catch into frozen and chilled seafood, and the marketing of these products, locally and internationally.
Sea Harvest processes and packs over 100 products for the local and international markets between its factory freezer vessels, and its two processing facilities in Saldanha Bay and Mossel Bay.
Website: http://www.seaharvest.co.za/
Related to Sea Harvest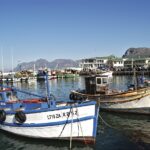 Hundreds of state properties along South Africa's coast are to become sites of new business opportunities and catalysts for economic growth and job creation.